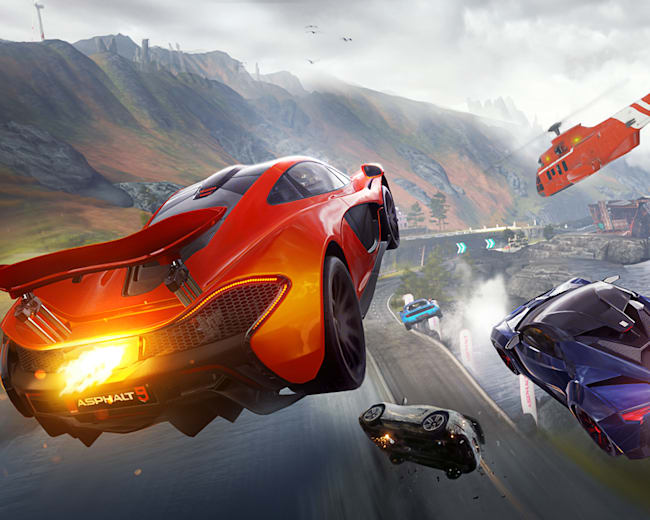 Feel the need for speed with these 10 incredible iOS racing games
© Gameloft
Looking to burn rubber from the comfort of your iOS device? These are 10 racing titles you have to check out.
With a wealth of brilliant racing games available on iOS, you don't need to fire up your console to feel the need for speed. Here, we've gathered up the best racing games you can play, all from the convenient confines of your iOS mobile device.
1. Gear.Club
Eden Games' brilliant
Gear.Club
arrived with a bang in 2016, setting new standards for mobile racers with its brilliantly refined gameplay, glorious visuals and reasonably deep customisation options. This should come as absolutely no surprise from the developers behind the ace V-Rally series, and the console-level polish on this handheld racer is truly something to behold.
Races are tight, robust affairs (with bruising contact between cars offering plenty of polishing opportunities for those who enjoy time in the garage), with the intensity of the competition never undercut by the more arcade-y gameplay stylings. Gear.Club is a must for mobile-friendly petrol heads.
2. Kartrider Rush+
Kart racing should, in theory, be something of a no brainer on mobile. Short, adrenaline-spiked races replete with vibrant colours, outrageous weaponry and squeal-worthy overtakes seem perfect for the handheld format, and yet it has been surprisingly tricky for developers to deliver on this rich promise. That is, until
Kartrider Rush+
arrived earlier this year, to make it all look so very easy.
Oodles of modes, including a brilliant, launch-ready multiplayer, a gloriously eye-popping visual style, and a determination to get the basics right ensure that KR+ is exactly what we've always wanted from a kart racer on mobile. It may have taken a while to arrive, but it was worth the wait.
3. Real Racing 3
Looking for a mobile racer with a high level of polish?
Real Racing 3
may be the title for you. The excellent series has always prided itself on delivering a comprehensive package that delivers slick racing and even slicker visuals. The third in the series, from developers Firemonkeys, may well be the best. Superb physics means you feel every fender bender, there are customisable control settings for everyone and anyone, and the sheer sheen of the package makes it hard to resist. For one of the best mobile racers around, keep it Real.
4. Dirt Bike Unchained
With stunning controls, brilliant visuals and courses as thrilling as they are tricky, Red Bull's
brand new racing game
for Android and iOS is the best way to experience moto racing on the go. It's up to you to nail jumps and tricks on courses from around the world, unlocking new bikes, gear and real life riders as just reward for your skills. You can even unlock your very own prized Red Bull helmet. If you want to hear more about how this ace racer was made, check out
our recent feature
.
5. Data Wing
Perhaps not your traditional racing game,
Data Wing
fully warrants its place on this list thanks to its brilliant combination of ingenuity, a surprisingly impactful story, and gameplay so addictive it should come with a warning. You boost your tiny Asteroids-alike craft around lined tracks, completing speed trial-esque races as well as more puzzle-focused levels in order to satisfy your duty (carrying data from one point to the next). If this sounds purposefully vague, that's because it is. Most of the joy of Data Wing, beyond how purely enjoyable it is to play, is in the brilliantly bonkers plot. While it may look simple, Data Wing has ambition to spare, and the chutzpah to pull it off. Hop aboard.
6. GRID Autosport
Codemasters' GRID series may have been warmly welcomed back to consoles last year, but the series had been a long-held favourite for mobile gamers, thanks to the brilliance of GRID Autosport. A lesson in less-is-more, GRID Autosport is mainly focussed on delivering a superb racing experience – and certainly achieves this. Stunningly realistic and incredibly tough, the sim offers endlessly customisable controls and beautiful visuals to place it comfortably in the upper echelons of mobile racers.
7. CSR Racing 2
NaturalMotion Games'
CSR Racing 2
arrived back in 2016, and quickly became one of the most popular racers around – and it's not hard to see why. The drag racing title offers up a wealth of content, while the relatively simple gameplay is brilliantly bolstered by its addictive loop of victory, currency and customisation. Superb visuals finish off a package that may not be for the most hardcore of racers, but surely appeals to those eager to carve out their own path with their own souped-up monster.
8. REKT!
Not quite a racing game, but
REKT!
makes it onto this list by virtue of being really, really fun. Plonked into an arena with a host of ramps, jumps and other obstacles designed to encourage you to test gravity and sense with your tiny vehicle, this stunt racer brings to mind other games (Rocket League, for one) but is very much its own beast. Its vibrant, eye-popping visuals are a suitable accompaniment to the instantly enjoyable but surprisingly tricky arcade action, and a one-more-go point scoring system makes this an incredibly moreish experience for those sick of driving from A to B.
9. Pako Forever
Less a racing game than a chasing game, Pako Forever certainly delivers on the second word in that title – as your adorably boxy car is endlessly pursued, with your goal to make it as difficult as possible for your pursuers to do so. Traversing obstacles dotted around the enormous car park, you also gain power-ups (hello, shrink rays) to throw increasingly mischievous spanners in the works for the beleaguered chasers eating your dust. Don't let its humble appearance – chirpy music and graphics that are unlikely to test even the most basic phone – put you off; this is a fiendishly addictive blast of vehicular mayhem well worth your time.
10. Asphalt 9: Legends
The ninth entry in Gameloft's whopping racing franchise proves that practice makes perfect, with
Asphalt 9: Legends
showcasing the mobile studio's grasp of how to bring fullscale gaming experiences to smartphones. Combining stunning graphics and the ability to roar around courses with any number of licenced supercars, as well as keeping the touchscreen action streamlined and extremely silly, this is a serious game that doesn't take itself too seriously. Asphalt 9: Legends is one of the best racers on iOS.