Race fans have become familiar with the distinctive design, colour scheme and appearance of AlphaTauri. After its launch as an F1 team in February 2020, re-naming Scuderia Toro Rosso as
Scuderia AlphaTauri
, we now also see famous Italian team AF Corse flying the Red Bull and AlphaTauri flag in DTM. As a team, Red Bull AlphaTauri AF Corse is leading the team championship going into round six of the series this weekend on the famous Assen track.
Alex Albon
, who drives the AlphaTauri-coloured Ferrari 488 GT3 Evo 2020, is sitting in sixth spot overall with one race win. But why does a fashion brand use racing as a platform to communicate?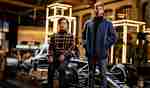 New Scuderia AlphaTauri colours revealed at fashion-focused livery launch
"Reflecting the mind-set of the Red Bull Family, AlphaTauri is driven by innovation. The AlphaTauri collection fuses fashion with function and technology. This is an entire new approach within the fashion industry and AlphaTauri creates its own product category.
"Think of a high-quality parka equipped with over 10 functional features such as temperature regulating functions and a packable system whilst looking stylish. All functions, features and textile technology is so to stay invisibly integrated into the high-premium collection pieces," Ahmet Mercan, CEO of AlphaTauri since its inception, explains.
Today, five years after starting from zero, AlphaTauri is available in almost 90 countries and in more than seven languages via its own online store. "Due to the link with Red Bull and our own retail stores, AlphaTauri is very well received especially in our home turf of Austria as well as in Germany and Switzerland. But also Italy has a huge potential and we received an increased demand in the past year," Mercan adds.
And how much can F1 help promoting a new fashion brand? Oliver Oppermann, chief marketing officer, is fully convinced that this combination works. "Having the opportunity to take a seat at the table of F1 is – from a marketing perspective – incredibly interesting! It obviously helps to increase the awareness for a new premium fashion brand. At the same time all the synergies we can create within this F1 playground thinking of technology and innovation is something we like to intensify. There is a lot of marketing potential when 'Fashion meets F1'," he points out.
And he admits how a marketing professional with long-term experience like himself was moved by the launch of Scuderia AlphaTauri 19 months ago in Hangar-7: "It was amazing, and we still all have goosebumps thinking back! AlphaTauri as a premium fashion brand adds style credentials and fashion spirit. Drivers Pierre Gasly and Yuki Tsunoda and the entire team including principal Franz Tost are wearing AlphaTauri fashion collection at all moments off-grid – and are joined by Sergio Pérez and Max Verstappen, drivers of sister team Red Bull Racing Honda, who have already modeled for AlphaTauri's new collection", Oppermann confirms.
Being in DTM is very similar, as the CMO adds: "We are very proud being a partner of the DTM series and from a fashion perspective with Alex Albon as driver we have a fantastic talent on board! He looks amazing in AlphaTauri! With the new car livery we hope to add a new design language on the racetrack and in the paddock."
Winning is the obvious desire of AlphaTauri drivers in F1 and DTM, but what are the targets of the premium fashion brand? Mercan reveals a clear strategy: "Commercially, we focus on further strengthening our key activities in our home turf where we further rely on our key partner strategy in wholesale: only in a collective with the right partners will we be able to continue to position AlphaTauri as a Premium Fashion Brand and at the same time increase awareness in the relevant environment. On top of that we focus on further strengthening our online business at
AlphaTauri.com
"
How much effort is behind a rising brand is clearly visible by facts and figures: "Our team is very international: more than 25 nationalities work at our headquarters in Salzburg. At AlphaTauri everything is built and managed in-house: from product development and design to marketing, sales and retail. AlphaTauri works with textile experts and pioneers globally. Main focus is to further strengthen long-term relationships with the best experts in the world for delivering excellent products and innovative solutions," Mercan says.
In a world where fair trade becomes more and more important, AlphaTauri has made this a basic principle to comply with, as Oppermann explains: "All partners of AlphaTauri are required to sign a Code of Conduct, which includes fair working conditions, respect of human rights, optimal use of resources, excellent safety standards and zero tolerance for child labour. Additionally, AlphaTauri is striving as mentioned earlier for long-term relations with the partners for more transparency."