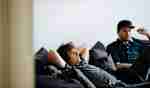 Camo & Krooked: Mosaik Diaries
The last five months were pure madness. Everything started at the end of 2016, as we basically sat in front of our ready-made album, after 3 years of hard work. At one point we said to ourselves: "Fuck, that's not what we wanted. We have to rethink everything, we have to spice things up." This insight hurt at first, because we knew: we HAVE to stick to the deadline set for end of March, otherwise the release might be postponed and it will be hard to make up for the resulting damage. Or even worse: We'll release an album that does not live up to our imaginations. One thing was clear: The clock is ticking – and we need a damn good plan. So let's do it… 💪
And that's how our plan looked like in practice: waking up, reworking existing tunes, writing new tunes, even if it takes 24 hours per day – and then trying to somehow sleep at least 5 hours every night. The last thought before going to bed were troubles related to the production. And after we woke up, we went straight to the studio. Road to Burnout. But we've finished the album two weeks ago – and we have no regrets. We've learned so much, about ourselves, about things related to the studio, about songwriting. And these are the things we would like to tell you within the scope of our blog-series "Mosaik Diary".
Something inside you changes when you realize that the deadline of the release of your album comes closer. And before the inner pressure overburdens you, you have to react. One of our solutions to this problem was that we did not play any gigs in winter so that we could at least make some time for ourselves. Because even though we often got weekend-slots: You travel to a gig, you go on stage, your adrenalin gets pumping, you give everything you've got, you collapse onto your hotel bed with exhaustion, you return home on Sunday – and Monday is wasted as well, because you need more rest. Then you only have from Tuesday to Thursday to work in the studio before you have to get back on the airplane. But during this time, you barely get things done as mentally you're already at your next gig. So, for the time being, no gigs.
What is more, we've tried to establish a routine into our 7-day-workweek. Getting up at 9.30 a.m., usually working in the studio until two in the morning, without hardly any exceptions. We even reached a point where we probably lost track of the "real" world, the daily life, a world in which world you should also do your laundry once in a while 😂. Luckily, our girlfriends intervened in those situations and made sure that we also got some fresh air, kept a clear head and had some time for recovery.
This combination – dissatisfaction with an album that is basically ready, working without compromise and a private surrounding that makes sure that you don't overdo it – helped us to see things clearer. Even to the extent that we felt like we could completely turn the world around once again.
When it comes to music, the greatest difficulty probably is being overwhelmed by the moment in which a new track is completed – especially around the end of a production.
We were so euphoric about some of the songs we created in spring 2017 that we told ourselves nonsense like "if we recreated our album once again now, we would be done in a month!" or "that's the BEST thing we've ever done!". And then you realize that the tune is indeed really good but does not fit to the other tunes. So back to work – same old, same old. This infinite loop, the fine tuning of the big picture, is reflected in the title of our album "Mosaik" [mosaic, note], because: the most beautiful pattern is not complete as long as some parts are missing.
The track on the album which is representative of the last time of the production is called "Sloth". It was actually intended as interlude, but we loved it so much that it became sort of a "half-tune" – also because it fit in the album so well. The song was ready in only three days and people who know us understand that this was almost insanely fast as we usually reconsider everything a thousand times and tend to get immersed in the details. But "Sloth" evolved into the most tuneful track of the album in a short time. And simple and catchy is always a good sign.
You certainly know that feeling – when you toss and turn in bed and ponder over things that happened during the day. You mentally hunt after the perfect solution to your problems – although those are often problems that don't actually exist in reality. But you mostly only realize this the following morning, when you think to yourself: And that shit kept me awake last night? Well, that's how it is after all: At night things always seem more complicated than during the day.
We also dream music. For instance, we often have very bad mixdown-nightmares in which you endlessly fail, restart – and fail again. And it gets even crazier: During the album mastering, Krooked dreamt that Flume [a star-producer from Australia, note] visited him at home and crashed on his couch. Of course, he had his laptop with him. In his dream, Krooked asked Flume if he could show him his production-secrets. So Flume opened his laptop, started his FL Studio – and behold: He merely made use of the four preset-sounds, which you can see when you open the FruityLoops for the first time. SO SIMPLE? REALLY? ARE YOU FUCKING KIDDING ME? 😲😅
Well, then Krooked woke up and shaped – as he already did the days before – a single snare drum and wished to create the perfect album out of only four sounds, just like Flume in his dream. If only it was really as simple as that…
Part 2 of "Mosaik Diaries" will be published in May – about the beauty & dangers of analog-sounds, the pragmatic Camo & the perfectionist Krooked – and what turned "Mosaik" into the very album that defines the drum-and-bass-genre anew.