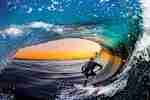 Leroy Bellet: This teenager revolutionised surf photography
© Leroy Bellet
And risked his life in the process.
If you're a surfer, then you've seen the images. If you're an artist, then you've admired the images. A man in a barrel, standing tall, lit up with the sunrise – only it's not an image of his gaping smile or silhouetted chest. It's taken from behind, from inside the barrel, and it's like nothing done, ever before, in surf photography.
Who's the man behind the camera, getting clamped by the heaving barrel and thrust into the reef, just after he clicks the lens open and shut again? His name is
Leroy Bellet
, and he's
unlike any other surf photographer out there
.
Get to know him (and please, take note of the DOB), and his stunning work, below…
Where are you from, and where do you currently reside?
I'm from a small town called
Ulladulla
, on the
South Coast of New South Wales
, Australia. I live here with my mum and two of my brothers and attend the local high school five days a week.
How did you get into photography, and specifically, surf photography? How did you then turn it into a way to make money?
The very first time I went into the ocean with a camera was in 2011, at age 12. I was filming from my helmet while surfing, using a pretty primitive version of the modern action camera. Lots of people I know don't surf and, to be brief, I guess I just wanted to show them what it was like to ride a barreling wave.
From there I learnt the ins and outs of
DSLR cameras
and started swimming and shooting sessions from all kinds of angles. As I got better I started to submit shots to the
Australian surf magazines
. I'd never even considered making money until I got an invoice request from one of them. I had to ask mum what an invoice was!
Pretty quickly I realised that every surfing image I got paid for was a shift I didn't have to work in the local supermarket. As you might imagine, that became an incentive to shoot photos all the time. It wasn't surfing, but it was better than stacking shelves, not that I'm one to complain about doing work.
Since then I've gained a few sponsors, had images used in bigger publications and worked with some prestigious advertising clients… but while money is a little incentive it never makes me more passionate about what I do.
I found surf photography, it became a passion, and then I accidentally stumbled across it as a way to make money.
What would you consider your "specialty" and how did you find it?
The double-tow.
It's a strange concept… getting towed into waves by a jet-ski, surfing behind another surfer and shooting photos at the same time.
For a couple of years, I'd been drawing these images I had in my mind from behind a surfer in the barrel, but I didn't know how to make them a reality. It's a position you can't be in while swimming. When I saw
Laurent Pujol tow-surfing
with his camera behind other surfers on the beach-breaks of France, I realised it was possible.
I basically just took Laurent's technique into the
reef breaks of Australia's East Coast
. When the images started to turn out and I felt more comfortable tow-surfing, I thought it would be cool to try it at night and at sunrise with a flash. So maybe the reef double-tow and the flash double-tow are my specialties.
Can you think of one point in time when you realised that this is what you want to do forever?
When I won the
Nikon Surf Photo Of The Year for 2015
, I promised myself I would pursue this as a career. I'm still not sure that it's possible to do forever, because of changing technology and the actual physical practicality, but if I can make a living out of it for even a little while longer then I will be very happy. Every time I put a wetsuit on to go to work I'm grateful.
What do you think the biggest factors were that got you to where you are today?
Where I live, my family's love for surfing, the local surfers, my obsession with improving and probably being young and naive.
What's the toughest thing about your job?
Managing work around school. I'm in 11th grade, so I still have another full year of school to go. I try to do as well as I can in both. That means a lot of late nights sending emails, finishing assignments and studying.
What's the best thing about your job?
Having a creative outlet to express myself. I love all kinds of art, but I can't sing, dance or paint to save my life. Right now,
at 17
, I guess I'm pretty reckless and naïve, and I just need an escape from day-to-day life every once in a while. Surf photography is a way for me to express that and I hope my work reflects it. Plus, it keeps me preoccupied so I stay out of trouble for the most part.
When people say you're "living the dream" what's your response?
"The world ain't all sunshine and rainbows" – Rocky Balboa
Haha, no, but honestly, photos might say a thousand words, but I'm yet to take a surf image that says "Leroy slept in the dirt at a random truck-stop the night before this surf and then split his head wide-open while taking this image. On the way home from the remote location the car caught on fire so Leroy and his friends spent the whole night trying to fix it to make their flight in the morning. They made the flight and were so run-down that they all got sick and spent the next week in bed."
That's the reality of surf photography; the photos are pretty, but you put real blood, sweat and tears into making them.
I just got the Snapchat app, so I'm going to start putting everything good and bad behind the scenes on there, without giving away locations, of course (Snapchat @leroybellet).
What's the one piece of advice you'd give to someone who's looking to get into photography, or surf photography?
Find your niche and hone it.
What's the biggest lesson you've learnt so far in your career?
Not to worry about what people think about me or my work.
It's art.
They're critics.
I'm going to continue to do my own thing and enjoy it, even if somebody else thinks it's stupid or pointless.
Do you think being young has been an advantage or disadvantage?
It has been both, for sure. I think I've got a unique perspective that is influenced by my age. Also, I have to accredit some of the physical and mental energy I have to youthfulness. The downside is that sometimes people are disrespectful or try to take advantage of me – maybe that's just business, but I definitely feel like it's because of my age a lot of the time.
Do you ever think about safety? How do you manage fear, your parents, etc...
All the time. I get these vivid, crazy nightmares and daydreams about drowning, breaking my neck and all kinds of other scary situations. It definitely plays on my mind a lot. I do everything I can to make what I do safer – that means different kinds of training a few times each week, learning and practicing rescue routines, trusting the people around me and being highly strategic and logical every time I get in the water. If I do all of these things it reduces my fears a lot. My parents and close friends understand and trust me. Mum freaks out sometimes – I think I've given her a few grey hairs.
Truth be told I'm far more scared of not pushing this further. If I were to quit my job as a surf photographer today I would give up my creative outlet, my dream and the very thing that makes me feel alive.