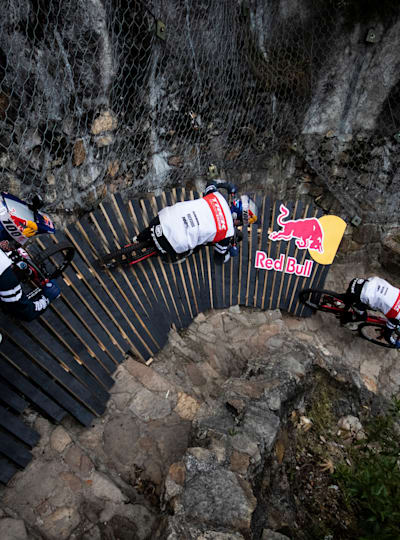 © Maximiliano Blanco/Red Bull Content Pool
The most exciting mountain bike events in 2023
Mark these dates in your calendar – you won't want to miss these exhilarating mountain bike events happening across the world in 2023.
Here are 11 absolute must-see mountain bike events for 2023. Follow them online, on live feeds and broadcasts, or, better still, get yourself out to one of them and witness the action first-hand.
01
Red Bull Valparaíso Cerro Abajo
9 min
Top 3 runs
Relive the runs from winners Johannes Fischbach (third), Tomáš Slavik (second) and Pedro Ferreira (first).

52 min
Recap show – Rotorua
Watch the full recap from the final stop of the world's biggest MTB festival, Crankworx.
Where:
Rotorua, New Zealand
The Crankworx World Tour
has been an ever-present in mountain bike seasons for as long as we care to remember, and in 2022, festival stops are due in Innsbruck, Rotorua, Cairns and Whistler. Rotorua returns to its traditional place as the first stop of the Crankworx World Tour season following its move from March to November in 2021.
Red Bull Formation in Utah
Red Bull Formation returns for another calendar entry in the woman's field as a now third-of-its-kind invitational "progression session", if we count its own past entries. A full freeride moutainbiking event, Red Bull Formation pits riders up against a rugged and harsh Utah platform that guarantees thrills, spills and lots of triumph as the woman work to complete a top-to-bottom line that demonstrates their elite skills and abilities and determination.
03
UCI MTB Cross-Country World Cup opener in the Czech Republic
Where:
Nové Město, Czech Republic
The cross-country athletes will be dipping their toes in first for the start of the 2023 Mercedes-Benz Mountain Bike World Cup season. Nové Město has been an ever-present location on the World Cup since 2012 and regularly produces tight racing that goes right down to the wire.

52 min
Recap show – Cairns
Watch the full recap from the third stop of the world's biggest MTB festival: the Crankworx World Tour.
Cairns made its debut as a Crankworx World Tour stop in 2022, and it returns in 2023. Like Rotorua, Cairns moves from being an event that takes place in the last quarter of the year to earlier in the year. Cairns features everything you expect from a Crankworx festival but make it tropical. There's a full programme of competitions and contests, including downhill, speed for & style, dual slalom and slopestyle.
05
UCI MTB Downhill World Cup opener in Switzerland
Where:
Lenzerheide, Switzerland

52 min
Recap show – Innsbruck
Watch the full recap from the first stop of the world's biggest mountain bike festival at Crankworx Innsbruck.
Where:
Innsbruck, Austria
Firmly established as the regular and only European location for the Crankworx World Tour. There'll be a lot to pack into five days of competition, so expect the action to come thick and fast in Austria.

52 min
All the highlights from Whistler
Catch up with everything that went down at Whistler in the slalom, pump track, downhill and slopestyle events.
There's not long to wait for the next Crankworx event, with Crankworx Whistler coming only just a month after Innsbruck. Whistler will be the finale of the Crankworx World Tour season and where the King and Queen of Crankworx will be crowned.
In what has now become an annual test of big downhill riding skill and nerve, a selection of the world's most talented mountain bike athletes will take to this challenging succession of monster jumps, boulder drops, technical puzzles and unrelenting weather in Wales in the United Kingdom.
09
UCI Mountain Bike World Championships
Where:
Various locations around Scotland
For the 2023 World Championships, the downhillers and cross-country riders will head to Scotland as part of a schedule of events that sees World Championships medals across road cycling, BMX, MTB, Trials and track cycling decided over 11 days. The downhillers will race in Fort William, while the cross-country athletes will race Cross-Country Olympic, Cross-Country Olympic Relay, Short Track Cross-Country and E-MTB in the Glentress Forest area just south of the capital Edinburgh.
10
UCI MTB Downhill and Cross-Country World Cup finale
Where:
Mont-Sainte-Anne, Canada
The hosting of the finale of the Mercedes-Benz UCI Mountain Bike World Cup season this year falls to Mont-Sainte-Anne in Canada. Overall titles will be up for grabs in downhill and cross-country for both the men's and women's categories, so expect the racing to be nerve-filled, tense and full of adrenaline in the mountains just north of Quebec City.

2 min
Winning run
Canada's Brett Rheeder made more MTB history with a huge run to win at Red Bull Rampage 2022.
The event to top them all is the inimitable Rampage. Do we need to tell you anything else? Expect hucks, spins, flips and sport-defining progression to be played out on the dusty Utah mountains.
Download the free Red Bull TV app and watch unmissable mountain biking action on all your devices!
Get the app here.