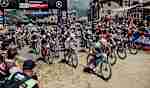 Cycling with a side of chaos: your one-stop guide to cross-country MTB
Cross-country mountain biking is seen as the perfect outdoor escape, so we asked the current Pan American Games champion Emily Batty to get us up to speed on one of the most kinetic sports around.
Cross-country: the short version
In its simplest terms, cross-country mountain biking is a discipline of cycling with an emphasis on racing over rough and ready terrain against multiple opponents (sometimes up to 100 other athletes). Think about riding a bike on forest paths, rocky uphills, rooty descents and single track trails at speed and you're on the right track.
Less technically-involved than downhill or enduro racing, cross-country mountain bike racing (or XCO as it is regularly shortened to) is a brilliant way to get into bike sport.
"Mountain biking is one of the most diverse sports," explains 32-year-old Canadian cross-country athlete
Emily Batty
. "Age doesn't seem to be a barrier of entry anymore, it's just a matter of having a bike. It's something you can do for exercise, your mental health, or you can can compete and work up to race on the World Cup stage. It's a sport in which you can never stop growing, you can always get better technically."
Mountain bikes are relatively new form of bike design, so racing them is a relatively new sport. People have been riding road cycles off-road since the 1890s, but the evolution of the mountain bike with a distinct frame, wheel size and geometry came in the mid 1970s. The first ever cross-country-style event took place from Crested Butte to Aspen in Colorado (a roughly 60km route) back in 1978.
As mountain bikes developed over the next few years they became more robust, with suspension introduced to the front fork of the bikes, meaning harder tracks could be attempted. With more riders flocking to the sport, cycle sport's governing body, the UCI, finally recognised mountain biking as a discipline in 1990. The sport has continued to grow in popularity around the world since then.
As far as Batty's career is concerned, she started riding bikes with her older brothers when she was 10 and went from there. As a promising junior, she competed in her first World Championships in 2005 and is now a regular on the XCO World Cup circuit. Recently, she claimed her fourth consecutive Canadian National Championship in 2019.
What are we watching, exactly?
A typical World Cup track, as regulated by the UCI, is 4–5km in length, with riders racing to complete five or six laps, depending on gender. Races last about 1h 20m on average. Don't worry about missing the action, though; instead of catching a blurry glimpse as riders race past, Batty estimates that at most events you'll be able to see around 60% of the track from any given point, meaning you won't miss out.
Naturally, it's a pretty frantic and exhausting sport. "It's a fierce 90 minutes all out," says Batty. "We race anywhere from 90–98 percent of our heart rate. It's super competitive. Fitness and bike handling is important, but there's also a mechanical element to it. You need to be able to get from point A to point B quickly and without any mechanical problems, which is challenging."
It isn't all about the hardware, though. "I think it's one of the hardest sports mentally, because you have so much time to think," Batty explains. "You don't just zone out, you're fighting thoughts of being at your max effort pretty much the whole way."
Typically, an XCO event at a non-World Cup level will showcase riders of all abilities, catering for a range of classes and age groups – all of which offer their own thrills and, for the riders, challenges.
If they stick with the sport, adult riders might progress through Sport, Senior and Expert categories, with the best of the best becoming Elite riders, like Batty. Once a rider makes the Elite ranking, most of their competition time will be spent competing in World Cup events across the globe.
"The World Cup competitions have evolved a lot over the last 10 years," enthuses Batty. "We've started to see a consistent standard the past three years and it is a very spectator-friendly sport."
I want a go. What do I need?
The good news is that you don't have to spend lots of cash on an expensive bike if you're just starting out.
"If you're just getting into cross-country, start with finding something that's half-decent," Batty advises. "There are usually a lot of local races, so you can go and talk to riders there."
If you're looking to level up, swap out an old mountain bike for something a bit more suited to racing. Typically, cross-country bikes weight between 7kg and 16kg, making them some of the lightest mountain bikes around. Hardtail mountain bikes are the norm, but full suspension bikes are now being favoured by the professionals most of the time. Wheel size has moved up from 26" wheels up to 29" in recent years.
You're also going to be sitting a bit more upright than on a road bike to help you navigate rough terrain. Naturally, you will need a helmet, but you don't need a full-face helmet or body armour unless you're thinking of crossing over into downhill racing.
Ever eager to help her sport advance, Batty has made it even easier to get a bike, founding the
Emily Batty Project
to help less fortunate kids get onto bikes.
With XCO being a racing sport, there isn't the same emphasis on tricks that something like BMX Freestyle might have (for example). Instead handling skills and tactics are more important.
"Tactics are really important," agrees Batty. "There's a really big emphasis on the start and where you place yourself. You have a few minutes after the start line before you're filed into this single track and you're forced into the position you're in. In a race, if you can light it up on the first lap, that's great. The most intense part for us athletes is lap number one."
So, if you're watching a race, pay particular attention to the very first seconds of a race, when riders will be jostling for the best position. Often this can influence the first few laps and even the final outcome of a race.
Not that securing a good position early on guarantees success. As Batty points out, cross-country riders will constantly be assessing and evaluating the race and weather conditions as they go, meaning their position might change in an instant. When it comes to that crucial final lap, you might even recognise some of these tactics from other cycling disciplines.
"A lot of road racing-style tactics happen in the last lap, because it's mental and you're trying to calculate if you have enough room [to pass other riders]," Batty says. "You're thinking about the wind, whether to pass someone on the right or left side – there are all these different elements to consider, as we're constantly trying to decide what position to aim for."
Who should I look out for?
You know what to watch out for, but who should you root for?
"There are some great female Red Bull athletes and, really, anyone in the top 12 could be the winner for the next race," says Batty. "Energy is everything. You can get a sense of who's on versus who's trying to be on."
Three racers with excellent, infectious energy are:
"She's definitely shown she's here to stay. She had a fabulous year in 2019, so if she's able to get back to that level I think it'd be great for North America. It's great for Canada and the US to be able to challenge the Europeans."
"She's a Ukrainian athlete. She's coming back from a broken hip a year-and-a-half ago and when she's on form she's a firecracker."
"Evie is a former team-mate. She's a machine. That's why we saw her win some XCC short track races in 2020. She's going to be a force to be reckoned with, for sure."
Now you know what to expect from cross-country racing, who some of the best riders are and even what to look for in a bike if you want to give it a go yourself. But where can you actually watch some racing?
"Red Bull TV broadcasts the
World Cup series
live, so you can watch the races there," enthuses Batty. "They do a really good job of making interesting pre-shows; it isn't just about the event anymore. You can tune in and watch 30 minutes of interviews and stories that are happening before the race."
Not only does this give each race more context and colour, it makes for a really exciting build-up for the main event. For even more excitement, Batty recommends following your favourite athletes on social media to get a glimpse into their training regimes.