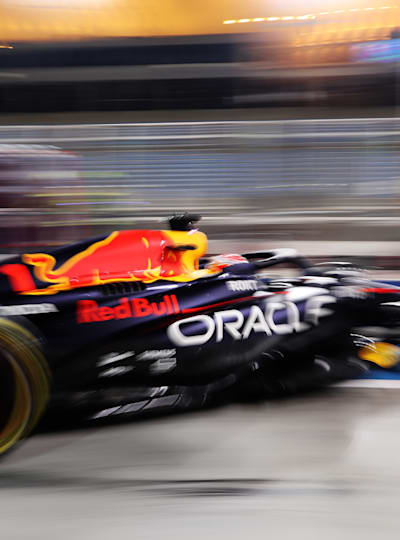 © Getty Images/Red Bull Content Pool
Everything you need to know about the 2023 F1 season
10 teams, 20 drivers, 23 races in 20 countries – and all with the goal of being number one in the world's highest-profile motorsport category. Get ready for Formula One, 2023 style.
Formula One
is back with a bang this weekend, as the 2023 season-opening
Bahrain Grand Prix
(March 5) heralds the start of a campaign of evolution on and off circuit.
Compared to last year's revolutionary re-writing of the sport's regulations – arguably the biggest in four decades – the world's premier open-wheel racing category is making only marginal changes to the machinery this year, but there's plenty of other shiny new toys for 2023. We have ground-breaking new races, a doubling of the short-form sprint races on the schedule, former venues coming back into vogue and three very intriguing rookies to watch.
Up front, the pack will once again be chasing
Oracle Red Bull Racing
star
Max Verstappen
, who backed up his last-gasp 2021 title triumph with a 15-win masterclass of a season last year to retain the champion's number 1 on his car's nosecone that every driver covets.

48 min
Unfiltered: Horner and Newey
Oracle Red Bull Racing's team principal and chief technical officer reflect on their success.
Team-mate
Sergio Pérez
– who won twice last year – is back for a third season alongside the flying Dutchman, while at sister squad Scuderia AlphaTauri,
Yuki Tsunoda
enters into his third campaign with his second F1 teammate as the exciting Dutchman
Nyck De Vries
joins him. De Vries is finally getting his chance at a full-time drive at the age of 28 after winning the Formula 2 and Formula E titles on the way to F1.
Not sure what you really need to know before settling in to watch what will be a 23-race campaign in 2023? We've got you covered …
01
What races are taking place in 2023?
At 23 races, 2023 is the longest season in F1's 74-year history – and would have been even longer had the Chinese Grand Prix not been postponed for a fourth straight season. The French Grand Prix drops off this year's schedule compared to last, while Qatar – after a one-year hiatus following its one F1 race in 2021 – is back.
The biggest and brightest inclusion? That'd be the penultimate race of the season in Las Vegas, a Saturday night spectacular where the cars will race along the famous 'Strip' and all of its decadent, neon-lit brilliance.
02
How does a race weekend work?
Let's answer this one question in two ways. There's a regular race weekend and a Sprint Race weekend; 17 of the former and six of the latter.
A regular race weekend is a tried and tested formula; the drivers have three 60-minute practice sessions ahead of Qualifying, which lasts one hour and begins with all 20 cars taking to the track for an 18-minute session. At the end of that 18 minutes, the slowest five cars are eliminated from qualifying and form grid slots 16-20 for the race.
Another 15-minute session follows; at the end of that, the slowest five cars are parked and placed in grid slots 11-15 for the next day's race. And then it's the final 12-minute shootout for places 1-10 on the grid, with pole position the goal.
The races are held to however many laps are required to achieve 305 kilometres/190 miles, and world championship points are allocated on a sliding scale from first to 10th places, the winner receiving 25 points. An extra point is given to the driver who sets the fastest lap of the race, provided they finish inside the top 10.
With the six-race Sprint exceptions we mentioned earlier, the same weekend format applies except there are two practice sessions, not three – and the qualifying result sets the grid for a Saturday sprint race that lasts for 100km/62m, with a sliding scale of points on offer from first (8 points) to eighth (1). The finishing positions of the Sprint race set the grid for the Grand Prix proper 24 hours later.
F1 has never had more than three Sprint events per season since the concept began in 2021; this year, the Grands Prix in Azerbaijan, Austria, Belgium, Qatar, USA (Austin) and Brazil will feature Saturday racing before Sunday's main event.
03
What's changing on the cars for 2023?
Compared to last year, not a lot – take a look at a 2021 F1 machine side-by-side with a 2022 one and you'll see the extent of last year's regulation reset, not to mention tyre sizes going up from 13 to 18 inches to create a whole new look for F1.
This year, the alterations are more subtle, procedural and safety-driven.
The ground-effect aerodynamic profile of last year's cars – their downforce, which helps them corner so rapidly, was generated beneath the machines last year – caused a phenomenon where some cars bounced or 'porpoised' as the airflow continually detached and reattached as the car's low underfloor hit bumps in the road. As a result, floor heights have been raised by 15mm this year, and mandatory sensors have been fitted to each car to measure the extent of the bouncing.
Roll-hoops – the semi-circular ring above the driver's head – have been strengthened in the wake of Zhou Guanyu's miracle escape in his Alfa Romeo following a spectacular crash at the start of last season's British Grand Prix, while driver-side mirrors have been widened to aid visibility for the new generation of cars, which are flatter and lower than what came before them.
Watch the unveiling of Oracle Red Bull Racing Formula One Team's RB19 F1 car below in full:

Oracle Red Bull Racing 2023 Season Launch
The team are back in the USA to launch their new car for the 2023 Formula One season.
04
Who moved where in the driver market?
Four of the 10 teams – Alfa Romeo, Mercedes, Ferrari and – of course – Oracle Red Bull Racing – kept their same driver pairings from last year, while six teams switched things up.
Of those six, three will blood 'rookies' in 2023. McLaren signed former F2 and F3 champion Oscar Piastri to replace fellow Australian Daniel Ricciardo as Lando Norris' team-mate; Ricciardo has since rejoined Red Bull as a reserve driver.
At Williams, American Logan Sargeant graduates from F2 to partner Alex Albon – the 21-year-old Floridian is the first full-time American in the series since Scott Speed 16 years ago.
The other 'rookie' – note the quotation marks – is De Vries, who memorably scored points in a one-race stand-in appearance for Williams in Italy last year when Albon was unwell.
Of the familiar faces in new places, two-time world champion Fernando Alonso switches from Alpine to Aston Martin to take the place of the retired Sebastian Vettel, while former AlphaTauri race-winner Pierre Gasly steps in at Alpine to form an all-French line-up with Esteban Ocon. And at Haas, the experienced Nico Hulkenberg starts life at his sixth F1 team alongside Kevin Magnussen. The German was a reserve driver for Aston Martin last year.
05
What did pre-season testing tell us?
Read into lap times and take comments at face value from pre-season testing at your peril. For one, it's three days of running one car per team between two drivers, and confident teams with fast cars don't often show their hand, while slower teams can often chase eye-catching times for a bit of cheap publicity that may attract a sponsor or bolster morale. Cynical, us? It's happened before, and will no doubt happen again…
Usual caveats about what fuel loads teams were running and who was grandstanding or sandbagging aside, what we do know is that Red Bull's brand-new RB19 ran speedily and reliably across the test, and that Verstappen was "very pleased" and "felt comfortable" after 204 laps across two days.
Ferrari look lively – particularly on the straights – while Mercedes' porpoising, which blighted its 2022 car, looks to be more under control. Elsewhere, Aston Martin suffered a blow when Alonso's team-mate Lance Stroll missed the entire test after suffering a wrist injury from a bike accident the week prior.
All that goes out the window though come Bahrain, and the 22 Grands Prix that follow – that's when we'll get the complete picture of how F1 2023 will shake out. Grab the popcorn and settle in for the show…
Download the free
Red Bull TV app
and watch the best action on all of your devices!