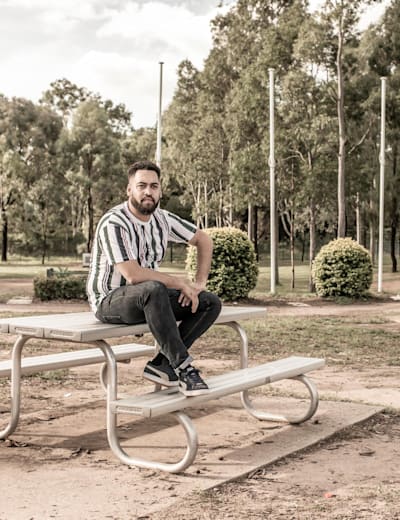 Get back: The rich history of hip-hop in Sydney's West
© Guy Davies
The global spotlight is hitting Sydney's western suburbs. It's been a long time coming.
"Let's get back / I'll start at Burwood park / hip-hop breakin' after dark / many crews would join the fray / travel from east to west upon the train / some to break some to inflict pain."
Sound Unlimited - Tales From The Westside
Rapper B Wise was 12 years old, living in Nigeria with his father, when he got robbed.
Wise, who had been born in Sydney and had grown up rural, spent six months in Nigeria. There, his love of music, nurtured since he was a child, continued to grow – his musical father would play him everything from jazz to Michael Jackson, and Wise would delight in learning the words. One day, when they were out driving around Nigeria, some of his uncles casually slipped on a Tupac song,
I Get Around
. It blew Wise's mind.
But the real explosion in his musical tastes didn't come till a little later – not till he and his father returned to Liverpool in Sydney's West and discovered that they had been broken into. Most of the CDs and vinyl records in his father's collection had been pilfered during a break-in. Later, after making an insurance claim, they were sent a 'care package' of albums. There, in young Wise's hands, were rap classic including All Eyez On Me and Life After Death. The robbery marked a turning point. In one little package, the rapper got a lifetime of hip-hop education.
It's served him well. These days, Wise is one of the most talented and exciting artists in the country, regardless of genre. His music – twisty; witty and heartfelt; simple when it needs to be, complex when it doesn't – sounds at once like the next logical step in hip-hop's history and something new entirely. Feel Something, a dense package of beats and wordplay, is the new highpoint for contemporary rap in this country.
Wise's story provides a neat encapsulation of what makes contemporary Australian hip-hop the force that it is – a global reach with global influences; a commercial and critical heft. But it also provides an opportunity to look back further, into the history of rap in this country. After all, Wise is not creating in a cultural vacuum. He is one of many performers operating out of Sydney's West who have all worked in their own way to change the game – another voice in a rich cacophony, all of it emanating from one small pocket of the city's suburbs.
Since the late '80s, in suburbs like Liverpool and Parramatta, performers and hip-hop fans alike have led a new renaissance in the art form. Expanding upon the work done by seminal American game-changers, these artists have combined their diverse backgrounds with stories of life in Australia, producing music that encapsulates what it means to be alive in the West. And more than that, what it means to be alive generally – to be disenfranchised, and angry, and hungry for change.
No matter that the mainstream press has largely shunned the music coming from the West. But without even half the critical support that should be afforded to them, rappers in the West have been quietly and methodically altering the shape of Australian music. And they're not keeping their goals local either. As
Liverpool's L-FRESH The LION
puts it when asked to describe the future of hip-hop in the West, the game is only getting bigger. "From South West Sydney to the world," he says, simply.
The edge of the underside
The West and hip-hop have been intertwined for as long as many rappers can remember. "The industry is only taking note of our talent now, but it's been there for ages," L-FRESH The LION explains.
"We live and breathe it out here, not just through music, but in the way we speak and in how we move. It's our mindset, our mentality. That 'grind or die, give it your all, hustle to survive, staying strong against all odds' story is our story. It's our day-to-day reality. Hip-hop has been out here for a long time."
At first, the biggest influence on many early Australian hip-hop artists were the Americans. Tupac, Biggie, Snoop Dogg and N.W.A provided the way forward for artists in this country, not just musically but ideologically. Just as punk had done years before, and blues before that, the classic American wave of hip-hop in the '90s emphasised rawness and doing it for yourself.
We live and breathe it out here, not just through music.
After all, according to America's hip-hop pioneers, you didn't need to sign with a major label to spit your truth, or to soak your songs in the production that defined the pop music of the time. You could simply gather your friends around a microphone, and you could tell your story. The rest could be sorted out later.
That was attractive to Australian artists in generally, and those living in the West in particular. Sydney's music industry infrastructure has long conglomerated around the city, and although the West has its fair share of recording studios and venues now, that wasn't always the case. In the '80s and '90s. There was much to be gained by the realisation that you didn't have to deal with record execs or pricey, hard to come by studios, and could instead distribute your message yourself.
There was, however, a different issue to contend with – the rigours of taste. The notion of what hip-hop could do was, if not limited, then certainly shaped by what was in fashion. Indeed, the song that many call the first rap track released in Australia,
Combined Talent by collective Just Us
, reflects the musical obsessions of the time. Filled with vinyl scratches and a methodical, simple beat, the 1986 track took its inspiration from the global success of Run D.M.C. and the sly singles dropped by L.L. Cool J.
Yet by the late '80s and the early '90s, artists in Sydney's West were looking for ways to be subversive. Emboldened by the success of Westside Posse, a collective hailing from Burwood that were the first rap act signed to a major label, a multitude of crews began to pop up, pushing different ways to tell their stories.
One of the biggest, Def Wish Cast, brought a distinctly Australian flavour to '90s hip-hop. Though they stayed almost methodically true to the fundamentals of the art form – they prided themselves on their reliance on nothing but a mix desk and a microphone – there was something genuinely revelatory in their primal immediacy. Knights Of The Underground Table, their debut full-length and one of the very first rap full-lengths released in the country, was a mix of Australian accents, Australian slang, and nods to the work of N.W.A. Somehow, despite wearing its influences on its sleeve, it sounded like nothing else.
Around the same time, Munkimuk, the father of Indigenous hip-hop, was growing in stature thanks to his collective South West Syndicate. That group, which had dissolved by the early 2000s, were bringing a tremendously diverse array of voices into the fold –
as Tony Mitchell writes in his excellent report on Indigenous hip-hop
, South West Syndicate was made up of "an extended family of a crew which included a quadriplegic Lebanese-Australian MC as well as Pacific Islander, Croatian, German, Lebanese and Anglo members at various times."
Yet as the '90s went on and hip-hop in the States changed, so too did it here. The influence of the third Cypress Hill record, Temples Of Boom, was shaping distinctly Australian stories by crews like Cannibal Tribe and Terminal Illness, who combined dynamic wordplay with multi-part, complicated songs.
Still, despite the explosion in talent and creativity, Australia's major labels tended to ignore what was going on in their own backyard. A Postcard From The Edge Of The Underside, a record by Westside Posse, was the only Australian rap album distributed by a major label – and that only came about thanks to the involvement of Public Enemy, the American collective whose clout and earning power was too big to be ignored even by the out of touch and stuffy Aussie big-wigs. For the most part, executives were too busy chasing pop to realise what was going on in the West, right under their noses.
By the early 2000s, audiences were flocking to hip-hop, even if critics still largely weren't. And no crew illustrated the newfound earning power of the genre better than Adelaide group Hilltop Hoods. Their album The Calling, released in 2003, became a commercial powerhouse – it hit the number 50 spot on the ARIA albums chart, and two of its singles reached triple j's Hottest 100.
A few years later, by 2006, The Calling became the first Australian hip-hop album to go platinum. Three years after that, another Hoods record, Hard Road, became the first rap album to hit the number one position in the ARIA charts. If the American crews had been largely seen as the blueprint for commercial success in the '90s, in the 2000s the Hoods were the ones demonstrating how the money could get made.
Artists in Sydney's West responded to that success differently. Some embraced the rich pop angle of rap, much like the Hoods had, creating radio-friendly bangers such as
13th Son's excellent Hush
. That in turn inspired an explosion in the number of young crews, all of them emboldened by the success of the collective and their imitators.
Suddenly it seemed like making a significant living off hip-hop was a distinct possibility, and fresh-faced talents got in the game with new, loftier ambitions. One of the young groups emerging in the early 2000s, K-1, featured a young, starry-eyed performer who would later go on to find great success under the name B Wise.
But while some courted radio play and ARIA chart success, others still went distinctly stranger. In 2004, Brethren, a hip-hop two-piece operating out of Sydney released Beyond Underground, Australian rap's very first concept album. Dropped along with a fully-illustrated comic, Beyond Underground was a rich, sci-fi odyssey, over which marijuana smoke hung thickly.
Shadows Of Light
, one of the record's breakout singles, was arch, jagged and distinctly strange. Like the rest of the record, it was proof, if any was needed, that hip-hop could be more than the sturdy but non-experimental bangers that the Hoods were dropping.
More than that, music coming out from the West proved that hip-hop could be more increasingly diverse too. Maya Jupiter, one of the key emcees of the era, was a Mexican-born rapper who was raised in South-West's Busby and later operated largely out of Ashfield. Jupiter's songs, frequently autobiographical and serious, yet elevated by her love of jazz and instrumentals, were like nothing else attempted in the genre.
But Jupiter's debut record Today wasn't just a creative gamechanger, inspiring a wave of hip-hop artists who followed her lead and folded jazz influences into their bars. It was a bold new pivot point for the way the industry's labels worked. Today was released by Mother Tongues, hip-hop's first label dedicated to raising up female performers, and the success of the record guaranteed Mother Tongues' influence throughout the 2000s.
And yet even still, critics were yet to sit up and pay attention. Ian Maxwell, now an associate professor at the University of Sydney, was one of the few writers and intellectuals who was interested enough in hip-hop to write about it intelligently. His book Phat Beats, Dope Rhymes: Australian Hip-Hop Down Under Comin' Upper, released in 2003 and an expansion of a dissertation he wrote at University, was one of the first serious attempts to chart the breakthroughs in hip-hop in the West.
Hip-hop has become a part of our DNA.
But Maxwell was largely operating alone – by 2003, there were only three articles published in major Australian newspapers that dealt with Australian hip-hop, and one of them was an insulting, badly proofed hit piece that tried to draw shaky connections between violence in the U.S. and the rap subculture in Sydney's West.
Surely some of that was racism. As historian and cultural critic Tony Mitchell noted in a
speech on hip-hop delivered to an attentive audience at UTS
, the West of Sydney was treated largely as a ghetto. The mainstream critical establishment, mostly white, middle-class university graduates, was as divorced from the realities of life in the West as it was possible to be. And so they ignored the movement. And so Australia's cultural life suffered.
D. Minor remains to this day a force for all that is good about hip-hop in the West – he's a Charity Ambassador for Musicians Making A Difference, and he still regularly performs for the benefit of young Western Sydney crowds. Sampa The Great, meanwhile, has gone international, taking the history of the Australian hip-hop form with her: she has opened for artists like Joey Bada$$ and Kendrick Lamar, and continues to grace stages Stateside. Manu Crooks' ascendency continues with a steady release of singles, most recently Fuego, continuing successful collaborations with local artists while setting sights on the world stage.
Yet these are but three performers plucked from Western Sydney's multitudes. There are hundreds of performers shaping the artform, and there will be hundreds more to follow them. As far as L-FRESH The LION is concerned, that explosion of creativity and drive speaks to something about Western Sydney as a whole; something essential that keeps its people working and creating, the mainstream be damned.
"It's our everyday," L-FRESH The LION explains. "Hip-hop has become a part of our DNA … It's not about how many gigs are on. There aren't many venues to play at in the area, but that's a whole other conversation. I'm talking about how the people out here are living hip-hop.
"I could walk down the road to the local courts and show it to you. Or jump off the next couple of stops on the train and be immersed in it. I'm talking about the hip-hop mindset and the people it influences out here. This is our community."
Sydney's West is showcased in B Wise's instalment of This Is... Home. Watch the episode
here
.