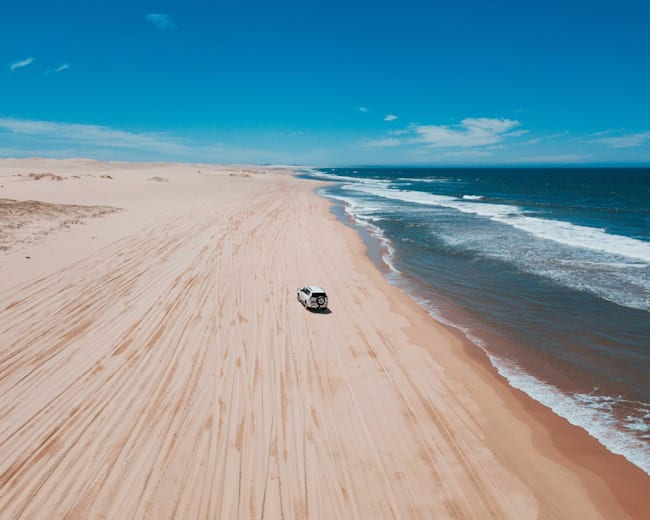 25 of the most iconic Australian road trips to drive in your lifetime
© Matthew Kane
There's no shortage of tarmac to traverse in The Lucky Country. From ocean drives to outback missions, here are Australia's best road trips.
The US might get the wrap for the most road-trippable nation, but Australia is right on the yanks' tail when it comes to epic rides behind the wheel.
Factor in scenery, rural expanse and one-of-a-kind places, and you could even say we take the cake when it comes to sheer road trip adventure. Here's a look at 25 of the wildest and most scenic must-drive road trips that you need to do, whether you're 25 or 52.
1. Red Centre Way, Northern Territory
To drive the 1135 kilometre loop from Alice Springs through Kata Tjuta, Watarrka/Kings Canyon, Tjoritja/West MacDonnell Ranges and Uluru is, to sum up in a single word, unforgettable. Over sealed and unsealed road, you'll journey deep into spirited lands of mulga forest, spinifex, valleys and red desert earth. This is one to stuff your cassette deck with Midnight Oil and the Warumpi Band, crank the woofer to 11, then floor and be floored by ethereal sunset as you chart the nation's deepest outback.
2. The Savannah Way, Queensland and Western Australia
As you might have noticed, any trip with the name 'Way' in its name likely heralds something fairly immense. They call the Savannah Way 'Australia's Adventure Drive', and given the competition, that's saying a lot. Linking Cairns in Tropical North Queensland to Broome in Western Australia's Kimberley, this epic 3700 kilometre route features gratuitous glimpses of Australia's tropical savannahs and the Northern Territory's remote Top End, skirting fifteen National Parks, five World Heritage areas, epic gorges and stunning beaches.
3. The Great Beach Drive, Queensland
While we're considering semantics here, having the word 'great' in the mix means you're probably in for something, well…pretty great. As well as being great, The Great Beach Drive wins the championship belt for 'most literal' name: it's great, there's a lot of beach, and it's a hell of a drive. The story checks out. You'll discover and relish in this one along Queensland's stunning Australia's Nature Coast, a splendid 380 kilometres that links the ever-radiant Sunshine Coast with majestic Fraser Island and the Fraser Coast in the north.
4. Cairns to Cape Tribulation (or even Cape York), Queensland
Spare a thought for Australia's right-hand horn: that pointy northeastern nib thrusting Queensland to within a hair's breadth of Papua New Guinea. It's a mighty fine spot for a drive. Make Cairns your set off point and barrel north through this glorious slice of land via Palm Cove, Port Douglas and ancient Daintree National Park – all home to the glorious beaches of Cape Tribulation. If you're feeling turbo-Kerouac, truck on along the 81 to Cape York and feel the spectacular remoteness of Australia's northernmost point.
5. Brisbane to Cairns, Queensland
A trip best done with the top down (a '57 Chevy ought to do fine), Brisbane to Cairns subsumes the Great Beach Drive to form a bona fide Queensland highlight reel. It's a quick shot north from Brisvegas to the sultry Sunshine Coast, where a dip in the drink is mandatory, before another brief leg to nourishing Noosa Heads. Fraser Island and Hervey Bay enter the scene here afterwards, followed by rum hub Bundaberg, Yeppoon, and another decent stint to the chill vibes of Airlie Beach. On the way to Mission Beach (and its postcard perfection white sands and teal waters), Baz Luhrmann fans light like to check out Bowen – the flashy director filmed 'Australia' here. Lastly, if you're able to peel yourself away from the relaxing beauty of Mission Beach, the home stretch to Cairns is but a two-hour ride away.
6. The Great Ocean Road, Victoria
Every Great Southern Land needs a
Great Ocean Road
, and you'll find ours hugging the rocky shores southwest of Melbourne. Straddling the entire Victorian coast from Torquay to Warrnambool, the G.O.R is a road trip institution: a rollicking 250 kilometre ride through some of the most epic rainforest and scenic coastline in the country (if not the world). Premium surf, sweet villages, cliff top vistas and the inimitable 12 Apostles are calling your name.
7. Eyre Peninsula, South Australia
When you've got a fever, and the only prescription is more peninsula, you need to be in South Australia. Blessed with the right coastal topography, there's a greater quantity of peninsula action in South Australia than any other state in the nation. Though it might be a long day's ride from Adelaide, the Eyre Peninsula is the most rewarding in the region, and by far the 'peninsula less travelled'. From Whyalla to Port Lincoln then up the west coast to Ceduna, you'll taste some of the freshest seafood in the world around these parts, and some of the most incredible wildlife and stunning coastal scenery in which to enjoy it.
8. Gibb River Road, Western Australia
For 660 kilometres of rugged 4WD road adventure, Gibb River Road's got your name all over it (doubly so if your name's Gibb). This is the trip par excellence for taking in the epic Kimberley. You want crocs? Got it. Epic national parkland? The Windjana Gorge National Park will blow your mind. Scenic rural flight experiences? A zip over the Mitchell Falls and the epic Mitchell Plateau yields one of the most incredible flying experiences in the world. More gorges? Adcock, Manning, Galvins, Leonard and Bell Gorges – and the stunning King Leopold Ranges – are all en route. Incredible sights, natural wonders, Indigenous Australian culture, and straight up adventure is what you're going to get.
9. Darwin to Litchfield (via Katherine and Kakadu), Northern Territory
Though the Top End is practically one endless road trip, it's always a good idea to bite off a territory this huge in manageable chunks. Take the Darwin to Litchfield run as a case in point: this ultra-doable one-dayer is as easy as it is delightful, replete with the crashing waterfalls, sandstone pillars, and chilled rock pools of Litchfield National Park the well-earned bounty at the end of the day's mission. Those keen to make a meal of it ought to push out the jaunt to a five-dayer and swing by Kakadu National Park for a neat scenic upsize.
10. Broome to Perth, Western Australia
No matter where you're setting off from, experiencing the sight of a camel train along secluded West Australian beach is worth a road trip alone. You'll be privy to this one-of-a-kind moment at Cable Beach, just one of the many excellent adventures along the Broome to Perth coastal route. So too, the otherworldly Pinnacles Desert, the award winning Karijini National Park and the flat out spectacular Ningaloo Reef.
11. 75-Mile Highway, Queensland
It's on the world's largest sand island, and it's conveniently named so you don't forget how far you're going. There's much to be wowed about on Fraser Island: the local pure strain dingo population, the native humpbacks, the curious and rare fusion of sand dunes, tall rainforests and perched lakes. And what better way to see all this gloriousness than by driving the island's entire length, via a sandy freeway that submerges twice daily? Weird, wild and spectacular.
12. The Great Alpine Road, Victoria
From beachside to mountaintop, we shine the light here on rural Victoria once more, a lush ride across the very underrated Victorian Alps from Wangaratta in the north to Bairnsdale in the southeast. Cue 308 kilometres of rolling, sprawling, verdant country Victorian goodness, where the peaks shimmer white in the winter, and rugged, lush rainforest beckons in the warmer months (and plenty of memorable dips and turns along the way).
13. Perth to Darwin, Western Australia and Northern Territory
For the serious road trippers amongst us, Perth to Darwin is a bucket list no-brainer. Though technically there's probably a few ways to get from P to D, your best bet is to extend your run from Perth to Broome and keep on keepin' on. From Broome, head out through Fitzroy Crossing via the epic Kimberley, on through Purnululu and Kununurra, all the way across to D-town (with the Litchfield and Kakadu detour as an optional tack-on).
14. Sydney to Melbourne, New South Wales and Victoria
A classic never dies, as they say, and while you might think the Sydney to Melbourne trip (or vice versa) might lack a little when it comes to scenery, there's a good chance you're just doing it wrong. By all means floor it in nine flat along the Hume via Gundagai's dog on the tuckerbox and the incongruous submarine of Holbrook. But if you enjoy a little sea spray, venture long and sup the glories of the east, taking in the surf towns and coastline of NSW's gorgeous Central Coast, as well as Victoria's secret inlet Mallacoota and Croajingolong National Park.
15. The Nullarbor Plain, South Australia
Some might call it Nullar-boring, others might call it 'plain'. Colonial explorer Edward John Eyre called it a 'hideous anomaly'. Whatever the case, for those of us who've never taken on the epic stretch from Western Australia's Norseman to South Australia's Ceduna, a stint in a 4WD across the epic Nullarbor is a timeless and righteous Australian road trip experience. Riddled with myth, legend, space junk, meteorites, spooky UFO stories and very little trees, prepare your stops and keep your eyes wide open on this monotonous yet spirited desert highway.
16. The Pilbara, Western Australia
Magnetic, ethereal, timeless: jut a few pithy adjectives to clothe the billion-year-old Pilbara region. Given its eye-arresting landscapes of red earth, regional fauna and iron ore, it's surprising that this part of the country doesn't get more of a road-trip mention – the scenery here is top notch, especially the waterfalls, swimming holes and gorges in and around Karijini National Park. For a swell way to get it all in, kick off at Port Hedland and head south through Marble Bar to Newman, then through Karijini to Tom Price, and up through Midstream to Pt. Samson (if time allows, Dampier, Karratha and Onslow are superb additional extras).
17. Hobart to Freycinet, Tasmania
Only a fool would leave out Tassie from an epic road trip bucket list – all that untouched rainforest, the sleepy towns, the whisky stop offs, the incredible lush beauty that you don't get anywhere else in the country. The east coast is one of the best rides on the Apple Isle: from the sandstone warehouses of Hobart's Sullivan's Cove, head through scenic Great Oyster Bay, Maria Island, Swansea and Coles Bay, before smacking your lips on some of the freshest oysters at Freycinet Marine Farm, en route to glorious Freycinet and the stunning Wineglass Bay.
18. The Tassie Loop, Tasmania
Then again, given its convenient size why limit yourself to just 120 kilometre of Tassie action? Why not be a boss and have a crack at the whole kahuna? Juice up, and power on from Freycinet to Launceston via Kings Bridge in Cataract Gorge Reserve, take a ride on the Nut Chairlift in Stanley, marvel at the sight of Cradle Mountain and Glacier Rock, check out the sleepy waterfront of Strahan, and reconnect with the happening vibes of Hobart for another dose of great food, wine, seafood, art and culture.
19. Kangaroo Island (and the Fleurieu), South Australia
Blessed with 1,600 kilometres of road, most of them unsealed, you can't get a wilder South Australia road experience than along Kangaroo Island. The trip there is half the fun: from Adelaide to Cape Jervis, the stunning Fleurieu Peninsula dishes up two hours of glorious coastline and vineyards, courtesy of the world famous McLaren Vale wine region. Still, the island itself is next level: remote wild beaches, insane cliff-faces, abundant wildlife and more. Factor in pit stops at Flinders Chase National Park, Admirals Arch and Remarkable Rocks, Cape Borda lighthouse and the swell at Stokes Bay.
20. The Outback Way, Queensland, Northern Territory and Western Australia
Arguably the nation's greatest cross-continental bush blockbuster, the ride from Cairns to Perth is certainly one of the longest shortcuts around, a heroic mission that few of us will ever get to tackle. Though it technically only covers Winton in Queensland to Laverton in Western Australia (2800 kilometre), we suggest you tack on an extra couple of thousand clicks and touch base at each coast. The Pros? You don't need a 4WD, there are plenty of motel choices along the way if you don't want to sleep in your van or camp along the way, and it'll take you through some of the country's most iconic sights: Uluru, Kings Canyon, Alice Springs, Warakurna, and beyond. The Cons? There aren't really any. Factor in a fortnight or so, and go drive the dream.
21. The Old Grafton Road, New South Wales
Old Grafton Road might sound like something out of an '80s horror film, and though there's nothing nefarious about the remote track, it certainly gives off a few ghosty vibes, mostly due to the presence of dilapidated gold rush era homesteads and properties in and around the deserted town Dalmorton. You can still stumble on the old police stables, lock up and butchers shop in this former town of 3000 locals. Before the Gwydir Highway opened in '62, the Old Grafton Road was the one and only way to get from mountain to sea (at least a week's hard trot on horseback). These day's it'll take you four hours. A thought-provoking trip back through time.
22. Heritage Highway, Tasmania
This 200-year-old stretch linking Hobart and Launceston, you'll be chuffed to learn, was built by convict road gangs back in the 1800s: a sweeping ride through farmland, Georgian villages, grand rural estates and epic scenery of Tasmania's historic midlands. Lap up the scenery, explore whisky and wine country, and relish in the flavours of Tasmania's colourful yesteryear.
23. The Grand Pacific Drive, New South Wales
In the tradition of packaging up stretches of road into digestible tourist-friendly chunks, we give you the Grand Pacific Drive: one of Visit NSW's recent conquests, and a mighty fine stretch of bitumen if we do say so. One of the country's great coast-huggers, this 140 kilometre jaunt takes you from Sydney's Royal National Park all the way south to Wollongong, Shellharbour and Kiama, via epic sights including Sea Cliff Bridge, Minamurra Rainforest and, for a little waterslide action, Jamberoo Action Park. Better still, venture forth and take in the stunning white sands and clear waters of Jervis Bay, the sparkling Sapphire Coast, and make a real trip of it.
24. (From anywhere) to Silverton, New South Wales
As most 'Mad Max' diehards will likely attest, all roads lead to Silverton. George Miller's 1981 hit was filmed chiefly around New South Wales' old mining town Broken Hill, which happens to be 30 kilometres or so south of Silverton, a town with about 90 locals, a 'Mad Max' museum, and a busy pub with a bullnose veranda, outside of which a pimped-up Volkswagen beetle sits as a tongue in cheek homage to Max Rockatansky's V8 Interceptor. The pub itself plays a cameo in 'Mad Max 2' – it's a pilgrimage everyone ought to do at least once.
25. The Big Lap
Well, you could do 25 road trips…or you could just cram most of them into one monstrous one and call it a day (or several days, depending on how much sleep you like). Most of us have considered at some point what it might be like to take on the whole damn country – so why not go for it? 15,000 kilometres of Highway One will loop you right around seven of the nation's capitals through sleepy towns, epic rainforests, glorious beaches, red, red earth and everything in between. Do the thing. Be a road trip hero.