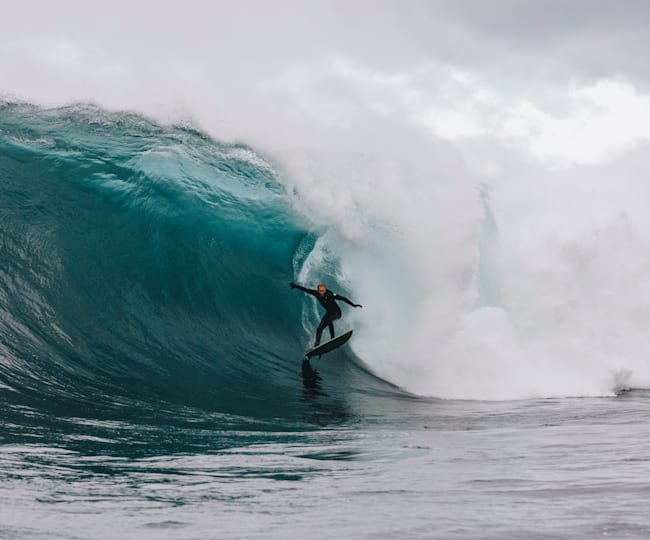 © Andrew Chisholm/Red Bull Content Pool
From the big waves to the big stage: learn from this surfer's reinvention
Mark Mathews takes to the stage with a story to tell and the qualities that will make people listen, holding his audience with his honest delivery and natural warmth.
Mathews has been working as a keynote speaker since recovering from a devastating leg injury in 2016,
which struck him at the height of his surfing career
. By recounting his personal experience, he encourages people to look at where they are in life, not to fear challenges and find perspective on their own goals and ideas of success.
"One of my top strengths is being adaptable," he says. "In the sport of surfing, everything you do is forecast by the weather. You have to have huge swells and you have to have perfect weather conditions. When things don't go to plan you have to adapt. Come up with a new plan, commit to it and execute it."
Coming up with a new plan was exactly what Mathews was forced to do as he embarked on a slow, painful recovery and months of surgery following a broken leg that almost caused him to lose the limb. Another character strength of showing balance also came to the fore. It helped him dispel his feelings of anger and depression, and maintain a level head and resilient spirit.
Today, Mathews admits, the scariest situations he faces are not 10m-high waves, but rather the halls full of people waiting to hear him speak, as he builds a new career.
Here he can rely on his strengths of self-awareness and modesty. "If you show areas where you are vulnerable and if you don't put up fronts all the time, then people can relate to you much better," he says.
"As a surfer," he continues, "I set all these different goals – week in week out, month-to-month, year-to-year."
Due to his accident, Mathews didn't get to surf the elite Eddie Aikau Big Wave event in Hawaii – something that would have crowned his surfing success – but he is very clear: "All those different goals got me this unbelievable life that I never even dreamed possible when I was a kid."
The way we live and work is changing rapidly. It pays to know our strengths and where to channel our energies. Wingfinder shows us how. Red Bull Wingfinder is a free online assessment from Red Bull that's all about giving wings to people and ideas.