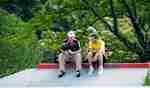 Join Gustavo Ribeiro visiting his sponsor to see his pro board being made
Portuguese tech street sensation Gustavo Ribeiro visits Danny León to check out Europe's biggest skateboard factory!
We link up with
Gustavo Ribeiro
on the road this time out, as he leaves Portugal for San Sebastián in the Basque country in order to oversee his pro model for
Jart Skateboards
being made at the HLC factory nearby. The factory, which produces thousands of decks per day for many of your favourite skate brands, uses robotic technology- and Gustavo's tour of the woodshop is the first ever broadcast from Europe's largest skate hardgoods producer.
After a test session at the factory, Gustavo and Spanish team-mate
Danny León
mix it up on a short tour of the Basque country's insane skate terrain, in a region which could be called Europe's California. Along the road, the boys try the traditional Basque handball game 'pelota mano' on already-bruised palms, as well as sampling some of the quick eats for which the region is considered a world capital.
Join Gustavo and Danny on their exclusive tour of a European skateboard factory on their Basque tour, and join us again next week as we check out Gustavo's dream personal indoor park with
Leticia Bufoni
!
Welcome to Gustavo Ribeiro's world!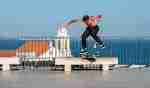 Hometown skating in Lisbon
Ride shotgun with Portuguese tech skating sensation,
Gustavo Ribeiro
. Watch as he juggles the challenges and opportunities of pro skating life, from board design to injuries, all while he hits the form of his life, just as skateboarding blows up on the world stage.
In episode one of
Mundo Gustavo
, we not only visit his first shop sponsor, discover which of his skate dreams have yet to be fulfilled and meet his family, but we also join the Ementa crew as they roll out on the scorching streets of Lisbon.
From the
European Skateboard Championships
as a kid to joining the 9 Club, join Gustavo on every push of his incredible journey as we link up with the sponsors, sessions, projects and people who make up the world of one of Europe's most gifted skateboarders.
Download the free Red Bull TV app and watch unmissable skate action on all your devices!
Get the app here
.