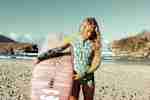 Step inside the big wave world of Felicity Palmateer
© Billabong Australia
She talks facing fears, charging Jaws and the fine balancing act that is social media in surfing.
Big Wave Renaissance Woman, model and artist in equal measure,
Felicity Palmateer
is not your average Western Australian board rider. With an epic list of awards and an illustrious highlight reel under her belt – notably the biggest wave ever ridden by a female Australian surfer (at Cow Bombie in 2015), and a monstrous session at Maui's Jaws in October – Felicity Palmateer is a legend on the rise. We caught up with the Perth-based powerhouse to chat big waves, best beaches and her inspirations on and off the board.
Take us through that recent experience at Jaws, back in October. It looked full on!
My time at Jaws in 2017 was so much cleaner than the previous year. The wind in 2016 was full on. It just made it so difficult. The conditions this year were so much better, and that's why we saw so many amazing rides. The guys, oh my god, they just sent it – it really was next level. Every single guy in the event just wanted it so bad. It was amazing to watch, really inspiring. We were in the boat watching from the channel during that first semi-final, when Ian Walsh and Hippo scored their perfect 10s – it was chicken skin stuff! I think overall, everyone was genuinely surprised with how good the conditions were this year, and the surfing really reflected that.
The experience for me was both exhilarating and exhausting. Door-to-door, the whole trip lasted six days. I left Burleigh Heads (which was dead flat) on Tuesday morning and I was back in Sydney the following Tuesday. I was recovering from a torn MCL so I had hardly surfed in two months, and then before I knew it, was on a plane to Hawaii, over to Maui and paddling a 10ft board out into 20-25ft waves. My goal in the final was to catch the biggest wave I could find, so I waited… but it didn't go to plan. My front foot came off my board for a split second, and landed back on the deck in the wrong position – next thing you know I've overbalanced, and that's it. There is not a lot of room for error out there – everything happens very, very quickly when you're catching a wave at Jaws. Undoubtedly, if I'd had more preparation I would have been better off, but to be honest, I'm thankful my knee injury wasn't too severe. Initially, I thought I might have been out for six months or more. I'm really happy I could at least compete again this year at Jaws.
You seem fearless… but are you? Do you get nervous? How do you control your fears?
I absolutely get nervous! At places like Cow Bombie and Jaws you're dealing with a lot of water, and quite quickly it can turn into a life and death scenario. Some days my confidence can be way up and some days not so much, but if you're not in a good state of mind then it's probably not a good idea to be out there. I find that the fitter I am, the more confident I am. I have a warm-up routine that helps me get my mind and body in the right state – but in saying that, I think a few nerves is to be expected. It's pretty rare that I paddle out with absolute zero anxiety. Most surfers experience fear, you just have to work out how to overcome it. Once I'm riding a wave, everything seems to just disappear.
You carry an oxygen canister in big surf sometimes. Is that the norm in big wave surfing?
Yeah, it's pretty much standard these days. It's funny, I surfed Waimea Bay the other day and I only counted four people who didn't have some sort of impact suit or O2 vest. At Jaws during the Peahi Challenge, I don't think there were many wipeouts where someone didn't pull the cord at least once. From what I saw, and speaking to the other surfers, everyone was pulling, either underwater or as they were falling. Sometimes, even when your vest is fully inflated, you can still be held underwater. Surviving some of those wipeouts without some form of inflation might be impossible. But in saying that it's important to train as if you don't have that stuff – it could be fatal to rely on it 100%.
Is there a wave you haven't ridden yet, that you've got your heart set on?
Oh yeah, heaps! I've always wanted to surf big Cloudbreak in Fiji. I'd love, love, love to get a wildcard into that event, if it returns to the World Tour calendar. There are some secret spots in the South Pacific I'd also like to get to. I've also never surfed south of Sydney and there are some amazing looking places that turn on in the winter months. South Australia also has a few gems. And there are a lot of places that I've surfed already, that weren't necessarily that good when I was there – so I hope to go back one day and get them at their best.
What surfer or surfers inspired you the most when you were a kid?
My dad has undoubtedly been my biggest surfing influence. He pushed me into my first wave, he took me to my first contest and he always made me paddle out on the biggest days (even when I didn't want to). He's got this old blue Landy, and we'd tear up and down the highways and dirt tracks down south in WA, chasing waves. Sometimes I would be freezing cold, other times boiling hot – there was no air conditioning or heater in the Landy – and he would blast rock and roll music the whole time. Now, even though he used to make me surf on the biggest days, he gets really nervous when I take off for Hawaii because he knows Jaws is going to be 30ft or whatever. Maybe I should get him out there and push him into a couple!
What's your mantra – in the water, and for life in general?
I try to live in the moment. Surfing helps a lot with that. When you surf, particularly when you're on a wave, you're literally thinking about what you're doing in that exact moment. Surfing is famous for being an escape for people, an escape from pressures and the worries of life. So I try and take the experience of surfing and apply it even when I'm not in the water… if that makes sense.
Social media is a big deal in your world, and it's a tough balancing act between model, role model, athlete and ambassador. What's your opinion on the function of social media, especially Instagram, in female surfing, and sport in general?
Social media has undoubtedly become an amazing, powerful and even overwhelming form of communication. Early on, I was chastised for jumping on Instagram, but now it seems like if you don't have a decent social following, you're kind of losing the race. And if you're a successful athlete who hasn't focused much on social, you're social following will inevitably climb as a bi-product of your sporting success.
As a rule, I think it's important to be yourself. Naturally, people are inclined to post what they think is the best version of themselves and that's fair enough, but I've found the posts that have had the best responses for me are more to do with vulnerability and humility. Posts to do with struggle, fear, self-esteem, aspects that all of us can relate to, particularly women, that say, "Hey, I'm having a shit day, but I'm hanging in there!" It can't all be sunrises and bikinis. That can be a little tedious after a while (unless you're in the market for a new bikini! haha).
Do you think the recent green light for female competitors to take part at Mavericks indicates a trend towards more equality for female action sport, and surfing in general?
Well, the Big Wave tour is relatively new to professional surfing. The Men's tour has only been around for a few years. And there is only a small number of women who are consistently charging big waves, so I'd say the timing for some women's events is spot on. I do know that big wave commissioner Pete Mel helped push for proportionate prize money last year at Jaws, so for that all the girls were grateful.
As for Mavericks, including it as a location on the calendar this year for the women is awesome. I expect we'll see a few of the girls have a real good dig at Mav's. The line-up is a little more predictable than Jaws and there are a few women who have logged a lot of hours out there, so if the event gets the green light it's going to be interesting to see it unfold.
As for equality, it's great that so many women are enjoying surfing these days. I think a lot to do with it is the older guys having daughters. So we're seeing second and third generation girls out in the line-ups with their dads. Just like me!
Would you approach Mavericks any differently to Jaws?
Preparation really is the key to success … so given I have never surfed Mav's, I would have to say I will approach Mav's exactly the same way I approached Jaws the first time – just get it there and charge it.