Watch one of the world's heaviest waves glow in the afternoon light
© Renn McGann
A whole new take on photography at The Right.
The Right
is one of those waves that's been photographed, photographed, and then photographed some more – like a song that gets overplayed on the radio, it loses its meaning.
Then every once in a while, you notice something different in it – something new and unique gets uncovered, and you see it in a whole new light.
These seven photographs, taken by
Renn McGann
, do just that – they show The Right, one of the heaviest waves in the world, in a completely different (and totally stunning) new way.
Take a gander as 20-foot bombs glow in the afternoon light in Western Australia, and let Renn take you on a trip through the day…
"Each wave was lit up like a 20-foot light globe of neon blues and greens..."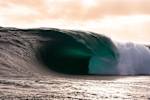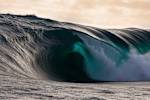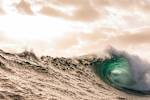 "The day started out in
Margaret River
. I had been watching this swell all week, and Sunday was looking like it had solid potential if the wind backed out enough in the arvo, as forecasted.
"I headed down to the Right in the early morning hours and drove straight to the lookout to check the conditions. The wind definitely hadn't dropped, so I sat and watched it for about two hours – and although it's hard to tell how big it is from far away, I saw one of the most solid waves roll through… I reckon the biggest I had ever seen break there. That got me pretty pumped to head out, even though it was super chopped up.
"I met my mates at the ramp, then suited up and then launched the skis. When we arrived at the Right it was early afternoon and still pretty messy. Heavy clouds rolled through the horizon behind us, in-between super bright arvo sunlight – it definitely made for interesting and challenging conditions to shoot in.
"In the arvo if the suns out, you're looking straight into the glare, and with a stiff wind blowing the ocean surface becomes really textured – which can create nice shots, but also bounces the sunlight in ways that you just don't get with those calm glassy days.
"Once I settled into the groove of it all I had a chance to admire the conditions for what they were. In between big chandeliers, the wave was throwing some of the thickest heaviest slabs I'd seen out there – and to have them back lit by that afternoon sun was amazing. Each wave was lit up like a 20-foot light globe of neon blues and greens, and seeing that both detonating on the reef and being complimented by the soft pastel gold tones of the sky was pretty incredible.
"We sat out there for the rest of the day as crew weighed up surfing it.
Brad Norris
and
Phil Read
went for a whip with Norris on the rope. He was positioned perfectly, but as he dropped down, the end bowl wrapped and drew so much water up the face that it sucked him up and pitched him up and over… and then down to the depths. He came up holding his ears, having being pushed super deep. After that, no one else surfed.
"Not long after everyone started to take off, but we decided to stay until dark. At the very last light a set came through that was so perfect. It was my favourite shot of the session, and it made the whole trip worth it."