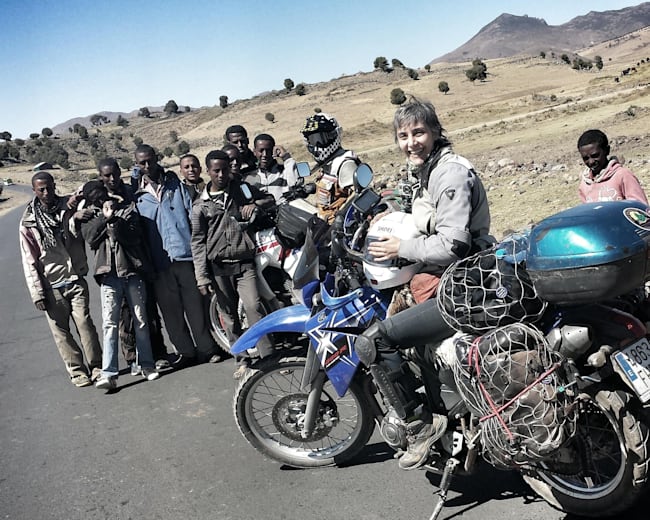 This woman travels the world on her motorcycle
© Mahsa Homayounfar
War zones, broken legs, a 9-5: nothing stops Mahsa Homayounfar from getting her adventure fix.
Mahsa Homayounfar is an Iran-born, Spain-dwelling free spirit who spends enormous chunks of her life exploring far-flung (sometimes hostile) destinations from the seat of her motorbike.
Often, she takes these trips - which have lasted anywhere between one and nine months - completely unaided.
Mahsa, who makes her living as a tour company owner and operator, began her love affair with motorcycles back in 2010. "The idea of independence drew me to bikes," she says. " I thought they would get me closer to nature and further from civilisation."
Nowhere is off limits for Mahsa. She's burned rubber across South East Asia, West Africa, Turkey, Portugal, Spain, Iran, Pakistan, Ethiopia, India, Sri Lanka, Central Asia, the Middle East and "a bit" of Latin America. "Many countries are misinterpreted in the media," she says. "I go on my trips because I want to find out for myself what a country is like."
Mahsa – tell me a bit about yourself. Where are you from, where have you lived and what do you do for work?
I'm originally from Iran but moved to Germany at the age of 17. I lived there for a few years, then moved to the UK, then Canada, moved back to Germany and then moved to Spain. I lived in Spain for a few years, then moved to Afghanistan, travelled around a bit and now I'm back in Spain (on and off).
I started my own company,
Not Just a Tourist
in 2012 and joined Urban Adventures in 2014 as a local partner.
How do you fit your motorcycle adventures into your working life?
I have organised most of my work so I can do it online. It means that I'm always stopping in the middle of the road to check emails or respond to a WhatsApp! It requires a lot of discipline as well as preparation and physical energy as you have to work, travel and plan your travels all at the same time.
What is it about getting out on the open road for long stretches of time that you enjoy so much?
The limitlessness of the 'no-return' ticket. The road is always open and I can go right or left - freedom. It's random. I also like the challenge as time wears you out, disconnects you from who you were and makes you a different person, it's like being reborn or acting in a new play each time. It makes you think and redefine yourself so you cannot rest much. I cannot be bored!
What kind of hurdles do you come up against when you're out on your bike?
There are a few! First off, shipping the bike is always a headache. All you want is to break away but no! You have to find a shipper, negotiate a price, pay a lot of money, fill out paper work, then dismantle the bike. Then there are break downs, booking hotels, camping alone as a woman, going off road and biting off more than you can chew, visas…
I've been out three or four times when wars or fighting has started in the country I'm in. Things get nasty pretty quickly so you have leave fast and change plans. But I'm not that bothered by that…I grew up with a war and a revolution. So it's very normal to me.
You were injured on your bike, weren't you? Can you talk a bit about that and what you learned from the experience? Did any positive come out of that bad situation?
Yes, I had a fairly bad accident when I was doing the northern shore of the Persian Gulf on the bike. A car hit me and broke my both legs. The worst part was that it happened on a small island and they didn't have much medicine or anything so it was a lot of terrible pain.
After four days, I managed to arrange a plane to take me to Tehran, the capital. I never had any injuries before so it was a big deal for me to try and cope with that situation. It also made me realise that at the end of the day my own body is the key to my independence.
I was told I wouldn't be able to walk for six months. After four and a half months I could stand up again – it was such a pleasure. The experience made me much more compassionate towards people with limitations of any kind. Prior to that I was ignorant about other people's problems, but that really threw me into a world of people who might not be able to be independent because of disabilities. On top of all that, my partner left me right at the same time!
I think I became a stronger person and even more eager to appreciate those little things we have, like the freedom to move, ability to walk and the desire to live the life the way we want it.
The first thing I did right after I could walk (I was still in crutches) was buy a new bike so I could continue my travelling. It took me around two or three years to get over it, I guess. It was positive in the end, and I ended up understanding what happened to Buddha for him to become Buddha!
What do you think people can do to help them live a more adventurous life?
They should stop thinking and step out of their routine. Routines make us lazy, comfortable and fearful. Being bound to one place really ties you down to all the problems of that place. There's no point in thinking about things and being afraid of them. We have to go for it and see what happens. Most of the time, nothing bad will come of it and in the worst case scenarios we can always turn back. That said, I don't really know what adventure means. The unknown, maybe? For me, the unknown is the attraction.