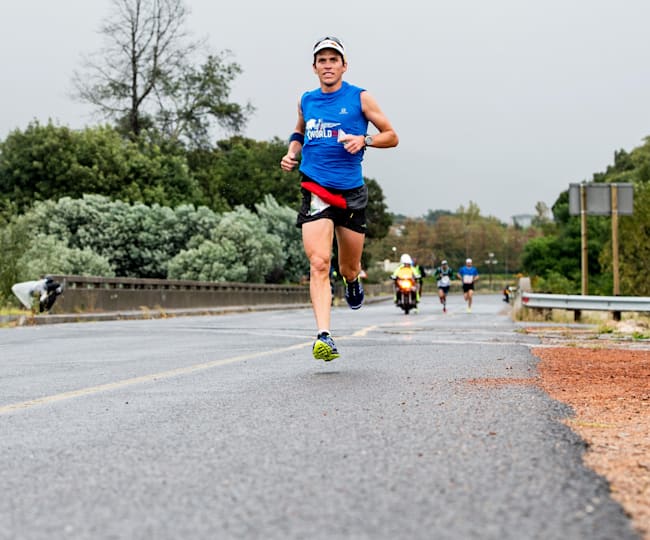 © Kolesky/Nikon/Red Bull Content Pool
Running teams will go big at the Wings for Life World Run (and so can you)
Team participation will be off the hook at this year's Wings for Life World Run and there's a virtual crew to suit every vibe.
Connecting around a good cause is what the run 'for those who can't' is all about, and while you can run on your own with the
Wings for Life World Run App
, there's nothing like hooking up with a virtual team to boost the fun and motivation.
Already, more than 2,000 teams are gearing up – and whether they're small or large, they're all looking to go big on May 9. Thanks to the App, you can join a virtual team in your backyard or on the other side of the globe. So what's your style?
If you crave an eye-popping objective, there's a team out there for you. Take
Run with the Flow
, led by German ultrarunner
Florian Neuschwander
. These chargers want to win the team distance category for the sixth year in a row, and since 2016 they've already logged a leg-numbing total of 106,551km.
Meanwhile, the biggest fundraisers of the 2020 edition,
Team Red Bull USA & Canada
, are aiming to raise a whopping USD$100,000 this year. They have more than 1,800 members so far and are looking for more.
Team
On the Move
are "one of the biggest and most joyful, crazy and cheerful teams in Poland." With team activities leading up to race day, as well as prizes – even for Slowest Runner – they say, "If you're looking for new friends, wonderful people and cool emotions, this is the place for you!"
Want to run with your hero? Athletes and celebrities are leading teams that you can join, running wherever you are. Two Austrian sporting stars, ice hockey player Thomas Raffl and former Bundesliga standout Wolfgang 'Kowalski' Mair, started
Team Raffl/Kowalski
. Team members who sign up by April 21 have a chance to get a Wings for Life-themed jersey designed by Mair and worn by Raffl and other EC Red Bull Salzburg players.
One advantage of joining a team is mutual support as you train. Wings for Life World Run global partner Suunto not only makes two watch models featuring a digital Catcher Car specifically for training, but has also founded team
Suunto
. South African ultrarunner
Ryan Sandes
, whose preparation skills are legendary, is team captain. Swedish mountainbike icon
Emil Johansson
and Austrian paraglider pilot
Paul Guschlbauer
are also coming on board, along with all Suunto employees.
#TeamEuroSpine
was created by the Spine Society of Europe, the continent's largest representation of spine specialists and medical experts in spinal care. But you don't have to be a medical genius – or even European – to join. They say, "We want to help raise awareness for this important charity… and get as many people involved as possible."
This World Run is a challenge I chose due to its message and power.
Many teams have been inspired by a loved one. Vanessa Navas-Lierse of Venezuela "hates" running, but she founded
#ICANMOVE
for her brother César, an outdoors-loving mechanical engineering student who was paralysed from the neck down but has persevered to launch a career in digital animation. "He always keeps proving that, no matter what, you can change the world, push your limits, achieve what you fight for, follow your dreams. He can, and we can, too," she declares. "This World Run is a challenge I chose due to its message and power. It supports spinal cord research and gives people around the world the opportunity to push their limits to achieve something bigger!"
Download the free Red Bull TV app and watch unmissable action on all your devices!
Get the app here
.