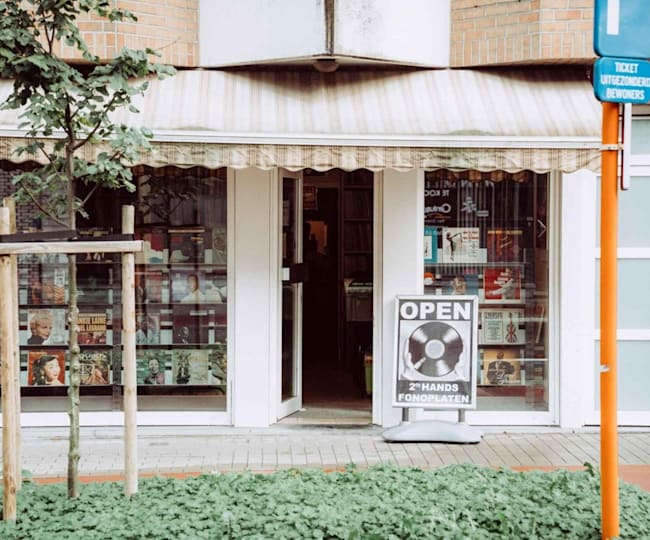 © Red Bull Belgium
Eddy's Records: countryside gold digging
On March 1st, 1978, Eddy opened the store that bears his name, which back then was "on the other side of the tracks".
"Business to let". Now there's an orange sign deserving of my attention. As if I've just been handed a cold obituary, I feel a tad perplexed while shaking Eddy's hand. This visit to Halle's iconic record store was meant to be an homage to countryside gold digging. You know, the kind of place where people spontaneously throw around a greeting or two when encountering one another on tiny cobblestoned streets. The kind of place where the local record sales man is a legend.
It only takes me a few minutes to realise one thing does not necessarily stand in the way of the other, though. Because frankly, Eddy deserves some rest. "In six months' time, Eddy's Records will celebrate its 40th birthday", its owner proudly announces. But as long as no one signs on to take over the shop and care for the 100.000 records stacked in there, old Eddy just keeps the train a-goin'.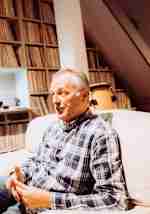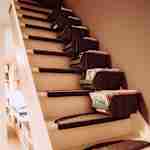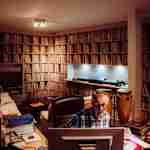 Eddie Floyd, Eddy Grant, Fast Eddie, Eddie Fisher, Eddie Barclay… Behind the counter, Eddy's name is reflected in a bunch of namesakes flashing big smiles. They're a bargain: buy two, get one free — quite a generous discount Eddy's been giving for a while now. Through a narrow door, he takes us along to the back room. Here's where Eddie has stashed his private collection. 10.000 more pieces, organised around a set of sofas and some DJ gear. The next room has a bed, while one floor up, thousands of old singles line the walls.
And there's more, says Eddy, motioning towards Café Concordia, on the opposite side of the street, where a pile of maxi singles was crammed into the first floor. The café's old ballroom, once the setting of countless wedding parties, now serves as a time travel machine slash digger's paradise. Walking in through the sketchy back door and dank old stair case, entering the room feels like setting foot a newly discovered planet. Eddy has his own way of going about things: "I only let customers in here on Saturdays. They can stay as long as they like. When they're through, they call me and I let them out."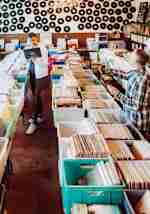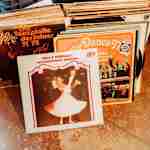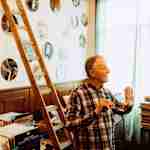 We cross the street again when a car slows down, rolling down the window. "Do you happen to know where I can find Eddy's Records?", calls a mocking voice. Eddy was born and bred in Halle, a man who knows his townsfolk. As a member of the city council, he knows the ins and outs of the city like no other. He grew up in his mother's café, where as a child, he would be in charge of loading up the jukebox every week. With the customer's 5 frank coins, he'd play Paul Anka, Elvis Presley or Will Tura. When he was seventeen, Eddy started DJ'ing in his brother's club, playing mostly disco, rock 'n' roll and slows on 45 RMP singles.
On March 1st, 1978, Eddy opened the store that bears his name, which back then was "on the other side of the tracks". It was a small space, specialised in music for disc jockeys. "I was 22 years old. Every week, I'd visit half the country in search of records. I'd go to Victor Radio in Brussels, for instance. He really had every imaginable single, the whole of Belgium would go there. Or Doremi Records, in the vicinity of Avenue Louise. The shop was run by Gino Zacharias, a Greek guy who'd one day arrived in Brussels with his guitar and who'd decided to open a record store. He's the one who taught me this trade. He's the reason I quit my job and opened up a shop of my own. I had no stock, but with a little financial help from my brother and the old shelves from Soul Cargo in Ghent, I had everything I needed to get started."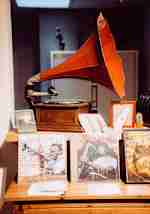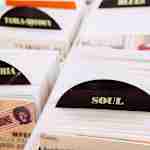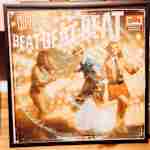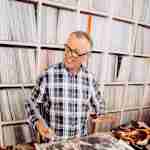 The rise and fall of Eddy's Records
It didn't take long for Eddy's Records to become a household name, thanks to a versatile selection and a knack recognising the make of a true classic. Eddy's was a bottomless pit, providing DJ's and diggers with new material on a daily basis. "I would always buy records in large amounts, which would surprise the dealers. For years, I had a stock of New Order's Blue Monday. That record just kept on steadily selling. DJ's even popped in for a new copy if their old one had run out of steam or gotten lost."
But the 90s were tough times for Eddy. CDs were about to choke out every last record store, while the building of the high-speed train connection through Halle did even more damage to business. Eddy rolled with the punches, but couldn't fire up as much passion for shiny little plaques of plastic and metal as he did for his beloved vinyl. In 1998, he decided to sell his business.
The fact Eddy's Records is nonetheless celebrating its 40th birthday next year, is all thanks to the new owner who decided to keep the name. Eddy traded his record store counter for the hospitality branch, until somewhere in 2010 he decided to end his sabbatical. "I saw the 90s happening all over again, but in reverse, this time. Back then, no one wanted to hear a single glitch in their music, CDs were so damn fantastic. A few year ago, though, all of a sudden, I could feel a revival was on the way. I didn't have any stock left, but I was sure it would happen. A lot of people were contacting me, wanting to sell the records they still kept in their attics." A flyer invites people to do just that: "Would you like to get rid of your old phono records? Give me a call to make an appointment. I'll come to you and sort it all out on the spot."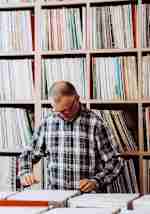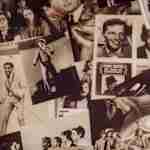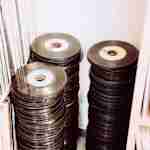 Eddy's customers are quite the motley crew, these days. A new group of young music lovers has dug up the pick-up and found their way to Eddy's. Miles Davis, Nina Simone, Dave Brubeck, Nat King Cole, Frank Sinatra, Marvin Gaye… The thirst for classics seems unquenchable.
Eddy's keeps a stock of all of them, all second hand, all in mint condition. He doesn't do new records, though, not even re-issues. Next to this new breed, the shop is also populated with the likes of Victor, a 70-year-old man from Lennik, who's been collecting 45 RMP singles his whole life. Today, Victor's more in it for the conversation than to add anything to his stash — a stance that's rather telling of the coveted atmosphere in this long-lived record store.
In 2018, Eddy gets out of the game once and for all. He's sold on the Côte d'Azur and has fallen in love with the old French grandeur of Nice. Will he be able to say goodbye to all his records? "Yes, I'm ready. I'll keep about a good 200, but the rest can go." Halle will lose an icon, no doubt. So no time to waste: haul all your empty bags to Eddy's, or — why the hell not — put a number on all 100.000 records and become the new Eddy!
Real name
: Eddy Buelinckx |
Occupation
: Record shop owner / municipal councillor |
Age
: 62 |
Where
: Halle |
#records
: 100.000 |
Genres
: pop, rock, jazz, soul, world, popcorn, oldies, French, Nederlandstalig, reggae, rock'n roll, house, new beat, electro, dance.