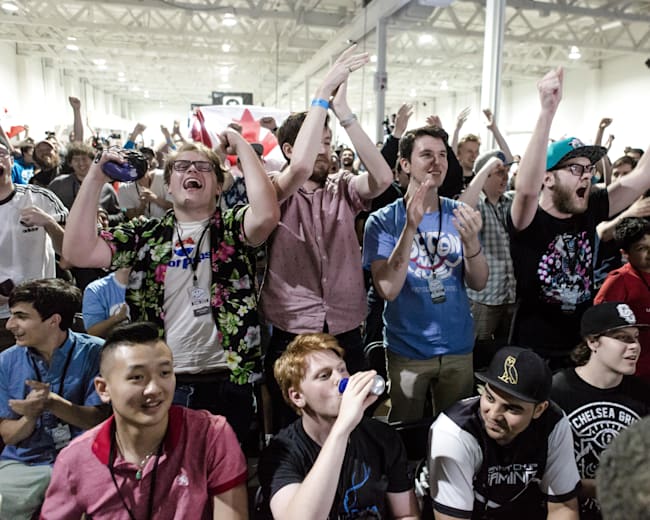 2018 is putting Canada on the industry's map
© Red Bull Content Pool
2018 is set to be a highlight year for esports, but for Canada, it seems to be a coming-of-age moment.
Canadians know what it feels like to search for the spotlight, but the Canadian esports community isn't about to let the spotlight pass them up in 2018. From cashing in on mainstream attention with Fortnite-fever to marquee player accomplishments and prestigious tournaments, 2018 is looking like Canada's year to make its mark in the esports community.
As with the rest of the world, Epic Games' Fortnite grabbed Canadian interest and attention even before Drake and
Ninja
did their best to break Twitch by teaming up one night.
Toronto Maple Leafs
' fans might remember
Mitch Marner
's comment to reporters that he'd never seen teammate
Auston Matthews
frustrated while playing hockey, but he'd seen him get mad playing Fortnite.
"Everyone started to play this game, so we decided to try it out, and it is absolutely sweeping the nation," said Matthews in February of this year. "Everybody is playing it. I see all of my buddies from home and guys I play with at the program online, and they are all playing Fortnite."
Fortnite's ascension into the popular conscience, however, is just the tip of the iceberg for the Canadian esports community. The Canadian esports scene has made enormous strides in 2018 thanks to the passion and talent of its players in titles like StarCraft 2, Overwatch and Super Smash Bros.
The North's premiere StarCraft 2 player Sasha 'Scarlett' Hostyn was able to show off the strength and talent of Canada's esports players with her victory at IEM Pyeongchang back in February. Securing a 4-1 victory over Kim 'sOs' Yoo Jin in the championship match, Hostyn became the first women to capture a premiere StarCraft 2 championship and only the second foreigner to win a major StarCraft 2 tournament on South Korean soil.
Hostyn's historic IEM Pyeongchang Championship cemented Canada's place in the rich history of one of the esports industry's most storied titles.
Canadian esports as a whole is just growing bigger and bigger, and it's just great to see.
In Overwatch, Team Canada was able to capture a second place finish in the 2017 Overwatch World Cup and put the country's collective Overwatch talent on display against the rest of the world. Canada's success in the Overwatch World Cup then transitioned over to the Overwatch League where there are currently six Canadian players competing at the highest level of professional Overwatch. These players include Brady 'Agilities' Girardi and Stefano 'Verbo' Disalvo of the Los Angeles Valiant, Christopher 'Bani' Benell of the Houston Outlaws, Lane 'Surefour' Roberts of the Los Angeles Gladiators, Lucas 'NotE' Meissner of the Boston Uprising and Joseph 'Joemeister' Gramano of the Philadelphia Fusion.
Outside of earning a name on the back of strong talent, 2018 has also seen Canada become a leader in hosting some of the most prestigious tournaments and events that the esports industry has to offer.
Events like Get On My Level held in Mississauga, Ontario in May of this year saw the biggest names in Super Smash Bros. compete and recognize Canada's growing strength as a global esports hub.
"Every single player that you would expect to be at the biggest event was there," remembered Smash Wii U Bayonetta player
Tamim 'Mistake' Omary
. "It was actually the biggest event of this year for Smash anywhere in the world, as the most popular and top players came to Canada to compete."
2018 marked a pivotal year for the tournament.
"Get On My Level was in Canada as well last year, but it was more of just a tournament, as only a few top players came from America," Mistake explained. "However, this one had all of the big names that you could think of."
GOML set the tone for a big summer headlined by Valve bringing The International 2018 to the Great White North. DOTA 2's largest tournament and its ever-growing prize pool of $13,234,882 will bunker down at Rogers Arena in Vancouver, British Columbia from August 20–25 in what has the potential to be the most lucrative prize pool in esports history.
Canada will also be the home of
Red Bull AdrenaLAN
presented by Bell in July, an event that will feature a Dota 2 and Starcraft 2 showcase matches in addition to tournament play for all levels.
In Canada, we move as one, and we grow as one.
These three major esports events have and will continue to show off the inclusivity and compassion that permeates throughout the Canadian esports scene, specifically in the country's fighting game community.
Though Canada's reputation as an up-and-coming powerhouse in esports precedes players, classic Canadian charm remains.
"Everyone is just so nice. They're there to have fun and not to ruin someone else's experience. It's very accepting, as it doesn't matter who you are, where you come from or what you're wearing," Mistake said. "There's no one in Canada that I've experienced that will make you feel unaccepted, as everyone is so kind. In Canada, we move as one, and we grow as one."
Even though acceptance and kindness are abundant on Canadian soil, there is no lack of passion shown by Canadian esports fans in supporting their own.
"People will scream so loud for you because of their Canadian pride," Mistake said. "They want Canada to be on the map and to prove to the world that we are just as good as everyone else."