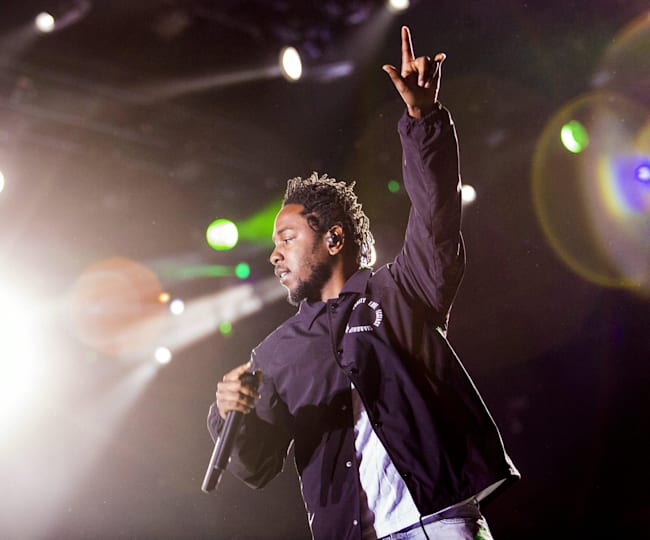 © Joe Gall/Red Bull Content Pool
The story of Kendrick Lamar told through 10 essential songs
Breaking down the rapper's finest moments to date.
Kendrick Lamar
doesn't compromise. The 31-year-old Compton rapper earned his spot in hip-hop's new-school pantheon simply by being the best and he cemented his status by getting better with each next move. Lamar is his own toughest competition, developing constantly as a rapper, writer, thinker and someone with both the ability and the will to push culture forward through his art.
His big hooks and widescreen mentality speak to the looming influence of his mentor
Dr. Dre
, while his angular, lilting flow is reminiscent of West Coast underground legends like
Pharcyde
,
Souls of Mischief
and
Freestyle Fellowship
. Lamar has achieved his status as an unimpeachable member of hip-hop's canon by being unafraid to tackle big ideas and never underestimate his audience. His 2012 star-making effort,
good kid, m.A.A.d. city
, revived the hip-hop concept album; 2015's To
Pimp a Butterfly
adroitly tackled the topic of institutionalized racism through complex jazz; 2017's
DAMN
put modern-day storytelling to timeless hip-hop beats.
Here are just
10
reluctantly whittled down reasons as to why Kendrick is hip hop's current king.
1. Swimming Pools (Drank)
It's a ballsy move to make your first major single a party song about how drinking will ruin your life, yet that's exactly what Kendrick Lamar did in the lead-up to good kid, m.A.A.d. city. The track's hook and
T-Minus
-produced instrumental were both so undeniably massive that they obscured Lamar's 18th Amendment-rehashing verses. The fact that the song was a hit at all is subversive in its own way, Lamar infiltrating the machine in order to dismantle it from the inside.
Self-love is important, and sometimes reminding people to love themselves is important too. That's the rationale behind Kendrick's lead single from his third LP, To Pimp a Butterfly. Too many dismissed "i" as Lamar trying to craft a pop smash in the vein of
Pharrell Williams'
Happy. But where Happy was all smiles and gigantic hat memes, the whirring psychedelia and kinetic vocals of "i" give the track a depth. It's less a message of sunny optimism and more an acknowledgment that yes, the world is hell, but you can make a bad situation a little better by being OK with who you are.
3. untitled 01 08.19.2014
Ironically, Lamar's B-sides collection –
untitled unmastered.
– that he released in 2016 on a whim is actually one of his most cohesive works to date. Kendrick's always had a kinship with jazz, but on
untitled unmastered
. he uses his voice for flights of impromptu rap prowess. On the record's breakneck opener, Lamar renders catastrophes like global warming, 9/11 and Flight 370 as signs of the end times.
4. Bitch Don't Kill My Vibe
Perhaps the most thoughtful song ever to contain the word 'bitch' in its title, this
good kid
track is both an ode to solitude as well as an indictment of the hip-hop industrial complex. The violins on the lush,
Sounwave
-produced instrumental recall the distinct sound of
Kanye West's
Jesus Walks, whose sinner-saint dichotomy helped create the template for Kendrick's nuanced world view.
Here Kendrick cranks his righteous sense of rebellion to 11 – a vital and thrillingly direct moment on
To Pimp a Butterfly
. The album critiques the system through deconstructing hip-hop's conventions and refusing to play by the genre's rules, but The Blacker the Berry is the moment when Lamar launches into an all-out mutiny against the system.
It seemed that from the very moment Lamar stepped onto the scene, he was hailed as an important new voice within the world of hip-hop, an artist who possessed both the virtuosity and sheer vision it takes to move the genre forward. "But does he have bangers?", asked the (unwashed, basement-dwelling) masses. Enter 2013's Backseat Freestyle, a song so massive that it sonically steamrolls everything that comes between it and your ears.
And so to 2017, when Kendrick reminded us once more that he has a deft touch with a jump-up tune. When
DAMN
was released, this RiRiduet became a fan favourite; a solid testament to the unifying joy of big ideas, delivered via big choruses. "Loyalty, Loyalty, Loyalty" took the roof off at sweaty basement clubs and Kendrick's stadium tours alike.
Alright is truly an anthem for our times: a forceful, confident and determined protest song for those whose problems are so vast that it's almost impossible to enumerate them. When it landed back in 2015, it felt truly essential. It's chant of "We gon' be alright" became the de facto slogan of the Black Lives Matter movement and its beat – featuring production from Pharrell and Sounwave, and sax from Terrace Martin – felt like a path toward a new day.
Like Serena Williams or the Zodiac Killer, it sometimes feels like Kendrick is absolutely fiending for a worthy competitor. And for all of his captivating social commentary and nuanced philosophizing, he is at his most commanding when willing his peers to just "be better." In his lead single from DAMN and first solo Hot 100 number one, he reminds them over a
Mike WiLL Made-It
piano beat, "If I quit this season, I still be the greatest."
10. "All The Stars" (feat. SZA)
While it lost Best Original Song to Lady Gaga and Bradley Cooper's schmaltzy Shallow at this year's Oscars, this uplifting team-up between Lamar and his Top Dawg signee
SZA
was the perfect choice for Ryan Coogler's Wakanda superhero blockbuster
Black Panther
. The rapper also produced the film's soundtrack, which featured songs by
The Weeknd
,
Jorja Smith
,
Khalid
, and others, and topped the Billboard charts.