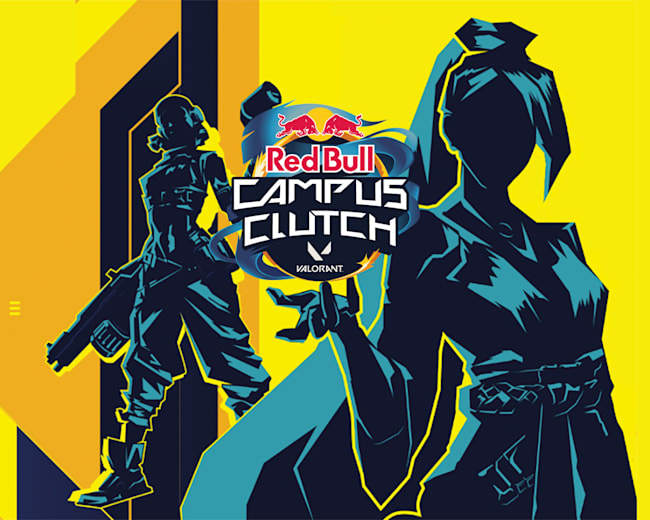 Red Bull Campus Clutch: Meet Canada's qualifier winners
© Red Bull
Want to know about the winning Canadian teams from the Red Bull Campus Clutch Qualifiers? Here's a little more of who they are and why they're awesome.
Registration for Red Bull Campus Clutch
, an international VALORANT tournament aimed at University and College students, is LIVE! With 3 qualifiers, Canadian students can team up to fight it out for prize money, a chance to move on to the National Finals and, if they're good enough, the World Finals.
Red Bull Campus Clutch is a VALORANT tournament, spanning 50 countries with over 300 events, exclusive to post-secondary students. Played as a 5v5, students must sign up as a team to take part, either by building a team within their university or college or by combining players from multiple post-secondary institutions.
The first of three Canadian Qualifiers kicked off on March 27 with a $2000 prize pool distributed across the top three teams, and a spot in the National Finals given to the top four teams. Team BTR secured first place with a $1,000 cash prize along with their National Finals berth. BTR is a team of friends from four different post-secondary schools that met online last year, when VALORANT's popularity exploded, and decided to combine all their talents to take on Red Bull Campus Clutch.
Team Captain jay was on Twitter when he initially saw
posts for Red Bull Campus Clutch
and decided to recruit a super team to take on this competition and represent Canada's collegiate community.
"I just grabbed guys that I thought were the best at their roles," said jay. "Most of these players don't actually play collegiate in Canada, they play for Tier 2 teams, so like, pretty decent teams in terms of North America."
"We came in and we just wanted to play clean Valorant. You know, no over peeking, no getting greedy, no playing for kills, just win the rounds, one by one, that was basically our game plan."
BTR expected to go undefeated in the Qualifiers because their team was so stacked but were surprised by Team Banana, who beat them in the Swiss bracket, dropping their record to 4-1. "Maybe the map pick wasn't good, there could be a million reasons for what happened, " said jay. "This one guy named Link had a really standout performance; he dropped like 30 kills on us."
BTR played Team Banana again in the semis in a best of one. Not wanting to lose to them again BTR banned Icebox, which was the map they faced off on last time. They picked Ascent instead and were able to win 13-6. Next, jay and the gang played theCarleton Ravens team in the finals, in a best of three: winning 13-1, losing 8-13 and winning again 13-4 to secure their victory as the number one team.
"If we're ever not sure on what to do, or don't have a good read on the situation, we just say, 'truo, go kill', and he just kills everyone. Honestly, we're not a very tactical team. We just kind of run it down, aim at them, and click their head," says jay.
Most of the time, our best head clicker is truo, so he just clicks on their heads, he headshots them and he opens up the site. Sometimes that's just enough. Because we have the best head clicker in Canadian collegiate, it just makes the game so much easier for us. Obviously, everyone else on our team is also very good but definitely, a standout player for us is truo.
BTR plans to enter the next Qualifier for fun and to try and win more money, but they won't be playing as seriously. They want to save their best moves for the National Finals since they have their sights set on going to the World Final. "Is it worth winning, you know, $1,000 two more times if we reveal everything, and we can't go to global finals because everyone has studied us and figured everything out?"
Check back here for more updates as the Qualifiers continue. This article will continue to be updated.
Qualifier 2: April 10, 2021 @9AM PST/12:00PM EST
BTR took home the gold again on April 10th during the second Canadian Campus Clutch Qualifiers. Despite coming into the second Qualifiers to just "play for fun", they were undefeated, not losing a single game and winning another $1,000. They went 4-0 in the Swiss, won their semi-finals match 13-4 and beat out their biggest competition, the newly reformed Team Big Boned Bandits, 13-4 in the first match before clutching their final game in triple overtime with a score of 16-14.
BTR took this opportunity to experiment and make last-minute changes to their play style, which seemed to throw every other team off their game. The team's creative Rejante decided to add Viper to his mains this time, using her recent buff to control the map. "I think I'm the only person that's really flexing agents," said Rejante. "I played Sage this event, I played Viper and I've played Cypher. I can also play Killjoy and other smokers."
"Running Viper was probably one of the wildest things we've done because we didn't really practice it in scrims. We kind of just went into the tournament trying to run different things, seeing if it would work," says truo, BTR's sharpshooter.
BTR wouldn't divulge what new strategies they plan to try for the third Qualifier, since they still want to keep their competitors on their toes. They consider the other Canadian teams to still be steep competition. Rejante and truo felt that Valorant collegiate teams in Canada are so strong and high ranked that multiple slots should be available going into the World Finals.
"Seeing how Canada is such a strong region, I would love to see two Canadian slots open up for the World Finals in Spain. Seeing that the top four teams in CSL right now are all Canadian. I feel like Canada is not best represented right now, if there was to be only one slot in the World Finals. I feel like we're pretty underrated as a region," says truo.
I feel like our region, our players and our aimers are just maybe better than the players in the States. Maybe it's because the players in the States aren't playing for Tier 3 or Tier 2 teams, but the collegiate teams we have here are fantastic, they are competitive and definitely could do damage on the world stage.
The second Qualifier's runner-ups, Team Big Boned Bandits, are also made up of Tier 2 players that dominated in this Qualifier... until they met BTR in the finals.
Big Boned Bandits did make an appearance in the first Qualifier, but were knocked out before they could reach the semis. By rearranging their roster they were able to form a French Canadian superteam, going 4-0 in the Swiss bracket, and beating the second-place team from the first Qualifier, the Carleton Ravens, in back-to-back games, 13-8 in the Swiss and 13-7 again in the semis.
"Beating Carleton Ravens the first time was a pretty big moment, I think there's a play where Dreylo gets a 1v2, with three seconds left," said Arec, BBB's Team Captain. "I think it changed the momentum and we won the game and we went 4-0. I think that was big because we knew Carleton Ravens was a good team, so that was pretty hype."
Arec has been streaming the Qualifiers and plans to stream the final Qualifier from his channel,
ArecVal - Twitch
, as well as the National Finals for French speakers that want to follow their team.
We comm in french, because we're all French Canadians. So It's a little different vibe when you come in the stream if you don't speak french you might be intimidated a bit because you won't understand a word.
BBB plans to keep this roster for the third Qualifier to try and beat BTR so they can be the number one team, unless Dreylo's unfortunately timed Saturday exam gets in the way. Hopefully it doesn't, so we can get a rematch of the superteams, especially since BTR says they plan to win again.
Check back here for more updates as the Qualifiers continue.
Qualifier 3: April 24, 2021 @9AM PST/12:00PM EST