BMX racing: the short version
BMX racing can be exciting to watch, given the unpredictable nature of how a race can unfold, according to Australia's leading BMX racer Saya Sakakibara. Why unpredictable? Because a rider will race against seven other riders over a purpose-built 300-400m off-road course replete with jumps, rollers and punishing corners. The first rider to cross the line wins.
An entire race can take just 30-40 seconds, but within that, years of training comes into play.
"BMX race as a sport is so complex," explains Sakakibara. "There are so many areas that need to be worked on from strength and power to reaction times, to having skills to get through the track."
Here's a good example of what we're talking about: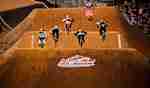 Highlights from Red Bull R.Evolution
BMX bikes have been raced since the early 1970s. "BMX was started by two kids who loved motocross racing, but couldn't afford the bikes," says Sakakibara. "They were building dirt tracks and riding their bicycles on them, copying techniques on how to ride fast from motocross."
Southern California in the United States is recognised as where the sport took off with riders like Ron Mackler – who set up races as early as 1969 – and Scot Breithaupt who started out in the sport at 13. Breithaupt, more than anyone else, helped organise BMX racing and its growth in America before it spread across the world.
The design of those early BMX race bikes were based on the Schwinn Sting-Ray, a bike that featured 20in wheels. Those size wheels continue today, but frame design evolved during the '80s to what is commonly seen now.
What are we watching, exactly?
So, what can you expect from a live setting? In a word, "carnage," says Sakakibara.
"There's a lot of action," she continues. "There are eight riders trying to pass each other and it's so fast-paced that if you blink you miss so much. Sometimes you have to watch a replay to see exactly what happened."
And, with each race lasting less than a minute, who comes out on top often depends on split-second decisions from the riders.
"There are probably a few people in the same race who are of the same ability but because it's so short, sometimes it comes down to who can be the most consistent and push through the pressure to deliver what they need to," Sakakibara explains. "It isn't always the fastest person who wins."
From a rider's perspective, Sakakibara says that while a race is always "full of adrenaline", when the start gates open, instinct takes over.
"From the moment the gate goes down to the moment you cross the finish line, your body takes over because you trained for that and it's all instinct. You're on auto-pilot. When you do cross the finish line, it just brings you back to reality and you're like 'Wow that just happened! That was just so exciting!' That's the feeling I love."
I want a go. What do I need?
Want to try your luck on two wheels? First of all you'll need to know the difference between a freestyle BMX bike and a racing bike, as Sakakibara explains.
"Obviously, the first thing is you need a BMX," she says. "The difference between a BMX racing bike and a BMX bike you might see at a bike shop is that a racing bike has thinner tyres and is lower to the ground."
Being low to the ground reduces resistance, helping you go faster. The tyres are thinner because when racing you don't need as much traction as you would in a freestyle bike in which you might be trying tricks and landing at different, less stable angles.
Then, of course, you have to make sure you're practising the sport safely.
"You'll need a helmet that covers your face, long sleeves, long pants and some gloves," says Sakakibara. "But falling off the bike is less common than in freestyle. In freestyle, you're constantly trying to learn tricks and you can only learn from trying and trying, falling off and pushing that little bit further each time. With BMX racing, when you do try new things it's usually within your ability so you don't crash as much."
Speaking of tricks, which do you need to look out for? Well, because BMX racing is more about who crosses the finish line first, there's less emphasis on scoring points via tricks. BMX freestyle, meanwhile, is all about the tricks.
That said, Sakakibara has broken down some key moves to watch out for, or even try to perfect on your own bike.
"One of the first techniques that everyone learns is pumping," she explains. "Pumping is basically having two wheels on the ground and using your arms and legs like a pump to gain momentum to help you go over the jumps. You don't pedal, you just shift the weight of your body to gain a lot of speed."
With pumping mastered, you can advance it into two fundamental skills.
"With that, you can move on to manualing, which is like a wheelie and also jumps," says Sakakibara. "If you can do pumping well, it will set you up for the next skills."
It's cool to have riders to root for. Sakakibara's picks for the best BMX racers celebrates the influx of talented female riders in the sport. Here are some to look out for:
Mariana Pajón

: Colombia's most successful and recognised cyclist. That's because she's a double Olympic champion.

Twan van Gendt

: The current men's World Champion and a rider who has an eye for detail and marginal gains to boost his competitive advantage.

Joris Daudet

: The double World Champion is now in his thirties, and while the Frenchman is one of the sport's old guard, he still believes he can win races at the highest level.

Alise Willoughby: This American racer is the current women's World Champion and a role model for girls looking to get into the sport.

Sae Hatakeyama

: The Japanese rider was seen as a teenage prodigy in the sport and is now looking to make her mark in senior racing.

Niek Kimmann: The Dutch are strong in BMX racing and Kimmann is part of the next generation that is looking to win big.
OK, so you know what to expect and who and what to look out for, but where can you actually watch a BMX racing event?
"I usually follow the international circuit, which is called the
UCI World Cup
," explains Sakakibara. "Last year we had the first four rounds in Australia, then there's usually a few in Europe, some in America sometimes, down to South America too. It's great. They're always live-streamed on YouTube, which makes it easy to keep up."