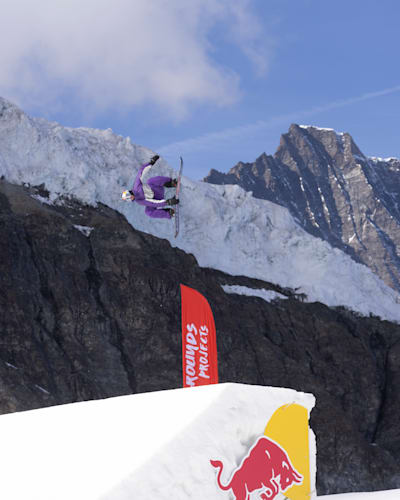 © Dom Daher / Red Bull Content Pool
How Charles Beckinsale became the world's most coveted terrain park builder
If Charles Beckinsale builds it, the riders will come. Learn how the former professional snowboarder uses personal experience, engineering, and rider feedback to craft the best jumps in the world.
Imagine yourself in
Mark McMorris
' boots, strapped in to your snowboard and about to drop in on an 80 foot jump. You're about to try a variation of the triple cork 1620 that you've never landed, and you need this trick to maintain your status as an elite Slopestyle threat. This season will bring a once-every-four-years chance to compete for the only piece of hardware missing from your trophy cabinet, and the work you put in right now will lay the foundation for the competition season ahead. The last thing you need to worry about is the jump.
Enter
Charles Beckinsale
: a world-renowned terrain park builder, the director of The Stomping Grounds at Saas-Fee, and McMorris' right hand man when it comes to pushing the limits of freestyle snowboarding.
Watch Mark McMorris and an all-star cast of Slopestyle and Big Air specialists session Beckinsale's finely-tuned park in the player below:

His Slopestyle creations are meticulously engineered to mitigate risk, instil rider confidence, and promote progression. A task that's easier said than done, he explained.
"If the transition isn't right, or the angle of the take-off doesn't match the angle of the landing properly, people can overshoot the entire jump completely. That's when people break their backs or get other really severe injuries. Or, if you build a jump that's slightly too big and people hit the knuckle, they can blow their knees. You need to match the flight trajectory of the rider to the landing so that they come back down to the snow softly."
Beckinsale knows first hand the consequences of an improperly built jump. The former professional snowboarder spent nearly a decade travelling the world in search of the world's most progressive terrain parks.
"Jumps were different back then, and so was the mindset of the riders," he added. "You could build the worst 100 footer you've ever seen, just a death trap, and people would line up to hit it because it was the only way to get that much air. There weren't really standards, and people weren't used to good jumps. You definitely didn't expect the jumps to be good. There were a few times, even when I started building my own jumps and testing my ideas about what would work, that I ended up in the hospital. One day I overshot a massive big air jump -- I did a backside 180 first hit, and I was still going up when I passed the knuckle. Next thing you know I woke up, and my shoulder was out. I ripped the nerves and actually separated my deltoid muscle."
From professional rider to world-class builder
While injury ended his professional career, he knew he wasn't done with snowboarding. Throughout his time as a rider, he had returned to Australia for the Southern Hemisphere's winter season. It was in those months, the down time on his riding schedule, that he got into building parks.
"I felt I had good ideas, and I could contribute. I'd been riding better parks, and wanted to help raise the bar at home," he explained.
Beckinsale started on hand tools, using shovels and rakes to do the grunt work of moving snow and maintaining features. He put in his dues and over time began running snow cats -- a responsibility reserved for the most skilled park builders. After his career ending overshoot, falling back on these skills was a natural transition.
With mentorship from veteran builders like Steve Shelby and Brendan Dodds, he quickly learned the ropes of working a world class park at Palisades, California.
If Beckinsale builds it, riders will come
Shortly after, Beckinsale was hired by Whistler Blackcomb — home to some of the most respected terrain parks on the planet. His work in Whistler quickly gained the attention of local snowboarders. Whatever features Beckinsale built, the people wanted to ride. He graduated to building the resort's infamous 'Black Park,' home to notorious kickers like 'Shack' and 'Kong.' He was now building the very jumps that had inspired him to leave Australia, all those years ago.
At that point, I guess I started to make a mark internationally
In 2016, Whistler's 'Black Park' became a testing ground for athletes chasing triples corks and 1440+ degree spins. Concurrently in the Southern Hemisphere, he injected Perisher's terrain parks with his signature intuitive builds and turned the Australian resort into an international summer hot spot during his five year tenure.
Setting a new standard in Saas-Fee
Today, at his signature park session, called "The Stomping Grounds," in Saas-Fee, Switzerland, Beckinsale sets the standards for park building perfection.
"I'll talk to riders like Mark or Seb [Toutant] when designing the park and bounce ideas around," he explained. "They're the ones who know where the sport's going, and where the venues should be going to accommodate the kind of riding they want to do. They let me know if things feel safe; if they have enough airtime; if the transitions are working. Sometimes it's as technical as tweaking the angles slightly to get the airtime right for a specific trick, but mostly it's about putting them in the air and getting them back down smoothly."
In addition to rider feedback, Beckinsale relies on his own riding. Even at 37 years old and well past his professional career, there are times when he can't help but join the session. He'll tell you it's to make sure everything's just right, but the truth is Charles just loves snowboarding. And that passion, as much as anything else, is what makes him the best at what he does.