Red Bull Outliers
is a head-to-head Enduro competition for professional and amateur motocross athletes. Building on the success of the first edition of the race in 2019 in Downtown Calgary, this year, Red Bull Outliers is back to bring an exciting, challenging, and technical Hard Enduro course to one of Canada's most historic and unique landscapes, the Badlands.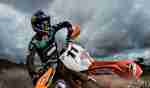 Hundreds of athletes will test their skills on a custom closed course obstacle track, built by Calgary's own pro-rider
Shane Cuthbertson
. It won't be easy -- the course is designed to be so challenging that only a select few will make it to the finish. Don't expect a photo finish for this race.
Interested in competing? Below is everything you'll need to get you pumped for Red Bull Outliers 2021.
The event is limited to participants only
Given the current COVID-19 restrictions, this event will be closed to the public (no spectators). Registrants can bring a maximum of 2 family/team members.
Red Bull Outliers will also
not
be on TV or streamed online, so keep an eye on the @RedBullCanada social channels to check out the race highlights after the event!
See here
for more info on what to expect at the race.
All participants must be 16 or older and there are four different categories that riders can compete in: Professional, Expert, Amateur, and Veteran. Read below for category descriptions:
Professional

: Riders who have competed as a 'Pro' in national, provincial, or state event(s)

Expert

: Riders with advanced skill level and previous competition experience. Note: riders licensed as a 'Pro' in national, provincial, or state series are not eligible

Amateur

: Riders with moderate skill level and some competition experience. Note: Riders licensed as a 'Pro' or 'Expert' in national, provincial, or state series are not eligible

Veteran

: 35 years of age and older on the date of the event
Red Bull Outliers is a unique event in which riders will have the chance to test their skills on this challenging terrain and face a gruelling 10-kilometre track. The Badlands, will force riders to adapt to the elements as every lap is completed it will close and open a new section, forcing athletes to constantly take the hardest route, the Outlier line.
Not to mention that there's over $13,000 in prizes to win, so there's that.
What kind of bike will you need?
There are no specific bike requirements or restrictions, however, we do ask the following:
Motorcycles must be technically sound and in good working order.

No special equipment (lights, registration, spark arrestors, etc.) is required. However, the head referee may request corrections as they see fit.

Sound testing will be implemented. The head referee will request corrections as they see fit.

Competitors must use the same motorcycle throughout the entire competition.

Number plate decals will be provided for each participant. These must be prominently displayed on the front and each side plate.

Official scoring will be performed using transponders. Transponder rentals will be available at sign-in. In order to sign out a transponder, participants will need to provide a cash deposit.

Riders with their own transponders must provide the transponder number at sign in.
Any rider found to cut course will be docked position or disqualified at the discretion of head Referee.

Riders exiting course for any reason, must not gain a position upon re-entry. Head Referee will have the discretion to dock position or disqualify participant.

Outside assistance is strictly prohibited. Any Participant accepting assistance from anyone other than track crew or fellow competitors will be disqualified at discretion of head Referee.

Qualifying and overall results will be posted at the event paddock within 30 minutes of Race completion.

Protests must be made at the event paddock within 30 minutes of results posting.

1st Gear in pits and Helmets are mandatory while in motion.
In addition to these rules, there is also a minimum number of protection and safety requirements to be met in order to compete.
See here for more information
.
What can you win at Red Bull Outliers?
There will be
$13,000 CAD
in cash prizes up for grabs. Prizing will be given in
all
categories, to review all prizing you can review all information
HERE.
Red Bull Outliers
will take place in Calgary this
August 21
. Check out the full schedule
here
.