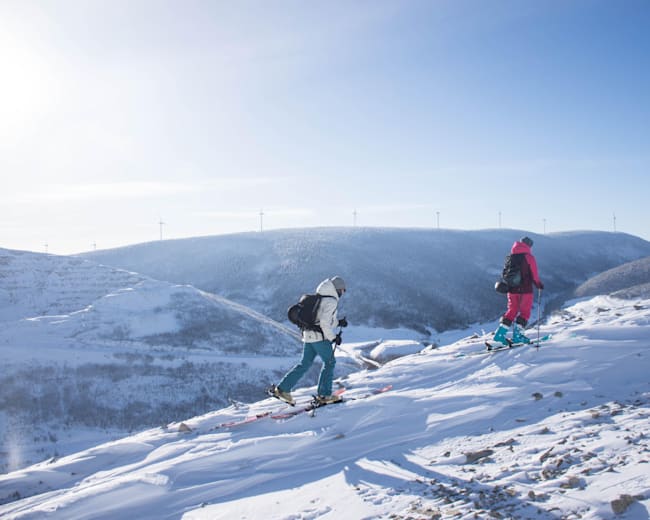 Here's our guide for your first trip to Murdochville
© Taylor Sudermann
Are you always turning west to get your backcountry fix? Don't overlook Murdochville, Quebec.
The east coast answer to your west coast fascination is the small town of Murdochville, Quebec, located near the Péninsule de Gaspé.
The town was once home to a thriving copper mine, but like many mining towns before it, thousands vacated in the 1990s when struggles caused the mine to close down. Since the town's revival largely on the backs on backcountry enthusiasts, a few staple operations that have emerged to make the region a go-to spot for winter sports.
Now that winter and Red Bull Winter Edition have landed from coast to coast, let us guide you through a trip to Murdochville, Quebec.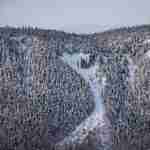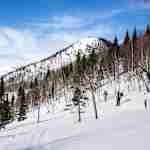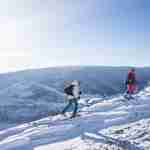 Earn your turns in the Chic-Chocs Mountains
The town of Murdochville is surrounded by many great touring spots, but heading into the Réserve Fauniques des Chic-Chocs is a must. Within 25 minutes of driving, you will be surrounded by peaks comparable to those seen in interior British Columbia. With more than 25 mountains reaching over 1000m in elevation, the area is the only zone in Eastern Canada that Avalanche Canada reports on. (Hint: that means the essential safety tools and knowledge for safe backcountry travel are necessary for your jaunt.)
A staple tour in the Chic-Chocs is the infamous Hog's Back. Because it's one of the few tours in the area that requires less of a trek before getting to the good stuff, it can get skied out pretty quickly during bigger snowfalls. When selecting your route, we suggest hitting the east facing slope as it holds more snow and has steeper terrain.
Stay and ski in style at Chic-Chac
After earning a few turns, you might as well treat yourself to some cat or heli-powered laps. The predominate business in town,
Chic-Chac
, happens to be the same business that can cater to all of your cat or helicopter needs and wants. Run and owned by local Guillaume Molaison, Chic-Chac has an experience for every skiers needs.
If you've never adventured in the backcountry, Chic-Chac is a great gateway. The guides make it their mission to bring you to the spots that will comfortably test your capabilities. Their terrain can only be accessed through the guiding operation, so you can rest assured that you'll be skiing the good stuff all day long.
Though Chic-Chac can treat you to a week of fine dining and heli-laps, they also have affordable hostel options for those looking for a cozy base to earn their turns from. Basically, the operation is your one stop shop when you roll into town.
Don't forget to take a down day
While resting your legs can be top of mind on your day off, don't let that stop you from hopping in your car to take in some of the most iconic views in the country. Approximately 45 minutes away is the city of Gaspé, which is home to the landmark of Jacques Cartier's arrival to New France and an amazing place to chow down on fresh seafood. If your legs will allow, you can also venture further east to the town of Percé for more fresh seafood, great craft beers and a view of Rocher Percé