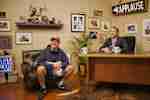 Watch the McMorris brothers reflect on their reality star days
© Magnafire
McMorris & McMorris happened and your younger self loved it. Relive your glory days with snowboard's most notorious duo.
Bachelorette parties, professional snowboarding, euro trips, hockey, prairie tomfoolery, and Mexico-bound vacations… Picture two extremely talented and comedic brothers from Saskatchewan, travelling the world, and defining what it means to live your best life. Now, add in a camera crew and a prime time slot on MTV. Yup, McMorris & McMorris happened and it was glorious.
Today, the McMorris brothers are returning to the big screen after seven years to reflect on their reality star days in a 70s talk show-inspired YouTube series, titled "McMorris & McMorris Redux." Over three episodes, the brothers settle their hockey beef, reconnect with old friends, discuss competition preparation, and reminisce on a range of glory day shenanigans.
Watch McMorris & McMorris The Redux now:
McMorris & McMorris originally aired in 2013 on MTV, during the onset of Mark's swift takeover of competitive snowboarding. In just the first episode, he claims the highest ever score in X Games slopestyle history at Aspen, and goes on to land a respectable second place at X Games Europe just a few episodes later.
Despite the shows comedic tone, and wild antics, it's clear from the get go that these brothers are a force to be reckon with — both on and off the hill. Mark was emerging as the next face of snowboarding, and Craig discovered his charismatic abilities in front of the camera. Little did they know, their reality TV star days were just a snapshot of what was to come.
And, since the shows release in 2013, a lot has happened.
Mark
has won a total of two olympic medals, four Burton US Open wins, and 20 X Games medals — the most in winter X Games history. His appearances riding street and backcountry in film such as One World, Brothers McMorris, and Unbroken, showcases his ability to ride riding street and backcountry, proving that his talents aren't confined to slopestyle competition.
Craig
on the other hand, capitalized on his natural confidence in front of a camera and went on to become a snowboard analyst for CBC at the 2014 Olympic Games, and is frequently seen commentating for ESPN at both the summer and winter X Games. Additionally, he's emerged as a powerhouse snowboarder. He's competed in multiple X Games Real Snow competitions, landed opening video parts in large-scale productions, and even made his debut in the Freeride World Tour in early 2020.
Essentially, both brothers uniquely built their own paths toward the highest level of sport. They've learnt a lot, given blood, sweat, and tears to snowboarding, but still remain the charismatic duo that we learnt to love back in 2013.
Join them as they relive their glory days in typical McMorris & McMorris fashion.