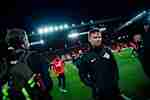 The pulsating 90 minutes that fired Red Bull Salzburg onto the world stage
Red Bull Salzburg's eight-goal Champions League victory over Genk was years in the making, but their thumping 6–2 demolition of the Belgians, their maiden win in the competition, was worth the wait.
The snapshot:
On September 17, 2019, Red Bull Salzburg ran riot in the Champions League, the pinnacle of club football in Europe.
The Austrian outfit put years of disappointment in the competition behind them as they made a huge statement against a talented Genk side, running out 6–2 winners at the Red Bull Arena. The result did not go unnoticed.
The struggle:
For more than a decade, Red Bull Salzburg had failed to make it to the group stages of the Champions League. Over the course of 13 years, the club had 11 different chances to qualify for the main draw but repeatedly suffered agonising defeats.
Twice they narrowly missed out because of the away goals rule, the most painful of which came in August 2018 in the final play-off against Red Star Belgrade, when they failed to qualify despite leading 2–0 with less than 25 minutes remaining.
The match:
With the stadium rocking, teenage forward Erling Haaland scored a stunning first half hat-trick to help put Jessie Marsch's team 5–1 up at the break. Hee-Chan Hwang, Andreas Ulmer and Dominik Szoboszlai also got on the scoresheet as Salzburg's high press and relentless attacking caught the eye of football fans around the world.
The plaudits:
It wasn't just Haaland who earned acclaim after the performance against Genk. American coach Marsch was praised for his tactical astuteness and his ability to employ an intense brand of high-press football.
Perhaps the highest compliment came from clubs around Europe, though, who suddenly saw Red Bull Salzburg as a dangerous team capable of causing a major upset.