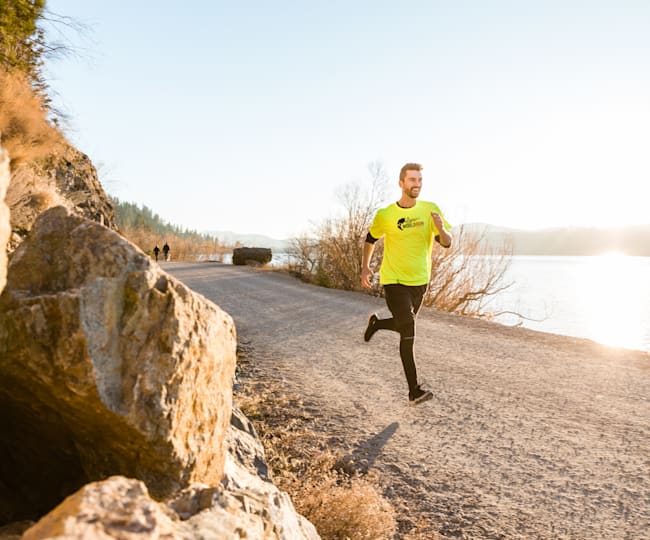 © Royce Sihlis
Join #TeamCoast2Coast and run across Canada on May 9th
#TeamCoast2Coast is looking for Canadians to join them for the Wings for Life World Run. Their hope is to collectively run the distance from Halifax to Vancouver for spinal cord injury research.
Download the app and
register here
, to run with TeamCoast2Coast on May 9th and help us reach our goal!
The genesis for
#TeamCoast2Coast
in this year's Wings for Life World Run started with an induction into a club.
"I heard you just got inducted into the most elite club in the world, the spinal cord injury club," begins a text message that Mike Shaw, former professional freestyle skier based in British Columbia, received in 2013 after his injury.
"You're going to get to meet and be exposed to some of the most incredible people. Although it doesn't feel like a gift, there are gifts that reveal themselves as time goes on. No one wants an invitation to this club. I wouldn't wish it on my worst enemy, but there are good things that can come from it, depending on how you look at it."
This message came to Shaw from his mentor, gold and silver Paralympic medalist in skiing, Josh Dueck. His words had such a positive impact on Shaw during his recovery, that he has continued to pass this message forward as new people face the uncertainty of life after spinal cord injury.
While working through his injury, Shaw channeled that positivity eastward in the direction of Jim Mullan after a friend put them in touch in 2016. Mullan, a Nova Scotia-based musician who suffered a spinal cord injury while on tour with Classified, is what's referred to as a walking quadriplegic.
"There are not many of us around," says Mullan. "I was really struggling to find somebody who had been through it and was really lucky to get linked up with Mike. He essentially mentored me through that process, which was amazingly helpful."
"Mentorship in the spinal cord injury community is a two-way street," says Shaw. "It truly is. Because every time I talk with guys like Jim, I get a lot out of those conversations too. You're meeting someone else who's part of the club."
Bringing the club to the Wings for Life World Run
When these connections are made between so-called club members, everyone benefits in the healing process, but those benefits now extend further with Shaw and Mullan uniting for greater fundraising efforts with the
Wings for Life World Run
.
Shaw introduced Mullan to the Wings for Life World Run three years ago. He had first learned of it when he was still in the hospital.
"It was a great goal to work towards, it was something that was bigger than myself, a cause that is something I can totally get behind. I just knew I wanted to do it."
In the years since his own accident, Shaw has used participation in the run as a way to gauge his own healing and to continue to set personal goals.
With support from their friends and families, Shaw and Mullan started
#TeamCoast2Coast
a few years ago, with the goal of collectively running the distance from Vancouver (where Mike was participating) to Halifax (where Jim was participating): 5500km. Although they have yet to reach their distance goal, the team raised over $15,000 for spinal cord research in their first year alone.
The following year, Shaw and Mullan banded together with eight other spinal cord injury survivors and opened up the team to anyone who would like to help them to achieve their goal. "We'd gotten 10 people across the country and everybody has really unique stories — tragic injuries and amazing resilience in overcoming. It's really inspiring," says Mullan.
The team roster currently includes: gold and silver Paralympic skier, Dueck; avid race car driver, Pauly Plewa; bronze Paralympic sledge hockey player, Kevin Rempel; former professional wakeboarder, Ben Leclair; former Humbolt Broncos hockey player, Ryan Straschnitzki; and former professional mountain biker, Andrew Cho; and Robert MacDonald.
After running with his own team for the last two years, Cho is excited to be joining the
#TeamCoast2Coast
. "It is such a great way for me to align with a bigger goal and it's cool to unify so many of these amazing spinal cord injury journeys."
I'm so humbled to be a part of such an amazing team.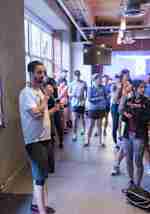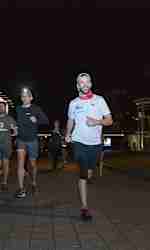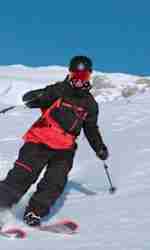 Shaw inducted Cho into the spinal cord injury club with the same message that he had once received from Dueck. A framed copy of it now hangs in Cho's apartment. "Mike came and visited me about a month after my accident. And when I saw him, it completely changed the trajectory of my recovery."
Although their interaction was relatively brief, it was a pivotal moment for Cho. "It's kind of like mountain biking, it's like guinea pigging something for the first time. And Mike had already done it. When I saw Mike, I was like, I'm not going to be walking in a year, I'm going to be sprinting in a year."
In 2017, only four months after his initial injury, Andrew got the go-ahead from his doctors to join the Wings for Life World Run just two weeks before the event. "I think what was really appealing, was that the format of the run allows you to run as much, or as little, as your body allows you. I couldn't really fail; the finish line comes to you. It was a cool way for me to challenge myself. And with relatively little pressure." Cho ran 4.8km that first year. "I fell, I remember, but I got back up."
Cho, like Shaw and Mullan, is a walking quadriplegic. "I feel I was very fortunate to have the outcome that I've had. I think using my experience, it's almost become a duty of mine to raise awareness for this life changing injury. For me, Wings for Life is really hope for the future."
This year
#TeamCoast2Coast
is determined to hit their 5500km goal and are inviting everyone across Canada to join in and help them achieve it.
"We would love to hit that kilometer goal," says Mullan. "When more people get involved and actually download the app, join the team, and put the kilometres in, it translates into more awareness and funds."
#TeamCoast2Coast can be joined
here.