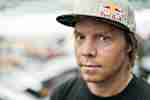 Look back at 5 times Travis Rice blew the minds of the snowboarding world
© Lukas Pilz/Red Bull Content Pool
Revisit the career of a true snowboarding icon and watch his best videos along the way.
It's almost been 20 years since a young
Travis Rice
exploded onto the snowboard scene. While the tricks he pioneered in his heyday are now considered standard fare for modern pros, Rice is still ripping and still as inspirational as ever. Let's take a few minutes to revisit five highlights of a life dedicated to breaking boundaries.
1. The Backside Rodeo seen around the world
The year was 2001, and freestyle progression, which had been ramping up steadily through the late nineties, was just about to go into warp speed. Pros like
Jussi Oksanen
and
JP Walker
were taking park and urban riding to new levels of style and difficulty. Meanwhile, with its springtime Superpark event, Snowboarder magazine was pushing the envelope of snowpark design by giving shaping crews carte blanche to build the biggest, sickest features ever. Encouraged by his mentor
Bryan Iguchi
, an eighteen-year-old unknown Jackson Hole local decided to make the trip down to Mammoth Mountain.
The biggest feature in 2001 was a huge hip, where riders would launch off a central takeoff and land on the steep banks placed at right angles on either side. Except Rice didn't do that: going faster than anyone, he cleared the entire length of the 110ft (33.5m) hip with an inverted backside 540. This super-technical trick, performed on a scale never before seen, announced the arrival of a snowboarder who would raise the bar like no one before – or since.
Justin Hostynek
was in the right place at the right time: a seasoned filmmaker, he immediately recognised Rice's potential. Hostynek invited Rice to join the recently formed Absinthe crew, who were wrapping up production of their new movie,
Transcendence
. The rookie found himself on the next flight to Alaska, and the rest, as they say, is history.
Fast forward to 2016, filming for
The Fourth Phase
. This is where 15 years of Alaska missions gets you – filming selfie videos on the deepest, steepest terrain with no man-shaped distractions – the purest rush possible.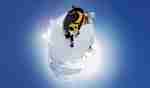 Ride with Travis Rice and experience The Fourth Phase in 360°
2. 2008: The Age of Travis begins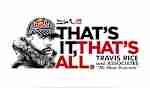 Many – with good reason – will always regard 2011's
Art of Flight
as the definitive Travis Rice movie, launching him as it did, into mainstream fame.
But for snowboarders, 2008's
That's It, That's All
was the moment when Rice went from 'one of the best' to 'the best' snowboarder in the world. He'd already made a solid claim to that accolade in 2004's Pop, after putting on the ultimate airshow in the Utah backcountry, soaring over the legendary Chad's Gap and Pyramid Gap. But with TITA, four years later, Travis was not only raising the technical bar still further with the first-ever Double Cork 1260, he was also getting creative, bonking off full-grown trees in mid-air and hitting full beast mode in extreme terrain.
This was the year Rice swept the board at the Transworld Magazine Rider's Poll: Standout of the Year, Video Part of the Year, Rider of the Year and the Readers' Choice Award. If there was ever a defining point in a career filled with landmark moments, it was this one.
3. When he brought snowboarding to the mainstream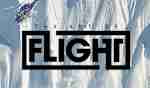 The Art of Flight was that perfect intersection between Rice riding at the peak of his snowboarding powers, Curt Morgan making his defining movie and an all-encompassing drive for cinematic perfection. A film in which state-of-the-art Cineflex and Phantom cameras chase Rice and his stellar cast of co-stars down the steepest, deepest terrain to be found – money no object. Besides being the biggest snowboarding movie ever made, it was also the most hyped: and for once, nobody could argue that The Art of Flight didn't match up to the hype.
There will never be another The Art of Flight. When all is said and done, there are millions of non-snowboarders around the world whose only knowledge on the subject is that there is a guy called Travis Rice who does things that look like he's in a video game, except he's not because it's all shot with the most perfect, crystal clear clarity you've ever seen. Maybe a video game from the future?
4. That time he invented a new kind of snowboard contest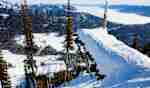 Red Bull Ultra Natural 2013 USA Signature Series
How to become a backcountry pro...
1. Learn your freestyle skills in the pipe and snowpark. 2. Win a few big contests to make a name for yourself. 3. Take your skills, style and rep to the backcountry and then shoot video parts for as long as you can.
Not only is this the tried and tested formula that worked for Rice, it's a natural progression. Contests might be where the most progressive tricks happen, but backcountry is where the magic happens. But what if you could hold a freestyle contest in a backcountry location, complete with sick natural features and powder landings?
As one of the few snowboarders able to successfully juggle both contest and filming commitments, this concept was close to Rice's heart. In 2008 he made it a reality with the
Natural Selection event
, a two-day jam held in his home resort of Jackson Hole. But what if you took things even further, and installed huge, man-made features on natural terrain? This was what came next, with the
Supernatural
(2012) and
Ultra Natural
(2013) events.
Each time, Travis hand-picked a field of pros from both the backcountry and contest worlds, and let them loose on a mix of man-made and natural features with deep powder landings. The action was always incredible, and, two times out of three, the judges awarded Rice the win.
When all is said and done, this is perhaps Rice's greatest legacy. Of course the video parts, the films, the tricks and the wins all matter. But, with the Natural series, Rice added something new and important to the DNA of snowboarding.
Watch a the Natural Selection trailer below: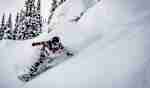 Snowboarding at Jackson Hole
As a footnote, good news might be on the way: in January of this year Rice announced the return of the Natural format, with a three-stage Natural Selection tour scheduled for 2021, starting off in Jackson Hole. Stay tuned!
5. Travis comes full-circle in Roadless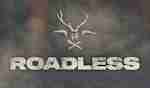 In this mellow-paced road movie without a road, Rice joins legends Jeremy Jones and Bryan Iguchi on a touring mission into one of the most remote places in North America – the Teton Wilderness zone. Hiking and camping with a couple of old-timers is a far cry from his days of winning X Games medals, or hanging out of helicopters looking for the craziest lines Alaska has to offer.
As the three friends forge a trail deep into the heart of the Teton Wilderness, each has plenty of time to reflect on their own personal journeys, and the shared path that brought them here. Back when he was an undiscovered young Jackson Hole ripper, Rice was taken under the wing of Iguchi, who was at the time undergoing his own transformation, from Californian freestyle superstar to underground powder hound.
Twenty years later, and The Guch is still ripping, and still an inspiration for Rice, who, in turn, is still inspiring the rest of us.