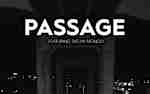 Passage is Tatum Monod's gift to skiing
Watch the short film that exemplifies Tatum Monod's raw, creative talent — both on and off the slopes.
Passage
is more than just a ski movie.
It's a risky endeavour that pushes the limits of the modern day athlete; a vulnerable showcase of struggle, perseverance, and breakthrough; an award-winning display of storytelling and cinematography; and most importantly, an opportunity for freeskier
Tatum Monod
to establish herself as a creative visionary.
Shot throughout the Coast Mountain range and Canadian Rockies, Passage traces the highs and lows of Monod's career, and her deeply-rooted family lineage in the sport. Along with setting a new standard of freeskiing, and earning the title of "Standout Female Skier of the Year" at the 2021 iF3 Movie Awards, Monod worked closely with CK9 studios to write, script, and oversee the entire production of the film.
"This was a creative project I've had my sights set on for as long as I can remember," explained Monod, who has filmed for the likes of MSP, Sherpas, and Level 1 for much of the past decade.
"I came to a point in my career where I was feeling a little burnt out," she added.
Check out the player above to watch the film that won "best editing" and "best short movie" at this year's iF3 Movie Awards, and scroll down to read Monod's full interview about the project.
What inspired the making of Passage?
This was a creative project I've had my sights set on for as long as I can remember. It tells my family's story and our history in skiing starting with my grandfather who began skiing in Chamonix during the 50s, and, how his love for the sport trickled down to my dad, which in turn was instilled in me.
I was also motivated to do something different, something more creative, and this was it.
Where was the movie filmed?
It was all filmed in the Coast Mountains, except the trip I did with my dad, which was in the Canadian Rockies.
How surreal was it to shred that couloir with your dad?
That was honestly my favourite run ever. I was shooting at Mica Heli Lodge and one of our guides told me that the conditions in the Rockies were all-time, so it made sense to travel east for the conditions, as well as my family's history in the area. That same guide showed me the couloir and I knew I wanted to ski it no matter what. My dad absolutely crushed it that day. It was unbelievable.
The film takes a deep dive into the Monod skiing lineage. How did the process of exploring these roots, and taking the creative drivers seat, refuel your passion for skiing?
I came to a point in my career where I was feeling a little burnt out. I wasn't sure what was next. But I became inspired to become involved in the entire production process and have the opportunity to craft my own story.
My goal from now on is to be more than just a skier.
Why do you think it was a good time in your career to step away from filming for major productions, and take on a personal project?
I hit a point in my career where filming all season for one action part in a multi-segment film became less interesting. At this point, I was really excited about having more creative say and control of the overall project because I wanted to push myself in different directions.
This was definitely the biggest undertaking I've done in my career. To be super hands on in the storytelling, writing scripts, performing interviews, working on the editing… It all helped me grow, not only as an athlete, but also as a person.
How did you manage the pressure that comes with being in the spotlight for two years?
At the time, I put my head down and gave it my 110 percent. But looking back, I realize it was a lot — especially during the COVID years… And, then I got a concussion during the second year of filming.
But, that's what you have to anticipate while filming projects of this scale. It's not going to be easy, and you need to prepare for the worst. It was so rewarding to pull it off in the end.
After this project, what do you envision yourself working on in the future?
I know I want to create another movie at some point. But this upcoming season, I'm hoping to diversify myself and work on opportunities that I typically would have said no to — since I had to put my head down the past two years.
It'll be cool to work with my sponsors on different projects and say yes to more opportunities that come my way. I think saying yes to unique opportunities throughout my career is a big reason I've progressed to where I am today.
Anything else you'd like to add?
I want to give a huge shoutout to the crew at CK9 Studios who put countless hours into the project. They are truly passionate, and when it's passion, it doesn't feel like work. It was so cool to work with those guys and I'm excited to work with them in the future.