Every summer, for a short-lived, week-long period, a natural wonder emerges in the mountains high above Golden, British Columbia. Mount 7, named for its characteristic "7" snow formation caused by a unique melting pattern of snow and ice, draws in thousands of tourists hoping to catch a glimpse.
For many, the "7" represents a transient natural phenomenon, but for veteran adventurers
Will Gadd
and
Mark Herbison
, the annual occurrence represents an invitation to attempt B.C.'s ultimate multi-sport challenge.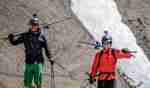 7 on 7 - Conquering 7 sports on Mount 7 with Will Gadd
After months of planning and preparation, the duo pulled off the first-ever documented completion of Mount 7's summer septuple: kayaking, xc biking, skiing, downhill biking, climbing, hiking / running and paragliding, all in one day.
"It was one of the coolest mountain sports days I've ever had," said Gadd. "Just go, go, go all day long, with continuous sport change ups."
"I'll remember this one forever"
The mission began on the raging waters of the Kicking Horse River. With a heat wave in full effect, and river levels unprecedentedly high, the early-morning kayak foreshadowed the extremities to come. Arriving at the base of Mt. 7, the pair climbed roughly 1,600 metres via XC bike, before hiking to the summit to ski the 7 snow patch. After completing the iconic ski descent, they then downhill biked to back to the base. After climbing a few solid routes at the local crag, the two then ran up another 1,100 metre to the paraglider launch site, where they then flew down into the Columbia Valley.
In order to complete this historic feat, Gadd and Herbison were forced to step outside of their comfort zones — Gadd on the mountain bike, and Herbison in the air. In only two months, Herbison learned how to paraglide, and performed his first ever high mountain launch at the end of the 7 on Mt. 7 challenge.
"Flying down with Mark was a high point of the day," explained Gadd. "We flew side by side in the air and we're chatting to each other the entire way, it was an epic way to end the day."