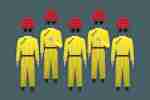 Can you name the artists who originally sang these famous songs?
© John Smisson
Cover songs are the go-to solution for pleasing crowds and filling out albums and b-sides, but they sometimes become classics in their own right. Take our quiz and see how much you know about them.
When an artist nails a cover version, drawing out the original song's complexities in new ways or owning its emotional punch so completely, then the song becomes almost new. Like
Sinéad O'Connor
's reimagining of
Prince
's Nothing Compares 2 U,
Jeff Buckley
's cover of
Leonard Cohen
's Hallelujah, and
Jimi Hendrix
's version of
Bob Dylan
's All Along The Watchtower.
Over time, the original performances and recordings fade into the background, rolled out only by friends and DJs aiming to impress us with their superior music knowledge. Or, indeed, in music trivia quizzes – like the one below.
Put your knowledge of cover versions to the test and see if you can name the artists who sang these songs first.