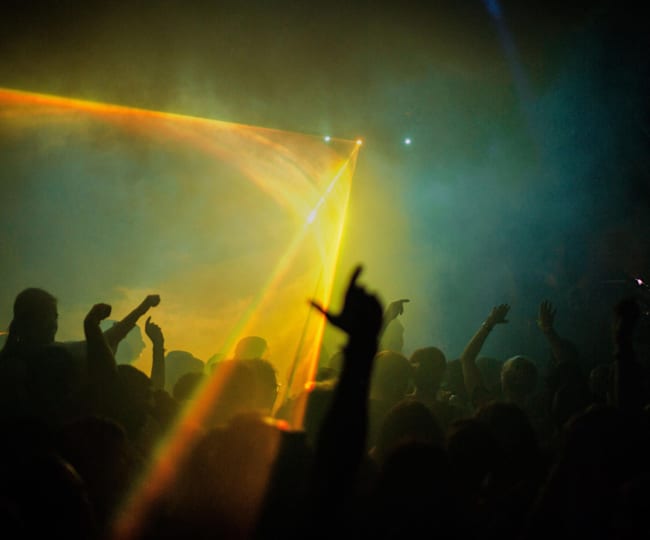 © Alex de Mora
6 incredible European club soundsystems
If you like your music loud, crystal clear, and full of bass, these are the clubs you need to visit in 2019.
Whatever you want from a club – whether it's good company, great DJs, or just the chance to hear music played loud – there are few things as important as perfect sound. Europe has its fair share of clubs with top-tier sound systems. Below, we've listed six of our favourites. How many have you visited?
Berghain/Panorama Bar, Berlin
There are few, if any, clubs quite as exalted as
Berghain
. Housed in an old power plant in Berlin's Friedrichshain, and talked about almost as much for its door policy as for its bookings, Berghain has been the subject of breathless reporting for almost as long as it's been open.
In all the fuss, though, it's easy to remember why the club, along with its upstairs sister club, Panorama Bar, remains among the world's finest: a combination of peerless programming and some of the best sound you'll ever experience.
The system in the main club is provided by the UK company Funktion One, and it remains one of the audio manufacturer's most important calling cards. In the upstairs Panorama Bar, the sound is now pumped out of a system designed by Dresden hi-fi company Studt-Akustik.
After a five-month closure in 2016, followed by a months-long battle to retain its license, London's
Fabric
reopened in January 2017 to much fanfare.
Fabric's Room One remains one of Europe's best for sound. Its Martin Audio rig was designed in partnership with the club's technical manager, and is constantly tweaked to ensure that it is working at its peak. In 2018, the club opened its intimate Room Three again after installing the same Pioneer XY system that powers Room Two.
Fabric has been at the bleeding edge of London club culture since 1999, and remains a cornerstone of the capital's music scene. If its rumoured 20th-anniversary celebrations materialise, 2019 will be the perfect year to sample one of the best rigs in the business.
Ibiza might now be known primarily as a location for having it large, but the White Isle still has some of Europe's finest club soundsystems.
Few are as celebrated as that employed by
DC-10
, on the south-east side of the island. Sound engineer Andy Kayll, who learned the ropes at Liverpool's legendary Cream club, has been in control of the sound since 2001, tweaking it to perfection.
Until a few years ago, the tunes in the main room, terrace and garden were delivered by a mix of Void Acoustics – spheroid-shaped works of art – and Loud Professional rigs. Now, however, every rig is a Loud one – both technically and literally.
The Italian company's systems – used for large-scale events – aren't as recognisable as Void's alien-shaped kit, but, says Kayll, they are more "configurable" and a major reason why DC-10 remains Ibiza's most desirable ticket.
Built into a listed building on Lisbon's dockside and open until long after the sun rises,
Lux Frágil
is Portugal's most internationally renowned venue, and is now also one of Europe's top clubs.
You'll find a combination of Funktion One and XTA gear that has enjoyed successive refits and overhauls since its first installation in 1999.
So impressive is the sound and layout at Lux that it's become a firm favourite among big-name touring DJs, who particularly like the private toilet attached to the DJ booth.
Killasan isn't strictly a club sound system, but it does provide one of the most impressive, immersive musical experience on offer in Europe.
Originally installed in legendary Osaka club Jugglin Link City, but now under the wing of Basic Channel man
Mark Ernestus
, Killasan thrives on dub's low frequencies.
During the summer it enjoys occasional outings by a lake on the outskirts of Berlin, while in winter it's installed in a range of clubs. Wherever it's found, though, Killasan is the centre of a unique clubbing experience in which dub legends like
Jah Shaka
have appeared alongside Hard Wax mainstays and Ernestus himself.
Open since 1976,
Amnesia
is one of Ibiza's longest-running clubs and has a reputation to match its elder-statesman stature. The club is never far away from the top five of DJ Magazine's Top 100 Clubs list.
It won't do its standing any damage with its brand-new sound system, which is fêted as "the most advanced sound system in the world". The
George Krampera
-designed KV2 Audio system, which promises low distortion and high definition, is already deployed in clubs in New York, Asia and Europe, as well as Broadway musicals, but Amnesia will be the first place on the White Isle to use it.
This summer, the likes of
Skream
,
Erick Morillo
,
Hot Since 82
,
Andy C
,
Chase And Status
,
Carl Craig
,
Ricardo Villalobos
and
Seth Troxler
will all get to test it out.