How the monstrous Kamaz truck can dominate the Dakar
© Nuri Yılmazer/Red Bull Content Pool
Out of all the categories at the Dakar, the truck class has to be the most spectacular. The Kamaz Master truck is one of the frontrunners, and it's like nothing else we've ever seen.
The
Dakar Rally
is one heck of a challenge whether you're competing on two wheels or four, but when the rally kicks off in January spare a thought for
Eduard Nikolaev
, his co-driver and mechanic, who'll be spending much of January hammering the Dakar's demanding dunes in a monsterous 1,150bhp Kamaz Master truck. Looking like something straight out of Mad Max, the Kamaz truck embodies everything that's crazy and wonderful about the Dakar.
Category:
The Kamaz truck will be competing in the truck category (T4.2), a class that's intended for modified trucks.
Power:
If you thought 300-plus horsepower in a space-framed Mini sounded impressive, the Kamaz's 1,150bhp is on a completely different level, with the truck putting out close to 10 times the power of a regular family hatchback. Developing such power is no simple task, and the Kamaz has a huge 13-litre six-cylinder turbocharged engine crammed under the hood.
Dakar Decoded checks out the truck category at the 2020 Dakar below...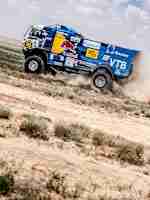 A look at the Truck category
Notable features:
Everything about the Kamaz truck is big. Take those huge wheels – they weigh a colossal 150kg each, turning even relatively simple tasks like changing a wheel into something a lot more demanding. Overall, the Kamaz weighs in at 9.5 tons, but unlike regular trucks, it also boasts an ideal 50:50 weight distribution, which is perfect for handling.
Fuel:
The Kamaz's 13-litre Dongfeng Cummins engine runs on diesel, and it can drink up to 200 litres of fuel per 100km when pushed to its maximum. It's enough to necessitate a truly massive 1,000 litre fuel tank, which is situated over the rear wheels to help achieve that perfect 50:50 weight distribution.
Transmission:
A machine weighing the best part of 10 tons, with a huge amount of power and set to tackle the world's most demanding terrain needs every bit of help it can get when it comes to traction, so it's little surprise to see that the Kamaz Master truck is four-wheel drive.
Chances of success:
The Kamaz truck has one heck of an impressive record at the Dakar. Nikolaev has won the truck category for the past three years running, and Kamaz has an overall record of 16 wins at the Dakar – more than any other manufacturer. As such, things are looking good for the Russian truck maker come January.