Meet Nino Schurter's customised Scott Spark
Nino Schurter's personal mechanic, Yanick Gyger, talks us through Schurter's bike, a customised Scott Spark RC 900 Carbon HMX SL.
There is a constant at the sharp end of cross-country (XCO) racing in the
Mercedes-Benz UCI Mountain Bike World Cup Series
, it being the phenomenal
Nino Schurter
. The reigning World and Olympic Champion, now 33 years old and still going strong, has dominated the discipline throughout his career. Battles with other riders have come and gone, but Schurter continues to keep his eyes on the prize.
One part of the package that helps Schurter remain competitive is his team set-up at Scott-SRAM MTB Racing Team. The team works hard to develop a bike that is centred around Schurter's talents and his passion for riding and racing mountain bikes.
He plays around… not just for the spectators, it's because he has fun racing a bike
The team's Head Mechanic (and Schurter's personal mechanic)
Yanick Gyger
explains: "Nino has used the Scott Spark RC for many years now, claiming multiple World Championships, World Cup overalls and individual World Cups. I think that confirms that the bike is one with Nino. He has one of the most significant riding styles of a kind. When you see him during a race, even on the attack he plays around and is doing whips. Not just for the spectators, it's because he has fun racing a bike."
Gyger talks us through Schurter's bike, a customised Scott Spark RC 900 Carbon HMX SL with Scott's own TwinLoc suspension lockout system for the 68kg, 173cm-tall racer.
Suspension
With XCO courses getting more technical in recent times, the focus has moved away from hardtail race bikes (they are still used for smoother races). Now, a full-suspension set-up with lockout is of utmost importance.
Schurter uses a 110mm-travel RockShox SID Ultimate Carbon RLC3 fork with a custom BlackBox Damper set at 89PSI with one and a half Bottomless tokens installed (tokens, plastic discs placed inside the air chamber, help tweak the suspension progressivity). This is paired with 120mm of travel from a RockShox Nude RLC3 rear shock at 148PSI and zero tokens.
Gyger explains, "In the last couple of years, the suspension's become more and more important in XCO. It's all about the performance, stiffness and a good lockout system. Thanks to Scott's TwinLoc system and special custom parts from RockShox, we are able to activate lockout, traction or descent mode from the handlebar, which makes the bike very efficient in every terrain."
Wheels and tyres
Another recent and significant morphing of technology in XCO is found at the wheels. Wider rims and tyres are now commonplace, helping with rolling speed and control over rough and technical terrain.
Gyger elaborates on this. "Wider rims and wider tyres certainly is the most significant change of this year. We run a 30mm inner width rim from DT Swiss combined with 2.4-inch Maxxis Aspen tyres. Nino feels this is the way to go."
Schurter's base tyre pressures of 16.6PSI (front) and 17.4PSI (rear) might also come as a surprise to anyone who assumes higher pressures equals better rolling speed.
Wireless shifting
SRAM's XX1 Eagle AXS wireless electronic shifting provides pinpoint accurate gear shifts and marginal gains through the range of 12 gears.
"There is a big advantage in bad weather conditions – you have no longer to deal with the friction of a shifting cable," says Gyger, "which means the force of the shifter button is always the same. Less energy for an athlete to shift back and forth. Once you ride it you won't go back."
Seatpost
While Schurter forges ahead with new and innovative technologies helping bolster his strength, it's perhaps surprising that he isn't often spotted using a dropper seatpost, while many of his competitors benefit from dropping the seat height for technical descents.
Gyger explains: "For a technically skilled XC rider like Nino, a dropper post is not 100 percent developed yet. The weight and the operation of the system is not yet optimal. We are waiting on a lighter version seatpost that has less travel – in XCO 40–60mm is enough." Gyger is quick to add, "In my opinion, a dropper post is the best invention in the bike industry."
Custom parts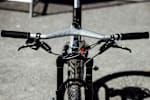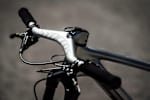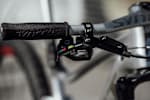 As with any top pro, Schurter's set-up has been tweaked and refined through the years with the help of his mechanic, team and sponsors. A custom cockpit helps keep the front end low, light and stiff, firmer springs in the pedals ensure he can pedal full-tilt, and the small silver patches on the frame and wheels, made by Swiss brand Axxios, are said to help disperse vibrations.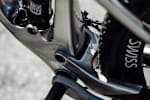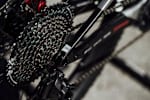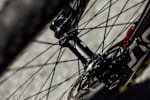 Components
Frame: Scott Spark RC 900 Carbon HMX SL Custom

Remote: Scott TwinLoc suspension system with three ride modes

Fork: RockShox SID Ultimate Carbon RLC3 110mm

Shock: RockShox Nude RLC3 120mm

Crankset: SRAM XX1 Eagle Dub SL 175mm with 38t chainring

Cassette: SRAM XG-1299 Eagle 10-50

Derailleur: SRAM XX1 Eagle AXS

Shifter: SRAM XX1 Eagle AXS

Wheels: DT Swiss XMC 1200 spline carbon (30mm) 29"

Brakes: SRAM Level Ultimate BlackBox with 160mm rotors front and rear

Tyres: Maxxis Aspen 29x2.40 170tpi Exo/Tr with OKO Magic Milk Hi- Fibre sealant

Bar/stem: Syncros Fraser LC SL Nino special edition 95mm/-30°/680mm

Seatpost: Syncros Duncan 1.0 Carbon SL 10mm offset

Seat: Syncros Tofino 1.0 Regular 130mm
Notes: bars, tyres, pedals with stonger springs, custom BlackBox fork damper are custom-made for Nino, Axxios patches for vibration limitation