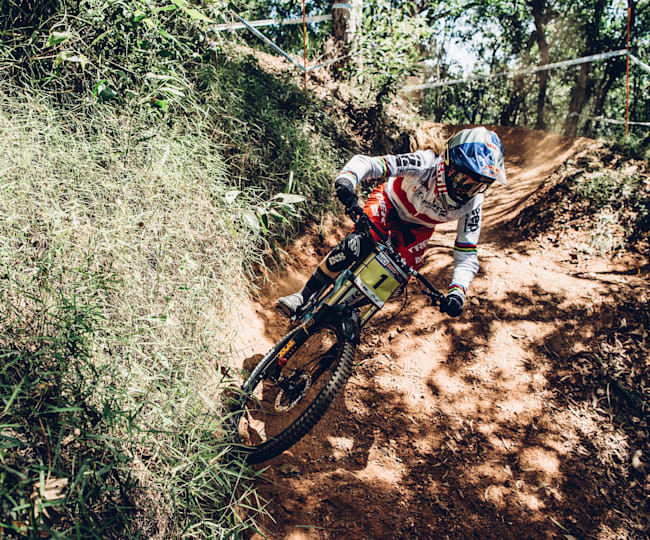 © Bartek Wolinski/Red Bull Content Pool
5 tips to improve your MTB descending
If you want learn to get down the trail faster, follow these five easy downhill tips next time you hit the steeps.
Let face it, unless you're an XC masochist,
descending
is the best part of mountain biking – but it's also the most scary and difficult to master. So if you're looking to improve your technique, here are five easy MTB tips to focus on when you next hit the trails, including some pro tips from
Rachel
and
Gee Atherton
.
A key technique for top descending is the ability to
let the bike move around underneath you
. It's all too easy to seize up and grip the bars tight when things get scary, but this will only increase your chances of a crash. Try to maintain a strong core, loosen those white knuckles and let your arms and legs move around with the bike. They're the best suspension you'll ever have, so use them wisely.
If you can force yourself to ride loose and relaxed, then the bike will be loose and relaxed – this is what the bike wants to do and what it was built for, so try your best to let it do that.
We've all had moments when a trail feature has caught us unaware on a descent and we've had to slam on the anchors, losing our flow and precious speed. Basically, we weren't looking far enough down the trail and got caught out. So while it may sound simple, remember to look well down the trail and anticipate your line in advance. This will help you maintain speed while avoiding those nasty obstacles.
3. Twist your levers into a flat position
How you set up your brake levers can have a real affect on descending. Many riders have their levers pointing down towards the ground. And while this may be good for climbing and riding out of the saddle, you'll come unstuck when you're leaning back on the descent due to the exaggerated pressure on your wrists.
Try twisting your levers slightly to a more flat, or neutral, angle. This may feel funny on that first climb, but when you hit the descent, your wrists will be in a stronger position, allowing you much more control.
There's a whole load of fancy tech nowadays to assist you with speedy descending. But perhaps the biggest game-changer of recent times is the dropper post. There are many different styles and brands on offer and they basically enable you to drop your seat post via hydraulics at the push of a button.
Haven't got a dropper? No problem – just remember your multi-tool and drop that seat before your favourite descent. It'll only take a couple of minutes and you'll be reaping the rewards in no time.
"If you're riding cross-country, you'll have your seat high to climb, but many riders don't necessarily think about then lowering their seat for a descent. If the seat's too high, it will make you lean back too far, or push you over the front so your weight's unbalanced. If it's lowered, the bike can move around more easily on the descent, and you can corner better as your weight's more central," says Rachel Atherton.
5. Find someone who challenges you
Most pro-riders grew up within a scene or group of friends who pushed each other when out riding. Everyone has to start somewhere, and while it can be demoralising being the last one in the group, observing faster riders' lines and riding style is a sure-fire way to give your technique a boost. There's obviously a limit and we wouldn't recommend trying to follow
Aaron Gwin
down his favourite trail, but meeting up with a slightly faster group is only going to improve your technique in the long run.
Gee Atherton agrees, saying, "Train and ride with someone who's as fit, fast and strong as you are. If you can push one another, that's going to speed up your progress massively. Me and Marc ride together a lot. It also means you can compare notes on lines too. It keeps it fun, and it's always motivational to have someone to bounce ideas around with."