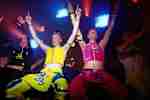 The 7 ages of Sheffield nightlife
© PYMCA / Contributor / Getty Images
Multicultural funk, futuristic techno, dole queue glam, fluorescent trance… this Northern city punches way above its weight when it comes to new musical forms.
Sheffield's contribution to British culture (and subculture) is utterly vital. Yet somehow it seems under-appreciated in comparison to cities like Bristol, Manchester, Liverpool or Glasgow.
Perhaps it's something to do with the classic Yorkshire 'just get on with it' attitude, a sense that Sheffield doesn't like to shout about itself. Perhaps it's that there's a deadpan humour to its culture that doesn't give away its secrets too easily. But in musicians from
The Human League
to the
Arctic Monkeys
,
Moloko
to
Coco
, and in club culture from Jive Turkey via the mania of Gatecrasher to the born-again techno haven Hope Works, it consistently produces extraordinary creativity that taps into a very particular and ongoing local vibe.
As Paths Unknown gets ready to land in Sheffield, here we unpick some of the threads that make that up.
1. Cabaret Voltaire, post-punk and "the Sheffield Clang"
Jive Turkey resident DJ and house pioneer
Winston Hazel
calls it "the Sheffield clang". Even
Toddla T
, who grew up long after most of the steelworks had closed, says "that metallic sound is in our blood". There's something about Sheffield that encourages an industrial edge to music-making, going all the way back to
Cabaret Voltaire
's first tape experiments in 1973. They gradually moved towards an industrial groove, and in turn inspired the post-punk of
Clock DVA
and the mutant pop of
The Human League
and
Heaven 17
– which somehow managed to fuse the most gleaming disco-soul with that ever-present clang plus a deadpan Yorkshire wit.
2. Funk, soul and house music in the melting pot at Jive Turkey
The Hacienda has been written into history as the club that broke house music in the north. But at the same time
Mike Pickering
and
Graeme Park
were bringing Chicago, New York and Detroit sounds to pre-ecstasy Manchester, Winston Hazel and Richard "Parrot" Barratt were doing the same, mixing up hip hop, electro and boogie. Eighties fashions aside, looking at extant footage, it's clear how live the atmosphere was: unselfconsciously multiracial, with dancing the first imperative. "People knew their tunes and expected new things every week," says Hazel, "but they were there for a good time first and foremost."
3. Warp Records and the birth of bleep'n'bass
At the end of the eighties, Yorkshire became a crucible for the types of music heard at Jive Turkey to be forged into something new. People like
LFO
and
Nightmares On Wax
in Leeds, and Bradford hip-hoppers
Unique 3
brought reggae soundsystem bassweight, the alien signals of techno, and electro's innate funk together. But it was Sheffield that became the heart of this all with Rob Gordon's uniquely heavy production and the foundation of Warp Records.
In various permutations like
Forgemasters
(Gordon and Hazel), and
Sweet Exorcist
(Parrot and
Cabaret Voltaire
's Richard H Kirk), a core personnel cemented a sound that would echo through hardcore rave, jungle and on into the 21st century – launching Warp as a globally influential presence into the bargain.
4. Pulp, Moloko and the long seam of charity shop glam
Richard Barratt
calls the aesthetic "dole queue Bohemian", but you could equally call it "psychedelic working men's club". Sheffield's culture has a tendency to the theatrical – not just in the New Romantic stylings of
The Human League
and
ABC
, but in all the bands that followed.
Pulp
, of course always had a cabaret aspect, but it's there too in
Longpigs
, the barstool yarn-spinning of
Richard Hawley
, Barratt's band
All Seeing I
, veteran club singer
Tony Christie
and of course Moloko.
Róisín Murphy
, adopted daughter of Sheffield, puts says there's a magic to the combination of deadpan and glamour: "You can't beat burly northern guys in sequins!"
5. Hard house and trance rule the roost at Gatecrasher
Talking of northerners in sequins, one of the more deranged pop cultural phenomena of recent decades has to be Crasher Kids.
Peaking (in all senses of the word) in the late '90s, Sheffield's Gatecrasher club attracted a young crowd dressed in clashing fluorescent colours from putty-spiked hair to glittery trainers – plus, for some reason a penchant for fridge magnet letters stuck to them like some alternate dimension toddler's educational toy. Whether Gatecrasher's manic hard house will end up in cultural history books is moot, but their crowd certainly deserve to.
6. Bassline house is born at Sheffield club Niche
Some people just see the bassline house – or just "Niche" – sound of Sheffield's Niche club in the 2000s as speed garage refusing to die, and certainly that's where its immediate musical roots lie. But there's something deeper, too. "Of course it's connected to the Warp stuff," says
Toddla T
. "It's bleeps, bass, ragga, dub, all the same things, with a totally Sheffield flavour."
On top of that, Niche – and all the bassline clubs across the north and midlands which followed – had that classic no-nonsense northern rave energy that was only a step removed from the technicolour mania of Gatecrasher. Only Leeds's
T2
and Manchester's
Platnum
ever generated major crossover tunes from bassline, but the scene remains capable of pumping out adrenalised grooves to this day, and it remains part of the fabric of Sheffield.
7. Toddla T, Sheffield grime and 21st Century soundsystem culture
While bassline is the sound that Sheffield can claim as its own, its enduring love of soundsystem culture in general means that plenty of the city's artists excel across other genres.
Toddla T
, of course, has been fusing dancehall, grime, bassline and more since the days of his teens when he hooked up with
Winston Hazel
,
Peter Pipes
and crew for the Kabal parties.
Coco
is probably Sheffield's best known MC talent, a regular collaborator with Toddla T since his teens. But the likes of of
KDot
,
LDizz
, and particularly the scholar of grime
Kannan
are all brimming over with stage presence, and deserve to be heard on the national stage.
Listen to
Red Bull Radio
for in-depth interviews, exclusive mixes, live broadcasts and more