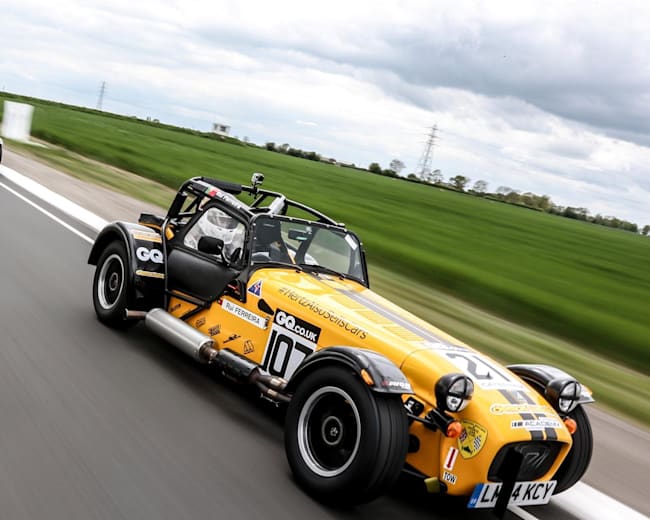 7 cheap ways to go racing in the UK
© Caterham
Satisfy your inner Max Verstappen as we pick some of the best low-cost racing series in the UK.
At some point in the life of every motorsport fan, the urge to compete and thrust yourself onto a world-famous race track takes over. For most, the urge remains just that. But for some – including around 30,000 MSA licence holders in the UK – action is needed.
While most of us are old enough and, ahem, wise enough to admit we're never going to have
Max Verstappen
-levels of talent or the financial backing of a multinational conglomerate, motor racing does not have to be out of reach.
While competing on short ovals, in hillclimbs and sprints and even autotesting will make the smallest impact on a competition budget, it's the world-renowned circuits – of which the UK has many – that hold the greatest allure.
So if you're looking to take your first steps into circuit racing, take a look below as we cast a light on some of the UK's most cost-effective, fun and friendly circuit racing championships. Good luck out there…
1. Ravenol Formula Vee Championship
If it has to be single-seaters, there's nothing more cost-efficient than Formula Vee. Celebrating its 50th year in 2017, Vee – with mechanicals lifted straight off a VW Beetle – was the starting point in circuit racing for Niki Lauda, Nelson Piquet and a number of other big names.
Rough cost for full season's entry: £2,000

Rough car price: £4,500-12,000
Expert view – Giles Groombridge, 750MC Competitions Manager:
"It's not the absolute cheapest series we run, but purpose-built single-seaters are always going to have extra costs attached to them compared to many of the road-legal machines that race in our other championships.
"Great racing is guaranteed with over 30 cars on average, and the tuned 1300cc VW Beetle engine is good for 100bhp, which is nippy enough for a car that weighs just over 300kg. The cars are easy to maintain, with the mechanicals affordable and readily-available. Added to that, there's a separate series in Northern Ireland and we run a one-off 'Vee Festival' at Brands Hatch annually, which is hugely popular. There's even a company that offers an 'arrive and drive' package for £650 per round."
More information: Contact Giles Groombridge – giles@750mc.co.uk
2. Demon Tweeks/Yokohama Locost Championship
While budgets sadly no longer conform to Ron Champion's seminal book
Build Your Own Sportscar for as Little as 250 Pounds – And Race It!
on which this series is based, the mantra of Locost racing certainly does. Do-it-yourself racing has never been as fun as this. Costs have crept up a bit, but this is true back-to-basics stuff with big grids and a real community spirit in the paddock.
Rough cost for full season's entry: £1,500
Expert view – Giles Groombridge, 750MC Competitions Manager:
"Locost racing is exactly that; low-cost racing. The cars are simple enough to build in your garage at home (provided you have some mechanical knowledge) and can be run for next to nothing.
"The Ford Xflow 1300 engine, which is mandatory, is easy to maintain and readily available from under the bonnet of any old Fiesta, tyres are £35 each and last a full season and because the bodies are minimal, you barely ever have to replace a panel. It can lead on to bigger things too; Simon Pullan, one of our first champions, made it all the way to Le Mans in an LMP car and Tim Gray, who built his own Locost, founded his own car constructor, Spire, who now sell quite a lot of cars for racing and track days."
More information: Contact Giles Groombridge – giles@750mc.co.uk
3. BMW Racedays Compact Cup
Created in 2011 for the rather unfashionable BMW 3 Series Compact, the Compact Cup has exploded in popularity due to a large stock of cheap and available cars, fantastic on-track action, modest running costs and a level playing field. Oh, and the lure of being able to say 'I race a BMW' doesn't hurt.
Run by: British Racing & Sports Car Club

Rough cost for full season's entry: £2,100
Expert view – Paul McErlean, championship co-ordinator:
"I can't honestly believe quite how successful the Compact Cup has been. From starting with eight cars in 2011, we suddenly had 27 by the start of the following season, and with a level playing field, affordable cars – you can buy one for £300 if you can rebuild it yourself – and single-day meetings featuring two races, it's just kept growing.
"Keeping costs low is a priority, and to that extent we control the rollcage, tyres, ECU, spring rates, castor, camber and much more. We want to discourage overspending and create as level a playing field as we can. With eight different winners from 14 races this year – and ex-British GT Champion James Gornall only just winning the title – it seems to be working."
More information: Contact Paul McErlean – info@bmwracedays.co.uk
4. CSCC Tin Tops Series
An all-action series for saloons and hatchbacks with engines of a maximum size of two litres, expect a heady mix of Fiestas, Saxos, Clios and Civics. With races timed at 40 minutes and two drivers allowed (although not required) per car, there's even a mini-Le Mans feel to proceedings.
Run by: Classic Sports Car Club

Rough cost for full season's entry: £3,500

Rough car price: £2,000-£5,000
Expert view – David Smitheram, CSCC Director:
"Tin Tops is one of the most cost-effective series in the UK. Each round is a single-day event with practice and a 40-minute race, which means you never have to stay overnight, and each race has a mandatory pitstop, meaning you could share the car with a friend and split the costs. Plus it's a series, rather than a championship, so you don't lose points by skipping a race – you just do the rounds that suit you best.
"You can pick up an eligible car for £500 on ebay, add tyres, fuel, the required safety equipment and be ready to go, although a properly-tuned engine is an advantage. Tyres are cheap at £60 each and last a full season. We also give discounted entry on our Open Series at each event for anyone registered for another CSCC event, so you could get two more mates in on the deal, have them race the car too and save even more money. There's even the odd pro driver to measure yourself against; Mike Jordan is the CSCC President and he and son [2013 BTCC champion]
Andrew Jordan
have raced in the past – and been beaten!"
More information: Contact David Smitheram – david@classicsportscarclub.co.uk
5. MSV Track Day Trophy
Designed as an affordable step into circuit racing for track day specialists. A capacity grid of rookie racers drive an eclectic range of machinery, with tight restrictions on power-to-weight ratio (175bhp/tonne with maximum weight of 600kg) meaning that all cars are in with a chance of winning.
Rough cost for full season's entry: £2,400

Rough car price: £2,000-4,000
Expert view – Jamie O'Leary, former competitor:
"Yes, it's the author of this piece speaking – but don't worry, there's no stuffed brown envelope in sight. I made my racing debut in the Track Day Trophy sharing a mate's VW Golf GTI and despite atrocious weather, had a ball in the two-driver, 45-minute event. While only novice racers are allowed, the name of the series does give away the fact that many long-term track day specialists (i.e. not me) enter, and are inevitably faster initially.
"The real positives here are that, as a track day guru, you probably already own an eligible car (and it's an extensive list – everything from a Vauxhall Nova GTE to a Jaguar XJS!) and that once the year's over, you can take your experience and your machine and race it in one of the other series in this list. It's win-win."
More information: Contact Stuart Garland, championship co-ordinator – trackdaytrophy@msv.com
6. 5 Club MX5 Cup
One of numerous series in the UK for the world's best-selling roadster, but with the 750 MC's emphasis on cost-efficient, no-frills racing – and competition as close as anything else you're likely to see – this is the one we've plumped for.
Rough cost for full season's entry: £2,750

Rough car price: £4,000-4,500
Expert view – Giles Groombridge, 750MC Competitions Manager:
"Mazda MX5s are everywhere, and because they're beautifully-balanced and the engines – like most Japanese cars – are pretty much bulletproof, even 20-year-old machinery is still hugely desirable for motorsport.
"Replacement parts are cheap and the Nankang road tyres we use are only £40 a throw. The track time is good, too, with at least two 15-minute races at every round. We're also not the only club who run an MX5 series, so you could potentially buy a car to race here, do well and decide you want a bit more power and maybe slick tyres, and move into another series. Then all you'd have to do is upgrade your car rather than buying a new one."
More information: Contact Giles Groombridge – giles@750mc.co.uk
7. Caterham Academy
OK, so the cost below doesn't exactly look 'budget'. But for that £25,000, you get more or less everything, including a race-ready (but road-legal) 125bhp car, ARDS test and medical, separate test day, all your season entry fees and additional technical support. Plus, if your car has proved successful and remained damage-free, you can recoup much of that money at the end of the year by selling it. Oh, and it's over-subscribed – so form an orderly queue for 2018.
Run by: British Racing & Sports Car Club

Rough cost for full season's entry: £25,000 plus travel/accommodation (£1,000)

Rough car price: £0 (car included in entry fee)
Expert view: Paul Thacker – competitor:
"It's brilliant. You're all rookies in identical machinery, so you're all generally starting from a level playing field. The cars are proper stripped back racing cars, so you really get that sense of speed and that feeling that you're really on the limit, and the technical support from Caterham is fantastic because the mechanics and engineers are there helping you to understand how the car works in terms of set-up and maintenance. You're really learning something, getting faster during the year and, above all, enjoying it."
More information: Contact Jennifer Mouratsing, championship co-ordinator – jennifer.mouratsing@caterham.com
*None of the figures above include the cost of insurance, race kit, consumables (tyres etc.), transportation, travel, accommodation, race licences or, you know, damage – except where stated.