Andrew Jordan: "That was great fun all the way!"
The 2013 BTCC champion recalls his weekend at the Goodwood Revival with his dad & their Austin A40.
Overall, the
Goodwood Revival
was a great weekend with great weather, and so many people - about 150,000 came over the three days.
I think the star of the weekend was our little Austin A40, though. Sure, we got pole and finished second in the
St. Mary's Trophy
, but I enjoyed racing it. It was also really nice to see dad win the Will Hoy* award.
In the
St. Mary's Trophy
, I had a really enjoyable race with Anthony Reid in the bigger Jaguar and Emanuele Pirro in an Alfa Romeo.
Their cars are heavier, but have a lot more power. I was leading until about halfway when I started to lap some slower cars, so their horsepower advantage meant they could catch me in a straight line. Still, it was a great race with them even if I couldn't re-pass.
As the race result is based on aggregate, we got our times and dad started his race in second, but took the lead on the last lap to win.
The overall win, however, we missed by 0.4 seconds. Going into the last corner, dad was in the lead by 2s but then got traffic at the chicane which cost him. We had to beat our rivals by 1.8s, and lost it by 0.4. To be honest, though, me and dad just said: "hey, who cares? That was great fun all the way through!". Dad's race was also probably one of the best I've ever seen him do.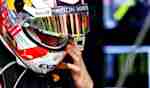 Placeholder Video_DO NOT UNPUBLISH
In terms of driving, like most historic cars, the A40 runs on a very low grip tyre, and everyone taking part in the
St. Mary's Trophy
was running on these. The car moves around the whole time, but it never feels like it's going to bite you on the arse as it's so user friendly - you can throw it at a corner and it'll give you so much feedback. I just love it!
As you can see during my flying lap video (above), there was some opposite lock going on, too! That was my last flyer, and I had a bit of traffic. Also, that red car, another Austin A40, was being driven by
Darren Turner
who races for Aston Martin in the
FIA World Endurance Championship
.
At the time, he was on pole and up until that point, I wasn't able to get a clean run. I was pretty chuffed to manage that on my final lap. You can see on the back-straight that I was flashing the lights a lot at Plato up ahead, actually [laughs].
In the
TT race
with the AC Cobra, we finished seventh and I had a great race with
Matt Neil
. Driving the Plymouth Barracuda in the
Shelby Cup
, we ended up sixth. We got held up a lot in the pitlane, because it's so tight, and when I switched with Ollie [Bryant] who I was sharing the car with, we left the pitlane in 14th because we got blocked in. Racing back through the field felt good, though.
Anyway, as there's no
BTCC
for me until next weekend, I'm off to Germany to commentate on the World Rallycross at the Estering. I'd rather be driving, but I'm looking forward getting back into the commentary box, because the last time I did it was in Holjes in July.
As for the Estering circuit, I think the racing will be pretty close because the track is pretty tight, despite there not being many overtaking places opportunities.
Generally speaking, however, Turn 1 is carnage there because you leave the start/finish line, then head into a sweeping right which turns into like a first gear/90-degree corner and all of a sudden there's some contact.
You can keep up to date with Andrew on Twitter, Facebook, or check his weekly driver column here.
The next round of the 2014 BTCC championship takes place at Silverstone on September 27th-28th.
The next round of the 2014 World Rallycross Championship takes place in Germany this weekend on September 21-22.