Watch this epic wingsuit first over South Africa's Drakensberg mountains
Red Bull Air Force members Mike Swanson, Miles Daisher and Jon DeVore fly off the iconic Eastern Buttress for an eagle's eye view of the breathtaking mountain range.
Renowned for its dramatic peaks, pinnacles and valleys, its importance as a haven for many endemic species, and for its wealth of rock paintings; the Drakensberg is a revered mountain range. Now, watch the story behind the first-ever wingsuit flight from one of its most iconic landmarks.
Watch Barrier of Spears in the player above.
"We love to be able show people really unique amazing locations around the world in a way they've never seen," says
Jon DeVore
, who, along with fellow
Red Bull Air Force
members
Mike Swanson
and
Miles Daisher
were recently in South Africa to fly wingsuits over the Drakensberg and launch off a few sites which had never been flown by wingsuit before.
"A lot of people have seen images of the Drakensberg region but most have never seen it from a bird's eye view," DeVore adds.
The Drakensberg, with its towering basalt peaks, dramatic pinnacles and sheer rock walls forms part of the Great Eastern Escarpment of Southern Africa and is the most iconic range in the land.
What forms the spine of the Maloti Drakensberg Transboundary World Heritage Site was named 'uKhahlamba' – meaning 'massed assegais,' or, more colloquially 'the barrier of spears' – by the Zulu nation centuries ago. To the 'Voortrekkers' (a group of Dutch descendants who trekked out of the Cape in the late 1800s) this seemingly insurmountable barrier looked like that of a dragon's back, so they called it the Drakensberge, or 'Dragon Mountains'.
This dramatic mountain range has drawn adventure seekers and professional athletes for years – climbers, hikers and trail runners have explored the many challenges of the escarpment, testing themselves against the elements.
The team – which included South African wingsuit pilot Julian Boulle and local mountain expert and guide extraordinaire Gloei Cilliers – planned to get a taste of what the region had to offer. The end goal was to fly wingsuits off the Eastern Buttress, which rises some 3,000m above mean sea level and features a vertical rock wall before sloping down into a scree slope punctuated by dramatic stream-carved valleys.
Time, however, was tight, and the weather window in this unpredictable alpine region, small.
Commenting on those issues they faced, DeVore said: "There are a lot of emotions that run through our minds when we're faced with bad weather. After planning for months and travelling for over 27 hours the energy is high and everyone is excited that it's finally happening.
"Then reality sets in and you realise all this effort might have been for nothing and we're just going to sit in the rain for a week and get skunked. It's something you have to be ready for though. Whenever you're planning anything in the mountains you better be ready to sit and wait!"
Fortune favours the patient it seems, and the crew got that 'lucky' weather window and got their jumps in.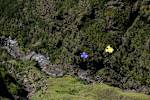 "There's the moment you commit to pushing off the cliff. This moment is when everything slows down and a pure calmness comes over you. You're basically forced into the flow state of mind. You notice everything from a small insect buzzing by you to the colours of the rock wall that's racing by. It's pure freedom," DeVore explained.
But then, there's always another pinnacle, somewhere... Says DeVore: "We could barely control ourselves in the helicopter. Everywhere we looked were amazing locations. All we can say is that we'll definitely have to go back."