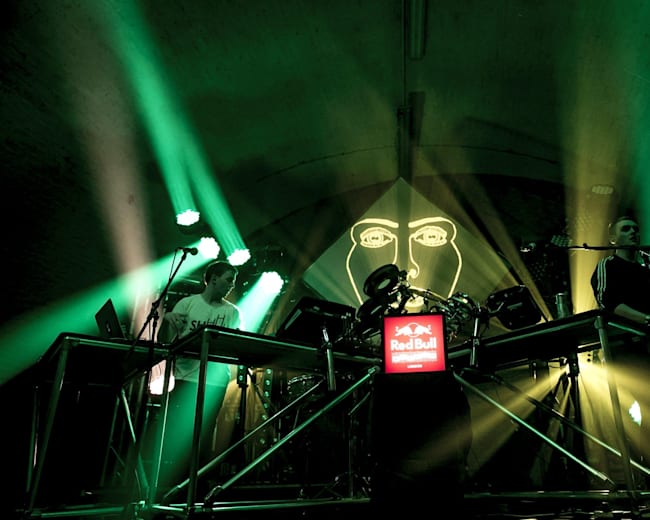 The story of Disclosure told through 10 essential songs
© Stephanie Sian Smith
The British duo redefined mainstream dance music. Join us in a run-down of their best songs.
We really do have a lot to thank
Disclosure
for. Back in 2013, mainstream dance was dominated by the omnipresence of a cynical and stadium-bothering EDM. Then two unassuming kids from Surrey arrived on the scene and almost single-handedly turned its gaze. Not only did brothers
Guy
and
Howard Lawrence
soundtrack our summer with their nostalgic brand of house and garage pop wunder-production, but they did it all with such jaw-droppingly confident success that 'like Disclosure' could now quite easily be a genre of its own.
They followed debut LP Settle – described by Pitchfork as 'one of the decade's most impressive debut albums' – with unadulterated domination. There were Grammy and Brit nominations; high profile gigs at Lollapalooza, Coachella and Glastonbury; their own successful festival; and a star-crammed sophomore. They've since taken time to re-assess – and hopefully bathe in their riches – but were back last summer with triumphant new material.
With a new album promised in summer 2019, we look back at the star-magnet duo's unique trajectory and pick some of the best songs that helped pave their way.
1. Offline Dexterity
It makes sense that Guy and Howard have professional musicians for parents. How else could a 16- and a 19-year-old from the English countryside have had such a deft touch with the organic and lush sounds of early house and Detroit techno? Their academic approach to the inner workings of a dance track made for decidedly heart-felt and real-deal results. Their first single is a warm and hazy bed of looped samples. Its confident simplicity landed them a mainstream record deal.
2. Jessie Ware – Running (Disclosure remix)
Disclosure's career has been characterised by the most mutually beneficial of collabs.
London Grammar
,
Sam Smith
and
Jessie Ware
all guested on Latch; and all at that blink-and-you-miss-it moment before they went big. When the duo remixed this arch ballad into a masterclass in glossy house production it had the effect of raising the profiles of all involved. And doesn't it make you yearn for early days dancefloor Jessie?!
3. Control
This track from 2012's The Face EP featured vocals by
Ria Ritchie
. Though maybe not as straight-ahead pop as the Settle singles, it had a delightful nervous energy and release. The brothers flung around Ritchie's voice to give the track a pleasantly cloudy, drifting vibe.
4. You & Me
This third single from Settle dropped in April 2013, and went to number six on the UK Dance chart, and number 10 on the UK Singles chart. It featured vocals by UK singer
Eliza Doolittle
over a semi-melancholic verse that eventually slammed into a chorus alive with fist-pumping celebration.
5. Nocturnal (ft. The Weeknd)
Following on from Settle was never going to be easy. Disclosure made two clear decisions on the direction for second LP, Caracal: to head to the RnB afterparty with their sound and to do it with their newly bursting little black book of megastars. Who better to do all of the above than perennial pessimist,
The Weeknd
. This track sealed Disclosure's status as international music scene A-listers.
6. Ultimatum (ft. Fatoumata Diawara)
Ever the industry savvies, Disclosure waited until the giddy days of early summer to end a 15-month hiatus in May 2018. And they did it with a lusciously hazy, pure dance track that seemed to intentionally un-do everything that Caracal had done. Here they choose the Malian vocals of relative unknown
Fatoumata Diawara
to accompany a bubbling track with absolutely no classic pop structure.
7. F For You
Their mask motif can't be pure stylistics. Guy and Howard are about as frontman as
Ringo Starr
or the ginger one from
Blur
. But here we have an 18-year-old Howard flexing his croon on the vocals. And he does it with a swagger that belies both his age and those twitchy lyrics.
Mary J Blige
liked what he did so much that she thought she'd
add her own stamp
. No need though Mary J, Howard already had this down.
8. Moonlight
This August, without fanfare, Disclosure quietly dropped a single a day for a week. Following on from the mission statement that was Ultimatum, each track found them having an absolute dancefloor-focussed ball. They paid homage to a plethora of forefather sounds, from Sudanese funk to
Gwen McCrae
disco. Moonlight is a deep house jam with sliced and spliced vocals that hints at
Kaytranada
burbles and their beloved
J Dilla
whilst being unmistakably Disclosure.
9. White Noise (ft. AlunaGeorge)
This single first dropped in February 2013 and quickly became the song of the summer. And not just because it sounded like the new millennium's answer to Bananarama's '80s hit Cruel Summer. A joyous collaboration between Disclosure and
AlunaGeorge
, Aluna Francis slips brilliantly into the throbbing, snaky beat to deliver a playful, charming, crisp vocal performance. The single followed up Latch and You & Me and felt like the apex of Disclosure fever.
10. Latch
If
Jessie Ware
owes a debt of gratitude to Disclosure then
Sam Smith
owes them a couple of sports cars, or a Hollywood mansion or his first-born child. The long-time friends came together back in 2012 – when Smith was still working seven days a week in a bar – and created a slice of dance pop that showcased each of their signature skill sets to perfection. When the chorus drops, Smith hits his trademark sharp falsetto, as the brothers Lawrence unleash melodic wobbles and a ticklish beat that could only be their own. This is a track that bubbles with the youthful joy of possibility.
Listen to
Red Bull Radio
for in-depth interviews, exclusive mixes, live broadcasts and more