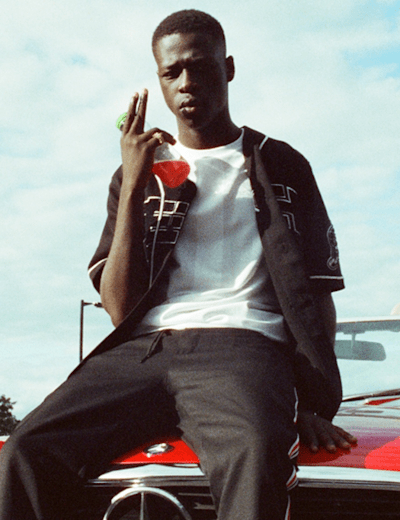 Best Grime And UK Rap Tracks: 2020
© Press
We're compiling all the year's best tracks in one Spotify playlist – check out new tracks from Pa Salieu, Aitch, Little Simz and more.
Once, rapping in a British accent was a novelty. Today, UK MCs are the envy of the world. Grime has broken through into the mainstream, even as its biggest stars stay true to the clash culture that spawned it. The potent but controversial
drill scene
is racking up serious YouTube numbers. And an injection of
Afrobeats flavour
has led to fertile rap subgenres like Afrobashment and Afro-swing.
You'll find all of the above in the playlist below.
Click here to follow
it on Spotify, then scroll down for videos of 10 of the best grime and UK rap tunes of the year to date.
One of two brand new tracks from Coventry newcomer Pa Salieu demonstrates why he's being spoken of like UK rap's young star in waiting. Salieu's cooly assured delivery floats over an ambient-tinged instrumental sampling '80s cult outsider David Sylvian; we can't wait to see what he's got up his sleeve next.
The highlight of NSG's new mixtape Roots gets a must-watch video, complete with shopmobility scooters, dance moves on a golf course, and a cameo from rap pensioners Pete and Bas.
Trillary Banks – Drillary
Trillary's showing her versatility, the Leicester-bred artist jumping on a beat by drill producers Zenith & Chris Rich and firing off some of her hardest lyrics to date: "It's about to be a carnage/Everybody is a target". She handles a snake like a pro, too.
Jme's album Grime MC had a CD-only, no digital release last year – but it's finally finding its way online in the form of a number of typically high concept videos.
AJ Tracey ft MoStack – Dinner Guest
AJ and MoStack spin a sample from '90s dance hit Push The Feeling On by Nightcrawlers into an addictive UK rap bomb packed with slyly funny lines.
Octavian ft Take A Daytrip, Obonjayar, Santi – Poison
The new drop from Octavian marks a return to the laid-back, melodic style of his breakout hit Party Here. It's produced by Take A Daytrip, and is a celebration of Octavian's African heritage – inspired by a recent trip to Nigeria.
"So we were meant to shoot a mad ting for this," writes Br3nya. "But since we can't leave our homes at the moment we decided to get creative!" Cue brilliant DIY video shot in her West London home.
"I want to encapsulate my whole personality in my music,"
Hardio Caprio told Red Bull
last year. It's all on show on XYZ, Hardy pulling out some of his cheekiest bars over a snappy UKG-flavoured production.
Headie One x Fred again – GANG
Headie One's new mixtape GANG, written with producer Fred again, is a bold step forward, transmuting his drill flows into something melancholic and atmospheric.
We all know Aitch is cold. And he sure looks it in this video, roaming round some snowy Swiss peaks in his North Face jacket, dwelling on his quick-fire success and dropping some of his best bars to date.
Listen to a mix of the best new UK rap tracks from iLL BLU on Red Bull Radio in the player below.
Watch what happened when Brazil's best grime MCs came face to face with the best of the UK scene.

8 min
UK x Brazil grime cypher
Jevon, Fleezus, Eyez, Febem and Yizzy link up for a grime cypher at Red Bull Music Studios London.