Manchester rising: 7 rappers pushing the city's scene forward
© Meekz / Press
These are the MCs extending the Rainy City's gold-plated rap legacy.
From the days of
Broke'n'£nglish
,
Virus Syndicate
, and
Shifty
all the way up to today's household names -- like
Bugzy Malone
,
IAMDDB
, and
Children Of Zeus
-- Manchester has long boasted a rich crop of MCs. Typified by cheeky personalities and bold accents (see:
Aitch
), the city has been punching above its weight for years when it comes to rap talent.
With the likes of Aitch and Bugzy making dents in the national consciousness, and an elite team of spitters
taking home the title in Red Bull's 2017 inter-city Grime-A-Side clash series
, the door has opened for a new generation of exciting artists to push the city's sonic envelope even further -- here's your guide to who to keep an eye and an ear on right now.
Meekz
Hailing from Gorton, in the south-east of the city, Meekz is the North's answer to Walk In The Park-era
Giggs
: street-oriented lyrics projected in a deep voice with hooky, languorous flows. After his Hoods Hottest freestyle sent shockwaves through the scene, masked-up Meekz has continued to deliver tracks that lace heavy 808s and straight-talking street poetics with an authentic vigour.
His debut mixtape Can't Stop Won't Stop has just landed. A short, punchy seven-track offering, its opening track -- titled Manifesto -- is a three-minute showreel of co-signs from essential figures in the rap scene, including the aforementioned Giggs, as well as
Charlie Sloth
,
Kenny Allstar
and others.
Starter pack:
Year Of The Real; Rap Aside; Like Me
Just Banco
One of the North West's best kept secrets, Just Banco's debut mixtape -- The Last Train to Tarpan -- has been on regular rotation in the region since dropping in late 2018. The Trafford MC's ability to slip between street talk and tall tales of his life with the ladies on tracks like Sweet Like Sorbet and The Walking Dead add to the pop sheen of his hook-heavy trap sound. It's only a matter of time before the rest of the UK starts paying attention.
Starter pack:
Soo Yung; The Walking Dead; Ahh Damn
Robin Knightz
Robin Knightz draws on the trippy, autotune-heavy pillars of mid-10s Soundcloud rap while exploring angsty, emo rap lyrical tropes -- love struggles, anxiety, and the knotty minutiae of adolescent life are all explored here. But it's far from sombre. In fact, it's catchy as hell: see Cold as a prime example of her ability to spin double-time flows over bouncy 808s and quick-fire high hats to infectious effect.
Starter pack:
Fiji Drip; Beehive; heartbreakJORDAN
Tunde
Coming up on the same wave as Meekz, Chorlton-based Tunde plies his trade in rough-and-ready gangster rap over West Coast trap beats. The pair linked up on
Say Less Do More
, before Tunde took a tour of London's key channels -- dropping world class
freestyle
after
freestyle
. He's since turned his hand to new business ventures, having opened a coffee shop in Alicante last year, while continuing to serve up straight-talking rap tracks at a regular clip.
Starter pack:
Mob Ties; Fendi & Supreme; Next Up?
SVMI
SVMI will be familiar to any close watchers of Aitch's viral Straight Rhymez freestyle: it's his name that
flashes up with a director's credit
as Aitch beckons the camera over. Stepping out from behind the lens, he made his breakthrough with summer-ready banger Br33ze before lacing
Metrodome
's piano-sampled Time Goes By with fellow Manc,
Con M1
. Varying between quick-paced and steady trap-sounding productions, SVMI uses his impressive vocals to prove that not all wave rappers need heaps of autotune. This year's Bait Lies link up with
A1
and
P1 Caps
saw Aitch appearing in another SVMI vid -- though this time as an excited cheerleader, urging him on.
Starter pack:
Time Goes By; Br33ze; Old Friends
LayFullstop
Adopting a jazzy-influenced R&B sound, LayFullstop's vocals add a smooth energy to the Rainy City. Switching flows between loose riffs and double-time raps with ease, comparisons to Fugees icon
Lauryn Hill
and fellow Mancunian IAMDDB are as welcome as they are deserved. Her
rendition of breakout track Cherries
for the Berlin-based Colors channel shows she's got the presence and performance chops to take her sound to the world.
Starter pack:
SUITS; Bohemian Queen; Supernatural
Mastermind
Making his breakthrough with Wave Time, it's safe to say that Mastermind found his lane in UK music pretty much instantly. The guitar-laced rap number was picked up by the capital's top stations and caught the ear of label execs, before
Nafe Smallz
and
Chip
came in for a remix to give the track a second wind.
After striking gold with his debut, the trap-wave artist lent his silky vocal talents to Birmingham's
Mitch
on New Drip and OFB's drill star
BandoKay
on War -- racking up just short of 10 million views on the two combined, before scoring another hit with Losses earlier this year.
Starter pack:
Wave Time; New Drip; War
NOW WATCH: Manchester take on Birmingham in the final of Grime-A-Side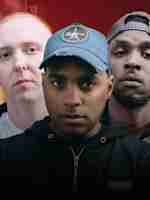 Grime-A-Side 2017: Birmingham v Manchester