The best new drum'n'bass from around the world – in one Spotify playlist
© Press
Your guide to the best breakout d'n'b artists, tracks, labels and mixes from across the globe.
What began in inner-city clubs and raves around the UK over 25 years ago has long since become a global phenomenon. Today,
drum'n'bass
is a worldwide movement.
Each territory comes with its own d'n'b culture, musical flavours, artists and labels. Whether it's jump-up d'n'b from Belgium, neurofunk from The Netherlands, liquid d'n'b from North America or any other shade or style in between, the international drum'n'bass landscape has never been healthier.
Listen to and follow the above regularly updated playlist for the best new drum'n'bass tracks from across the world. Then read on to learn more about the hottest artists, labels, releases and mixes of the moment.
ARTIST: Fourward
Once a quartet, now a duo – Austria's Fourward may have gone through a few changes over the last year but rest assured they're still packing ridiculous punches. If anything, their high-tech, star-gazing big room sound is much more focused as a result. Need proof? Look no further than their long-awaited second album Lose Control.
ALBUM: Phuture T – Persuasive Funk
Longstanding breaksmith Phuture T returns to Inperspective with an incredible album, Persuasive Funk, this summer. Honestly, very little persuasion is necessary – the album carries so many ideas, twists, turns and live elements that it's just as much a jazz or IDM album as it is drum'n'bass/jungle. Fans of everything from Breakbeat Era to Squarepusher will resonate with this.
TRACK: T95 & DRS – On Site
Debuts don't come any bigger in d'n'b than UK act T95 and his first solo release, On Site. Loaded with chop-slapping bars from the one and only MC DRS and delivered by Overview Music, one of the genre's most exciting new indie labels to emerge in recent years, everything about On Site is on point.
REMIX: TOKiMONSTA – Come & Go (Halogenix Remix)
Halogenix takes on one of the many beautiful soulful delights from TOKiMONSTA's recent album 'Oasis Nocturno' and flips it into a moment of deep d'n'b bliss. Picking up where tracks like 'Out Of Line' and 'Independent' left us, once again Halogenix (AKA Lawrence Reading) finds that illusive sweet spot between sass and badass. Come and have a go….
EP: Dilemma – Exit Stage Left
Four tracks of hazy sun-kissed soul, the whole EP hits with that timeless turn-of-the-century liquid vibe that we said was due a comeback a while ago. This EP has been a long time coming – it's her first release since last year's Stolen Cuts with Random Movement, and it's actually her first proper solo EP in over two years. Now watch as she enters stage right and never leaves the spotlight….
ARTIST: Zero T
Tune after tune after tune, Irishman Zero T has had an incredible strike rate in 2020. Kicking off with his Exiles EP on Metalheadz right at the start of the year it's been a consistent slew of barbed soul gems and heavy sound system rumblers on the likes of Sofa Sound, V, Vandal and The North Quarter where he's just dropped another beautiful EP Former Self. Zero T has always been a check-on-sight artist – but now more so than ever.
MIX: Skantia – Red Bull Radio Choice Mix
Now for something slightly different. Young Newcastle firebrand Skantia shows a different side to his musical psyche with this stunning Choice Mix. Taking us on a trip through his influences he kicks off with a bumping breaks and UKG (think Zinc, Diemantle, Mella Dee) before taking us on a full flavour d'n'b safari from brutal tech to stunning liquid. Another highly recommended summer soundtrack.
ALBUM: Monss – 22 (Audio Danger)
If your summer soundtrack requires more of a high energy d'n'b headbutt then look no further than 22, the debut album of young Slovakian artist Monss. Raw, raffish and ranging from jump-up to dancefloor, this is the sound of an emerging artist finding his sound and laying his cards on the table. Frank, furious and seriously good fun.
REMIX: Slander & Kompany – Broken (Mefjus Remix)
Mefjus remixes don't come round very often, but when they do, they're always worth checking. His take on north American EDM/bass artists Slander & Kompany is no exception. Savage turbine funk with a great use of the vocal, this is a real hurricane of a tune when it drops.
TRACK: Harriet Jaxxon – The Sound
One of the most talked about tracks online this month comes courtesy of Harriet Jaxxon. Rising up the ranks the old school DJ way, Harriet has become a prominent new school selector in the genre without releasing any productions – until now. Released on Drum&BassArena, The Sound is a powerful slab of dancefloor dynamite that will have you counting down the days for raving to recommence. Sound as a pound.
Now watch what happened when Austrian drum'n'bass duo Camo & Krooked teamed up with a classical composer in Red Bull Symphonic.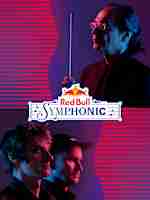 D'n'b meets classical music in Red Bull Symphonic
Listen to Lenzman ft GQ at Egg London as part of Red Bull Refractions.
Listen to The fabric show, featuring an atmospheric jungle mix from Mantra.