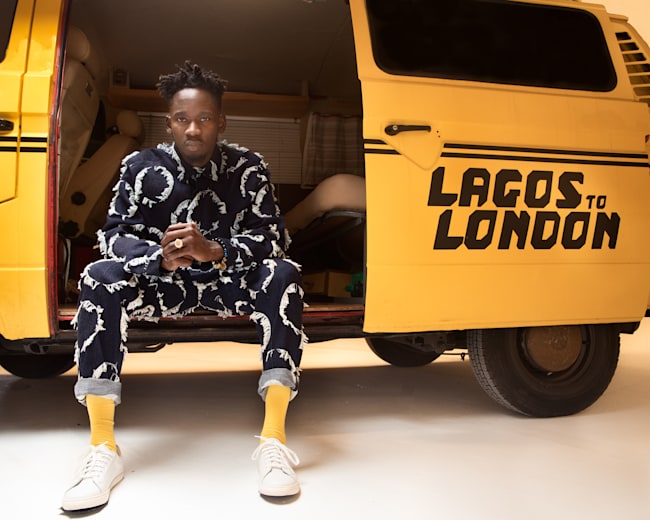 7 of the best UK Afrobeats artists -- selected by Mr Eazi
© Emily Nkanga
A groundbreaking musician in his own right, Mr Eazi is now ploughing his energies into the next generation of world beaters.
Entrepreneur, mentor, producer, vocalist: there's few labels that
Mr Eazi
can't boast. A powerhouse in the ever-expanding
world of Afropop
, Eazi channels his Nigerian and Ghanaian heritage into his -- which he's christened with its own name: 'Banku'.
Eazi has built up an incredible career for himself in a crazily short space of time; barely three years ago, he was selling phones in a tech market hub in Lagos. Today, while continuing to turn out his own bright, wholly infectious music, he's heading up an exciting new music business that hands grassroots artists the tools to be self-sustaining musicians -- just like him. Called emPawa, the organisation
acts as a talent incubator for African artists
.
Supporting the next gen of musicians from the African continent (and wider diaspora), emPawa has just announced a list of 30 artists who will receive a $10,000 grant as well as the invaluable guidance and mentorship from Eazi himself.
Due to the ongoing COVID-19 pandemic, a planned three-week masterclass in Ghana unfortunately won't be able to go ahead, but in true entrepreneurial spirit Eazi is making alternative, virtual plans and finding creative ways to connect his artists. In fact, it's a rare moment when he's not fizzing with a new idea or joining the dots between different members of the burgeoning world of Afrobeats. Throughout our conversation he's fielding calls, jotting down notes, and setting up new collaborations.
With his mind on rising talents in the scene, we asked him to pick out some of his tips from the world of Afrobeats and Afropop -- including a blend of emPawa artists and other Eazi favourites.
Br3nya
"For me, she symbolises African culture. Part of our culture promotes female power, and in some communities like the Ashanti tribe in Ghana, for instance, you have a matrilineal system where the queen mother has more power than the king. You have tribes in East Africa where the entire tribe is female warriors and they go out and do the fighting. Comparing that with the present day where unfortunately people put structures on how African female singers should dress or what they should say on a song, just seeing
Br3nya
's energy... it's so powerful. I spent about seven years in Ghana, so I can relate to the sound because I can still hear the Ghana sound in her records -- but beyond the music, I love the energy. This is what I'm living for."
July 7
"I first heard about
July 7
through a friend who played me the record. I was like, 'Woah! Who is this?!' He said, 'Oh it's this Nigerian boy from Manchester'. I said, tell him to apply [to emPawa], tell him to apply. Any time that there's an artist who's also a producer, who's doing something new, I can relate to it instantly because I feel like that's what I've done in one way or the other."
Darkoo
"
Darkoo
is Nigerian and I'm Nigerian, and it's beautiful when you can hear that unfiltered, that unashamed sound. It's like, 'Fuck it, I don't care, I'm this young Nigerian kid and I'm British as well, I'm having fun and I don't care about what you think.' I was telling her recently, 'I'm going through your Instagram and seeing different versions of yourself, and in every version you're still killing it'. She's rapping then she's singing and just catching a vibe on these bubbly beats. I feel like she's the next generation. She could go pound for pound with any male artist in that new gen. If I had a billion dollars I would call her and say, 'Yo, just tell me how much you want. We can get into business.'"
Kwamz & Flava
"They were part of the movement that made it cool for you to be African and rep your Africanness in your music. I remember when I first came to the UK in 2016, I would hear their records everywhere. They were UK kids with hit songs that had proper Afro beats. It's a different level of genius when you make a song that's one hundred percent representative of where you're from, in a language people don't even understand -- the music transcends language. Anytime I watch videos of people out in Japan or South Korea dancing to my records, it gives me a different kind of high. That's the same thing I feel
Kwamz
and
Flava
have been doing."
Donel
"
Donel
is a popstar in every regard. He's just the whole package, from his voice to his looks to the delivery to the dancing to his use of social media -- it's like he was made to do this. But beyond that, I love how he's super obsessed with connecting with his home, connecting with Zimbabwe. There's not a lot of artists who you see who are just so obsessed with keeping it original and connecting to their roots. I feel like he represents that younger generation, who are saying, 'Hey, I'm from the UK but I'm also from Zimbabwe, and I grew up listening to this and Chris Brown and everything that has made me who I am today.' I have high hopes for Donel. He already has a wide audience from different places, different cultures. His music is going to be the soundtrack to when they have their first boyfriends, go to their first parties or the first time they get heartbroken."
Kida Kudz
"I've been a
Kida Kudz
fan way before I ever thought I would do music. Kida Kudz was in this competition in Nigeria, a talent show by a milk brand. He used to be very Lil Wayne-influenced. I loved him because to me he was the Nigerian Lil Wayne. And then I didn't hear from him any more. Me and GuiltyBeatz share a flat in Knightsbridge, and one day I heard him playing a record and I recognised the voice. I was like, 'The same Kida Kudz from years ago?!' When you hear "Jiggy boys", you know it's Kida. There's nobody in his lane! I think me and him have a song together, he's giving me a verse. Hold on, I have to send a text!" [Eazi messages his producer about the collaboration.]
One Acen
"
One Acen
is one of the best when it comes to hooks. His CV is so impressive -- all the songs he done with
Hardy Caprio
,
WSTRN
,
Darkoo
... he's so talented, his voice is dope. There's nobody I know that sounds like One Acen, and in the way where he's just so slick with it -- I'm sorry, I'm just a One Acen fan! Again, I don't understand why I'm not in business with One Acen. I think I need to fix that! It's so funny, I'm having this call with you and I'm ending up texting people [to collaborate]. If you put One Acen on a reggaeton record he's gonna give you 100%, if you put him on an Afropop record, he's gonna kill it. Anywhere you put him he's going to kill it. He's one of the most versatile artists that I know."
Now watch
Naira Marley
and a host of other UK Afrobeats talents in the Moves cypher: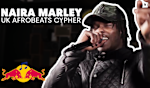 Watch Naira Marley and the cream of UK Afrobeats in the Moves cypher