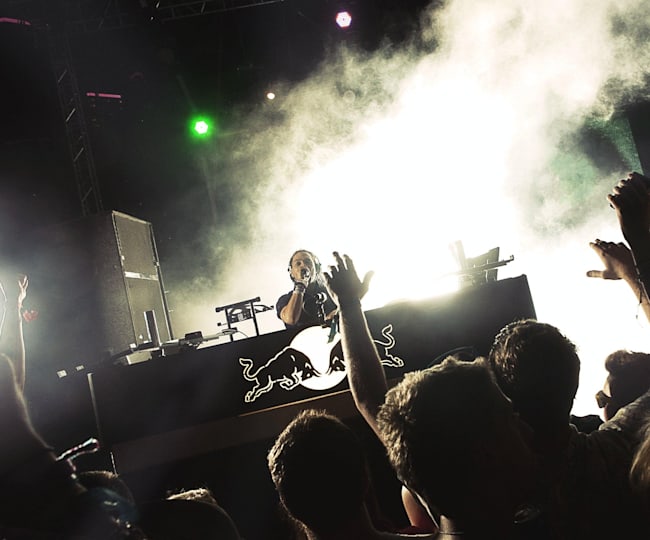 © Red Bull Content Pool
An oral history of Bristol drum'n'bass
From Roni Size and Reprazent's Mercury-winning New Forms to the new clubs, producers and labels pushing things forward right now – this is the full, unabridged story of drum'n'bass' western outpost.
No other city has had quite the same influence on
drum'n'bass
and
jungle
as
Bristol
. A city with its own signature sound and spirit, it's small enough to cultivate a tight community yet large enough to create big opportunities. It's also home to more long-standing drum'n'bass nights, and attracts more artists to move there specifically for drum'n'bass than any other city in the UK.
From the benchmark-setting Full Cycle Records crew to notorious hedonistic rave holes like the Black Swan, Bristol does drum'n'bass on its own terms, in its own style, with its own roots. And 30 years on from the birth of rave culture, the city remains as vital as ever for drum'n'bass with a whole new generation of acts pushing the sound forwards.
Listen to a 30-track playlist of Bristol d'n'b above. Then, read on for Bristol's drum'n'bass story – from origins to future – as told by some of its key protagonists.
Back To The Roots: B-boys, post-punk and soundsystem culture
Bristol in the early '80s is a cultural melting pot, with a prominent Caribbean community, hip-hop and breaking crews, underground makeshift blues bars and pioneering artists such as producers Smith & Mighty and Mark Stewart, formerly of post-punks The Pop Group.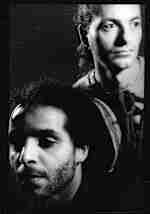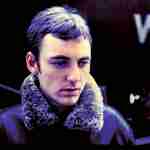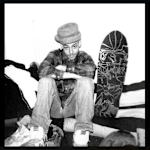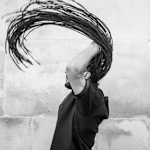 Bryan Gee
: I grew up in Gloucester and there was nothing going on so we'd go to Bristol for the weekend for our fix. First with sick soundsystems like Jah Lokko Sound, Enterprise and Sabastion then later DJs like Dazee, DJ Lisa, Easygroove and all the early pioneers laying the foundations. I don't think the same thing could have happened in London. Bristol is the right-sized place for what happened.
Roni Size
: I was a DJ first because I didn't have anything that I could make music with. I used to walk down Gloucester Road and go into all the music shops and mess about with all the drum machines, or I'd go round my mate's house as he had a drum machine and I'd just mess around with that for a little bit. The first thing we ever bought was a set of Yamaha P300 turntables.
Dazee
: There's an argument to say Smith & Mighty were the forefathers of the jungle sound. They came from the soundsystem and hip-hop cultures and were amongst the first people to experiment with speeded up breaks, sub bass and samples.
Roni Size
: Smith & Mighty got signed by Pete Tong [to FFRR Records], but they were quite rebellious, they didn't want to compromise. If you got a 200 grand deal back in the '80s, you had to compromise. But they didn't, and it wasn't the best relationship. They're still in the game, they're veterans. I will always owe a lot to those guys.
Krust
: Go back further and Mark Stewart and his band Tackhead had a big influence in the '80s. They were a massive education for us. These guys had been over to New York already, they brought over mixtapes and exposed a lot of artists to hip-hop. Mark brought that hip-hop influence into the sphere of everyone else around him.
DJ Die
: It really was a melting pot. You had this massive black Jamaican community here mixing with the hippies and the cider drinkers and the soundmen. We came up with a mad little vibe here in the late '80s and early '90s. Smith & Mighty, The Wild Bunch, Tricky, Portishead. Loads of DJ crews, hip-hop, acid house.
Roni Size
: The first time we saw a DJ on TV was Nellee Hooper from Soul II Soul and he did an amazing job and that's someone we recognised from being in Bristol. He was one of the main guys in Soul II Soul and he was a massive influence when we saw him on TV. We saw Massive Attack too, and Grant Marshall. It was amazing to see people that you saw every day on Top Of The Pops.
It really was a melting pot. You had this massive black Jamaican community here mixing with the hippies and the cider drinkers and the soundmen
Suv
: It was an amalgamation of everything. Hip-hop, soundsystems, even punk and ska. We grew up to The Specials in a very racist environment. Skinheads with Doc Martens telling us to go back home. My dad's generation, the Windrush, they arrived to 'no blacks, no Irish, no dogs.' So the black community did what they called blues parties because they weren't welcome in pubs and bars. This was a way for black people to get together. White people were allowed, it didn't go both ways…
Markee Ledge
(Substance/Kosheen)
: Blues parties would play reggae, ragga, then acid house and bits of techno. That was the elements to make jungle. It was '91 and you could already hear it in the music. It was a mad mix of people. Jamaican sound system guys, nerdy white techy guys but everyone was accepting and appreciative of each other. That was the backdrop we set up Ruffneck Ting to…
Birth Of A Scene: The genesis of Full Cycle & Ruffneck Ting
From these embryonic roots, two prominent crews began to flourish: the label/collective Full Cycle, featuring Roni Size, Krust, Suv and DJ Die; and rave promoters Ruffneck Ting, spearheaded by Dazee, Decoder, Substance and Knowledge Magazine founder Colin Steven.
DJ Die
: '91 came. We were hanging out with Smith & Mighty a lot. They'd been signed to a major label called FFRR off the back of early releases on their own label Three Stripe Recording and went on to produce Fresh 4's Wishing On A Star, which went Top 10 in the national charts. We were all on the raving from early, doing warehouse parties, squat parties – but when the free party vibe kicked in, it all changed. We started traveling all over the country to find these parties and this is where I cut my teeth as a young DJ. DJs like LTJ Bukem and Easygroove were a massive influence on us at that time.
Krust
: Die lived above Smith & Mighty at the time and they gave us this backroom studio with a sampler, a few speakers and a computer and we'd get home from the raves at 5am and just jam out making tunes. I remember once we put the track on the desk but the kick was muted. All that came out was this sub bass and the break. All of a sudden we stopped. It was like 'woah'. We put the kick back in, then went 'no, take it back out.' It was like, bam: this is our sound.
DJ Die
: I'd been doing early bits with Jody Wisternoff from Way Out West and his brother as Tru Funk and Sub Love so Roni knew I was making tunes anyway and gave me a tape of music he was making. He was calling it ragga rave. They were rave tunes with ragga funk in them. I thought they were alright and it wasn't long after that we started hanging out.
We're b-boys. B-boys compete. It was friendly but very much "I love you but I need to tear your head off"
Krust
: We set up a meeting. Roni comes round, me Die and Suv are there. We sit down, have a talk and realised we had the same references, knew the same people, watched the same documentaries, been to the same parties, were into hip-hop and experimenting. We started hanging out in the studio and before you know it we moved as a crew. We'd had a few releases out but we needed a label to back us. That's when Bryan Gee rang.
Bryan Gee
: I had some tapes through a friend and to be honest I hadn't paid much attention to them. But I took them to a meeting at Groove Connection where a lot of the south London jungle DJs were signed and played it to them. Bukem was on me straight away. When he smells something, there's something worth following. Me and Frost cut some of the tracks and played them at Eclipse in Coventry. They went down well, so we went to Bristol.
Krust
: Five dreads come through the door and it's like, 'fuck!' A proper meeting of minds, man. We had a feeling. We knew it was going to be alright. We burnt a bit of weed, they told us about V Recordings and wanted us to be the main artists. Obviously we played it cool but mate, we were buzzing. That meeting changed our lives. Those guys were London. Before then we were country. Bryan and Frost opened the door for Bristol.
Bryan Gee
: The London stuff was heavier but they had these soul vibes – Roni especially. Tracks like Music Box and It's A Jazz Thing fit in everywhere. Sunday Roast, Logical Progression, all the raves. They all had their own sound too. Krust was very experimental, way ahead of his time. Die had the breaks and drums like no one else. Roni would come with some funky-assed basslines. Suv was amazing at adding ideas and things you wouldn't think of.
Suv
: A lot of the sounds came out of accidental things. I made a bass out of the feedback from putting a cable back into the mixer. That was my first wobble sound. It was all about mistakes we made – that's how you learn.
Bryan Gee
: They kept bringing it. They set up Full Cycle because there was too much for me to release and they just wanted to make tunes to DJ every weekend. That's what their label Dope Dragon was about. Tunes for the weekend. Same with my label Chronic. The competition between them was insane; Roni would make a tune, Krust would hear it and go 'yeah?' and he'd come back with something.
Krust
: We're b-boys. B-boys compete. It was friendly but very much 'I love you but I need to tear your head off' competition. Then we'd bring them out at our Full Cycle nights which were like a testing laboratory. First we had the backroom at Lakota, then we did The Depot. By this time jungle was official and the audience was hungry. It had all the sounds the youth need. It was rebellious, high energy, parents didn't understand it, the police hated it – it was perfect.
Suv
: It was never just about Reprazent. Right from the early days we always had different things going on individually and were exploring so many ideas and working with new artists. I was experimenting with a lot of organic sounds worldwide – including working with MC Tali from New Zealand. She became a very strong creative force on Full Cycle and someone I really championed. I was the first to release music with her and we made her first video for Do You Remember Me. For me, Tali marked the start of a new chapter for the label but also for myself as an individual. I always felt if we don't inspire the next producer to take risk then we the human race will not progress and move forward.
Markee Ledge (Substance/Kosheen)
: The police cracked down on the raves so it moved into the clubs. We did the first Ruffneck parties in a place called The Bank. Roni came down on the first night and, if memory serves me correct, he was buzzing because we'd played his track. The parties were a real DIY affair. Dazee had come from art school and designed the flyers.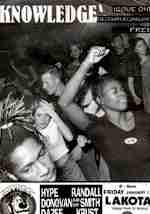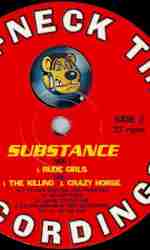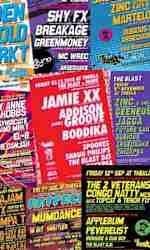 Dazee
: I did the original ones with a biro! It's quite comical really. But we would go to a lot of effort for every event and make new backdrops for each one. We moved around a lot but I'd say Trinity was our spiritual home. Malcolm X Centre too. They were spaces – you had to put the effort in, bring your system in and your visuals. We developed this scaffolding netting with a crazy system of pulleys to put a camo net to lower the roof. They were intense parties. People would have horns and whistles and flame throwers. A sign of their appreciation would be to blast their flame throwers.
Clipz
: WD-40 and a lighter! That was the vibes. No one knew what was right or wrong. I was really young, lapping it up. It was like 'This is where I want to be... this is the fucking culture'. And it was everywhere – free parties on Feeder Road, Lakota, Thekla, Trinity Centre, Flynn & Flora's night Versatility and Apex at Easton Community Centre. The Depot. You couldn't avoid it, everyone I knew at school or in college was listening to it or raving. We were immersed in it. For me, also, the weekly Galaxy 101 show Full Cycle had really made a massive impact on me. You'd hear them all smashing the new bits on there – from Dillinja plates on Chronic to all the early Full Cycle/V Recording releases. It was an incredibly inspiring time. Krust, Die, Roni and Suv were making something really special happen.
Colin Steven (Ruffneck Ting/Knowledge Magazine)
: But it wasn't represented by the mainstream press and the Mixmags of the world. Jungle needed that platform, so I set up Knowledge Magazine. It was [originally] meant to be for Bristol and the south west. But we got good distribution and it became national, then international. Coming from Bristol helped. People knew there was a serious drum'n'bass scene there, it helped a lot to establish the magazine.
Vinyl Community: The influence of record shop culture
Feeding the parties was a thriving trade in fresh vinyl. Arguably, Bristol's record stores were just as vital to the music's infrastructure as the nightlife and acted as a community hub throughout the '90s and 2000s.
TC
: You can't talk about Bristol without mentioning the record shops bruv!
Ben Soundscape (Intrigue):
Meeting people, getting the promos, learning about the tunes. Replay Records, Imperial, Eat The Beat. At one point there were around 10 record stores, they all had different drum'n'bass so you'd do a mission around them all.
TC
: Breakbeat Culture was the place. I'd go there almost every day. They had their own massive soundsystem. I'd come down and play my tunes on it. It was daunting as fuck.
Markee Ledge (Substance/Kosheen)
: We built a proper community around Breakbeat Culture. It [started as] a way of selling the records on our label. Distributors would buy them from you for £1 a record so we cut them out and set up a shop in the back of Cooshti, a friend's clothes shop. Then we started the Breakbeat Culture label which was dedicated to all forms of breakbeat. It gave us a chance to explore more musical things beyond the Ruffneck sound – and that basically led onto Kosheen.
The Underground Goes Overground: Reprazent and Kosheen clean up
By the late '90s, Full Cycle and Ruffneck Ting had both spawned acts that would take the Bristol d'n'b sound onto a bigger stage. Formed in 1996 and comprising of all Full Cycle members, Roni Size/Reprazent was drum'n'bass' first full live band. They signed to Gilles Peterson's Talkin' Loud and in June 1997 released their jazz-rooted debut LP New Forms. Meanwhile, in 1998 Decoder, Substance and singer Sian Evans formed the live act Kosheen. Fusing d'n'b breaks with pop and rock songwriting, they scored a huge chart hit with Hide U, which eventually rose to No.6 on the singles chart in 2001.
Suv
: New Forms could never be repeated. In a way it's very pure. That's the one true collective album we made where you can hear all of us together. We were working like the team we'd become but letting each other shine. I don't think we ever captured that magic quite so well on anything else we did.
Roni Size
: I still remember it as clear as day. All of us sitting down in the Grosvenor Hotel, paying no attention to what was going on around us and hearing our name shouted out as the winners. I'd never won anything in my life – I haven't got any qualifications – but I've got a Mercury Music Prize! It was amazing. And what was special to us is that we had the go ahead from all the key players… Jumping Jack Frost, Goldie, Bryan Gee. They were all fully behind us, and told us to go for it. We put ourselves up there and said 'this isn't just ravers raving, this is real music'.
Krust
: After we won the Mercury everything changed. We went to Japan and we got mobbed. New Zealand, Australia, all over America where we were signed by Def Jam. That was massive for us because we were all such militant hip-hop heads. We used the touring to dig samples, records, synthesisers. Mixtapes, magazines, DVDs. Canal Street. The Bronx, Brooklyn. We soaked up as much of the culture as could and tried to bring that back.
Markee Ledge (Substance/Kosheen)
: We were inspired by what Reprazent were doing, everyone was. We were moving in a more musical direction, too. I'd started as a songwriter anyway and wanted to get back to that. Basically not be confined to having to do dancefloor tracks. So Kosheen began. It was a unique process; me and Sian connecting over acoustic stuff and me and Darren connected on the production. Pieces of the jigsaw that fit nicely together. It created a chemistry.
Colin Steven (Ruffneck Ting/Knowledge Magazine)
: I'd known Markee since we were 15 and I don't think I'd ever put him in Knowledge Magazine. I didn't want to give him support in case people thought I was just doing it because he was my mate! When Hide U started going off I felt they deserved a cover.
Markee Ledge (Substance/Kosheen)
: Colin organised a Knowledge Awards. Goldie was the compere, Reprazent had the table next to us – they'd come from Top Of The Pops – and Hide U had just come out. They were a few years ahead of us. It was mad – two acts who came out of Bristol and went global, sat at the awards which was set up by Knowledge which was also Bristol. That was a real moment.
Suv
: We were put in some unique situations musically – shit you'd never imagine, being a sound system box boy back in the day! The Black Eyed Peas were the warm-up act for us in Australia. We toured with Coldplay when they started. We were bringing the music, our culture, to audiences on a major scale. And they didn't know what hit them.
Markee Ledge (Substance/Kosheen)
: We would often be included in a lot of pop shows. We'd be on with bands like Blue. We played with Destiny's Child at an MTV Awards, and played Suicide – like 'yeah let's do that one cos it's a bit dark!' I was like: 'Fucking hell, they've got this massive big production and big show and we made this in my living room!'
Roni Size
: As a person it never really changed me. However, as a group it changed us, as you can't take 15 people with you every single time. So you start to pick and choose and you get to a point where only a few people can go to the awards ceremony or you can only get a certain number of tickets and so on. It's all that inbred kind of shit that happens.
Markee Ledge (Substance/Kosheen)
: We'd come back between tours but only to record. We became a bit disconnected from the Bristol scene. We weren't involved in the grassroots any more.
Birth Of A New Underground: Jump-up, liquid d'n'b and the rise of dubstep
The early 2000s ushered in a new generation of Bristol acts. TC, Clipz, D*Minds all started to put their own stamp on the city's sound while nights like Drive By, Run, Intrigue and The Blast became local institutions.
Krust
: We were removed from things by this stage. We weren't walking the streets no more. So we brought in new blood. There was a new audience and Clipz was on the cutting edge of that. It was good to be around that energy.
Clipz
: I linked with Full Cycle through Die. For me, he's always had the essence of this music. He was doing the I Kamanchi project with Krust which was popping, Full Cycle was at [studio/office HQ] Channel House and we'd all have our own studios, Roni would be coming in and out vibing out and getting you hyped. Krust was doing mad shit in the room next door. Die's house was up the road. That was a proper time.
Krust
: Dope Dragon was [behind] the early jump up sound. Then guys like Clipz and D*Minds, TC and Surge all put their own spin on it. Clipz was incredible. Tracks like Cocoa and Kung Fu tore us all to pieces.
Clipz
: Drive By, Run and Full Cycle Sundays – they were the parties at that time. The Level was the spot. That place kicked off. Full Cycle and Drive By were both there – lock-ins till midday the next day in the basement! For me that was a testing ground.
Mako (Utopia)
: I came to Bristol in 1999 and the scene was just incredible. Drive By always get the props but for me Dissident Soundsystem were the best party crew in Bristol, if not the UK. Also nights like Locus and Metric which brought in a lot of DJs who hadn't been in Bristol before. They were run by Ritesh Patel who was also a programmer and went on to develop the Ticket Fairy system. He's a proper unsung hero and those nights had a big influence on the sound I wanted to create and explore with Utopia years later. Fierce played a major influence with that, too. He drummed it into me that if I was going to launch a label the music had to be the most important thing. Fierce was a mad linker and a fiery force to motivate people.
Break
: Fierce was good mates with Die. He'd moved to from London to Bristol a couple of years before me and told me it was a wicked scene, so I checked it out and caught the vibe straight away. It's a place you can meet people quickly. I'd already played for Intrigue a few times before and knew the club scene was wicked, so it ticked a lot of boxes.
Ben Soundscape (Intrigue)
: We were inspired by nights like Fabio's Swerve in London. The deeper, more liquid style of drum'n'bass. There were loads of great nights in the city but none that focused on that side of the music so we set up Intrigue in a tiny place called Bar Latino, a really cool basement club. Sixteen years later, we're the longest running drum'n'bass night in Bristol!
Rob Cracknell (The Blast)
: When Drive By stopped, the knee-jerk reaction was a little lack of drum'n'bass in Bristol. We'd started The Blast but we weren't putting on classic drum'n'bass line-ups. Then Run started at Native every Tuesday and turned everything up to the next level. TC was there, Xample and Lomax, Clipz. Obviously D*Minds. There was a sense: "Something's going to fucking happen here!"
D*Minds
: The first Run night we ever did was in 2007 at Native on Tuesday night. It wasn't a massive line up. I think that first night was us, DJ SS, Dazee and Jakes. We didn't quite realise what we had on our hands – the vibe and excitement around the night was immense!
Clipz
: We'd make tunes every week to play there. It was a breeding ground and so competitive. Everyone was pushing to make something new and it helped to make the music move forward. Everyone was there, everyone wanted to play there and go to the after parties. It was a good time.
Rob Cracknell (The Blast)
: It was all just super optimistic. Then dubstep blew up which gave everything a boost…
Markee Ledge (Substance/Kosheen)
: Tech Itch had such a big influence on the Bristol dubstep scene that not a lot of people know about. He was living in this place with a few mates from the breakbeat culture scene. Jakes and Tony Headhunter were living there. The records coming out of that house were just mental. Tech Itch, one of the best producers in drum'n'bass, was giving them production tips. It was like a crazy dubstep laboratory.
Rob Cracknell (The Blast)
: It was a really exciting time. Dubstep changed the dynamic. People were more open to mixed line-ups, people were experimenting a lot. Motion was really taking off with all different kinds of nights, including Hospitality and eventually Run, which we started hosting there around eight years ago.
Collective Action: The faces, parties and collectives shaping the modern scene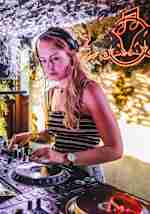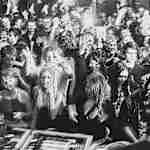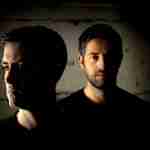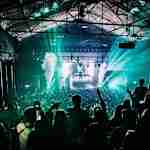 Fast forward: Bristol remains a vital UK drum'n'bass HQ. More so than ever as more people choose to move to the city because of the music. It's home to new crews such as KCDC, Collective and Rotations and a new generation of artists. Both Full Cycle and Ruffneck Ting are back in operation, many of the old heads have returned to their laboratories and Stokes Croft appears to be home to more regular d'n'b events than is humanly possible to attend. But could things change in times to come?
Enada (KCDC)
: There are events from Monday to Friday and multiple parties every weekend. There's almost too much to go round, but the nights are rarely dead. Especially in Stokes Croft with legendary places like Lakota and Blue Mountain. Then a little further afield you've got the Black Swan. That place is one of a kind. It attracts a lot of different people and it's just got a proper vibe. It's dark, dingy and disgusting and that's what makes it great. It's like going to a free party.
Kyrist
: You've also got big venues like Motion which brings in a lot of new fans into the genre with the bigger events. Whatever type of drum'n'bass party you're after, Bristol has probably got it.
Mako (Utopia)
: Having a city like this, with so many inspiring people, opens up all kinds of opportunities for collaborations. Total Science loved it so hard they moved here. dBridge came here for a while. Om Unit moved here. Digital, Sam Binga and Randall moved here. It's nurtured a strong family ethos for me – especially with our Collective night which I do with Break, DLR, Hydro and Total Science.
Break
: We often have queues out the door, it's always busy there. There's a proper vibe. And the thing you notice is that people really dance. They're not there loitering or to be seen. In that room on the dancefloor, everyone is properly into the music. Any DJ we book we tell them to play what they want, and people will be into it.
Kyrist
: Collective is my favourite night. It's just in a backroom of a pub called the Crofter's Rights. It gets so intense in that room!
LTJ Bukem once said in an interview that "There's something in the water in Bristol" and I think he's right.
Break
: I think people are surprised to see me or Total Science working the door or hanging at the bar but the idea was to have a hub where people could come out and get the drum'n'bass vibe. There's also a whole other aspect to Collective; we've given proceeds to charities and fund raisers and youth music programs. We want to put the profits back into the local scene. That's been the main agenda with the whole thing.
Collette Warren, KCDC
: Bukem once said in an interview that "There's something in the water in Bristol" and I think he's right. If you think of all the people from this city who've made it it's crazy. I think a lot of that is down to collaborations and that sense of community. People are open to each other here. There's support for each other. It's why we formed the KCDC collective; myself, Charli Brix, Kyrist and Enada.
Kyrist
: There's so much new talent in the city it's crazy. Guys like Revaux, Mystic State, Koherent, Phaction, Objectiv, Terrence & Phillip and loads more are based here. Basically all the Rotations collective. We launched our night in June where all of us played and the output from a lot of these guys is next level. This is the next generation coming through now. It's seriously high-grade stuff.
Ru Brooks (Revaux)
: I didn't quite realise how many people were based in Bristol when I suggested Rotations before I moved down here. Initially it was us, Koherent, KCDC, Phaction and Ill Truth's Revan. Then everyone suggested other acts who fit the bill until we reached the 19 we have now. We need a platform like this. There are so many established artists here, working together we can be heard from it, help each other and extend the help for other people to get involved. It's difficult to be heard above the racket so the idea is to open out into the community and create opportunities.
Break
: Bristol has that reputation now. It attracts like-minded creative people. There are good nights on, studios, event spaces. It encourages a creative vibrant culture. But it's such a fine balance; people have moved into Stokes Croft because they think it's a cool place to live but they don't want the cool noisy stuff when they get there. Some venues are closing and prices are going up. I hope it stays healthy but we can't take it for granted.
Enada (KCDC)
: The dynamic is definitely changing. Blue Mountain's in danger, Lakota's in danger, Attic Bar too. It'll be sad. That's where a lot of people hang out. But maybe it'll shift to a different part of Bristol?
Rob Cracknell (The Blast)
: The Bristol spirit can't be surpressed. Stokes Croft might get a Costa but we'll find somewhere else. The idea that our community spirit and that sense of wanting to help people out will only be strengthened by the Starbucksification of the city. Bristol will find a way like nature will find a way. It's an irrepressible spirit.
Roni Size
: I'm in Stokes Croft in Bristol right now, I'm grounded, I drive a modest car, I live in a modest house, I keep my head in a good place and I still love the music that I'm involved in – which is drum'n'bass and jungle. I also still feel like I've stayed true to who I am. Maybe I've made some enemies along the way but I've also made a lot more friends.
Krust
: Yo, we've only just come through phase one! We're in phase two now. People are still mystified how this little city has given the world so much art. Not just jungle but all forms of music from house to dubstep to grime. The hip hop, the downbeat. Bristol isn't slowing down, if anything it's becoming more prolific. The city has always been a great melting pot. Now it's becoming a tech hub, too, so there's more crossover and collaborations. The benchmark's been set and people are constantly to raise that. It's a culture of innovation.
Additional reporting by Ian McQuaid