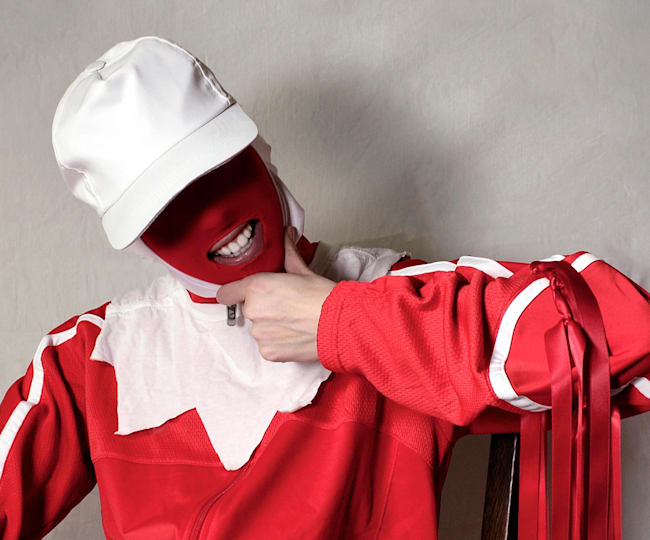 © Gazelle Twin
Get to know these cutting-edge female audiovisual artists
Gazelle Twin, Jenny Hval, Moor Mother, Lone Taxidermist, Grouper, AJA Ireland and The Seer. These female audiovisual artists are pushing boundaries and challenging perceptions.
From
Peaches
donning a pink knitted body-suit complete with male genitalia in order to run merry riot through patriarchal gender norms, to
Throbbing Gristle
's
Cosey Fanni Tutti
saving used tampons for an art exhibition, women have always led the pack when it comes to avant-garde performance genius.
This generation's female audiovisual experimenters – truth tellers, ritual makers and builders of giant vaginas that squirt custard at the audience – are once again pushing the boundaries. Here are just a few high priestesses of the new avant-garde.
Elizabeth Bernholz
describes her alter ego
Gazelle Twin
's sound as "a weird marriage of folk and techno," weaving instruments like the recorder and harpsichord around galloping beats. The imagery for her latest album, Pastoral, has the same disturbing dissonance, with echoes of the Wicker Man, medieval legends and the seaside brutality of Punch and Judy.
The jester figure created for Pastoral's album cover (with
David Bowie
's designer
Jonathan Barnbrook
) skips over green and pleasant land in box-fresh trainers, trailing bloody red ribbons, her face concealed, save for a demonic grin, as she darkly satirises the English country daydream.
Philadelphia-based artist and activist
Moor Mother
(
Camae Ayewa
) released her debut album Fetish Bones in 2017. It's a sonically heavy work that uses free jazz, Afrofuturism and Ayewa's photographic work as a springboard to something darker.
Part of the
Black Quantum Futurism
collective, Ayewa – who also performs with
International Anthem
's ferociously polemical jazz skronkers
Irreversible Entanglements
– sees herself as an archivist of black memory against erasure. In her work, America's violent past and present coalesce. Tracks like Creation Myth drag her from the 19th century to Ferguson, Missouri, through a series of race riots that leave her bloody and dismembered.
Moor Mother's latest album, The Motionless Present, weaves field recordings and samples from the arrest of
Sandra Bland
into the music.
Creator
Natalie Sharp
says of
Lone Taxidermist
's opulent, visceral stylings: "It should always look and sound strangely beautiful and dangerous." It's also very funny.
From the bejewelled predator in Knicker Elastic singing, "There's a crime scene in my pants", to the large, hairy pink buttocks squashing patisserie in slow-motion into Sharp's face on debut album Trifle, this is a theme carried through with total commitment. Live shows might feature custard-squirting vaginas.
Messy, unclassifiable, Sharp dives with elemental glee into fetish culture with the kind of audiovisual confection you want to smash your face into.
In contrast to Lone Taxidermist's lush sounds and peacock costumery,
Grouper
's
Liz Harris
has refined her work into sorrowful but beautiful sparseness over 13 years.
Ignoring her surprise, self-released electronic album as
Nivhek
, After Its Own Death / Walking In A Spiral Towards The House, Harris's latest Grouper album was 2018's Grid Of Points. Recorded in snow-bound Wyoming, the 22-minute work employs only piano and voice to create an austere and intimate space in which every breath and ambient sound forms part of the music.
Grouper's visuals encompass stark images of the human body, a woman lost in fairytale-nightmare woodland, and the sea. A sonic mist that almost evaporates as you listen, the heft of emotion in Grouper's work is as deep as the sound is delicate.
AJA Ireland
turns the often male-dominated genre of noise music into a vehicle for pure catharsis, baring herself emotionally and physically in a shrieking, immersive ritual she calls "phychovisceral rhythmic noise".
AJA's live sets are 90 percent improvised, changing each time according to mood, costume (co-designed with Berlin designer
Lu Lu Loop
) and audience. AJA often ends a set naked, looping audience members into the performance with her mic.
Channelling raw emotion, AJA Ireland alchemises past trauma into a kind of noise-based healing.
Interspersing records with acclaimed novels, Norwegian artist
Jenny Hval
has been wielding her cool, pointed voice like a razor-sharp icicle for over 20 years now.
Gender and sexuality are key to most things she does. Her early album Viscera took inspiration from
Paris Hilton
's sex tape and
Carl Dreyer
's 1928 silent film La Passione Joan d'Arc, while her acclaimed 2016 album Blood Bitch deals in vampire film imagery and "menstralia". She has now arrived at improvisational and spacious soundscapes on her latest EP, The Long Sleep.
"These ideas of femininity and female sexuality – let them die," says Hval. With her to challenge them, perhaps they will.
A British-based collective describing themselves as a "mystical anarcho feminist sound art performance",
The Seer
probe ecological destruction and misogyny alongside their hope for the "re-emergence of a new matriarchal society."
At their live performances you might encounter a woman sellotaping bricks to her feet with mannequin arms protruding from her shoulders, or a Blair Witch-like descent into a threatening cellar, where a girl dances in a cats-cradle of threads soundtracked by eerie strings and a haunting, high chant.