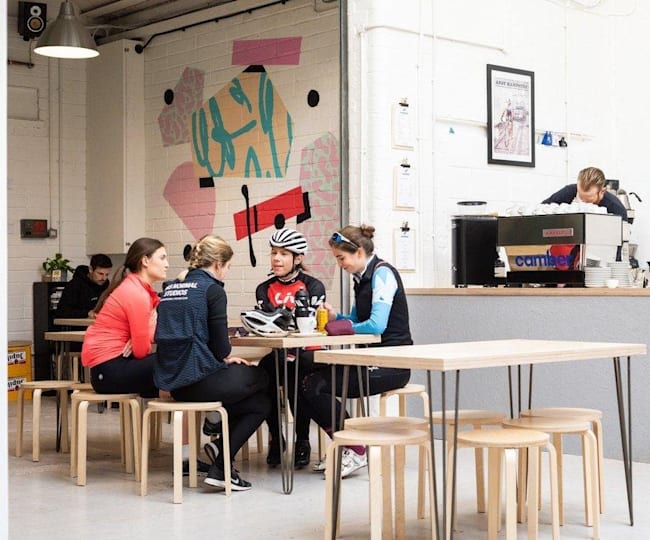 © Andy Matthews
8 of the best cycling cafes in the UK
From artisan flat whites to expert-led workshops, these are our favourite cycling cafés for a mid-ride recess.
Going for a nice long bike ride with your mates is great, but going for a nice long bike ride with your mates and taking a café stop in the middle is even better. There are plenty of brilliant cycling cafés throughout the UK, but these eight in particular do a great job of fuelling hungry cyclists and bringing the local cycling community together. Check them out next time you're riding through town.
1. Café Ventoux – Leicestershire
Tugby Orchards, Wood Ln, Tugby LE7 9WE |
MAP
Opening hours:
Mon-Sun (9:30am-3:30pm)
Nestled in the rolling hills of Leicestershire, Café Ventoux has only been open for two years, but since then it has become a popular location for cyclists near and far. Just like any café on this list, the food and coffee are on point, but they also have a bike shop, Wattbike studio, bike fitting service and plenty of social activities to be a part of.
A particular favourite of ours is their Strava challenge, where you can attempt a popular 'Café Ventoux' Strava segment on the way to the café. If you manage to take the Queen or King of the mountain, you'll get your name up in lights on the café wall.
2. Look Mum No Hands – London
49 Old St, London EC1V 9HX |
MAP
Opening hours:
Mon-Fri (7:30am-10pm); Sat (8:30am-6pm); Sun (9am-6pm)
Set up in 2010, Look Mum No Hands was one of the first cycling cafés to combine food, coffee, a bike shop and community space all under one roof. Since then it has gone from strength to strength, having recently expanded into other areas of the city.
They're avid supporters of all types of cycling but do a sterling effort of covering women's cycling, having hosted a Specialized Pro Women's Racing panel and many other talks and events focused on women who rock. Look Mum No Hands is open most days from 7.30am to 10pm, so you should find time to pay them a visit no matter how early or late your ride is.
3. Eureka Cyclists café – Wirral
Parkgate Rd, Two Mills, Chester CH1 6EZ |
MAP
Opening hours:
Mon-Tue (closed); Wed (8:30am-5pm); Thur (closed); Fri (9:30am-3pm); Sat-Sun (8:30am-5pm)
The Eureka Cyclists café has been around in some shape or form since 1929, so we suspect by now they'll have their coffee and cake game perfected. It gained recognition as the place UK cycling legend Chris Boardman used to frequent when he burst onto the scene in the early 1990s, and now attracts cyclists from far and wide looking to experience the friendly low-key atmosphere.
This is a popular café with mountain bikers too, so well worth a visit if you prefer mud to tarmac. Just make sure you check ahead before visiting as it has varying opening hours.
4. Velocity Cafe and Bicycle Workshop – Inverness
1 Crown Ave, Inverness IV2 3NF |
MAP
Opening hours:
Mon-Fri (7:30am-4pm); Sat (9am-5pm); Sun (10am-5pm)
Way up in Inverness you'll find Velocity, another brilliant cycling café, although that's only half the story. Much like Roll for the Soul, Velocity is a social enterprise that aims to bring health and happiness to the local community through bikes. There's a variety of community outreach programs, including men's and women's 'cycle to health' schemes, which aim to improve mental and physical wellbeing with relaxed group rides.
But if you're just after coffee and cake that's all good and your money should go far at Velocity, as their prices are very reasonable. Definitely a café doing it for the little guy.
5. Rapha Cycle Club – London
85 Brewer St, Soho, London W1F 9ZN |
MAP
Opening hours:
Mon-Sat (8am-7pm); Sun (11am-6pm)
You don't have to travel to the fixie-Mecca of east London for your flat white and bicycle chat fix. London's Soho has a variety of bicycle shops focusing as much on apparel as the social side of riding. Key among these is Rapha's benchmark cafe on the corner of Brewer Street.
As well as serving as a storefront, it's also the perfect place to chat over coffees and pastries in slightly more refined surroundings than your usual cyclist's cafe. Although you shouldn't let that put you off.
6. The Cycle Hub – Newcastle upon Tyne
Quayside, Newcastle upon Tyne NE6 1BU |
MAP
Opening hours:
Mon-Sun (8:30am-4pm)
Combining cycle hub with social enterprise, the Cycle Hub was set up to encourage Geordies to take to two wheels and learn cycling skills in a safe and friendly environment. Located on the banks of the River Tyne in a repurposed modern building, it's the perfect place to get a taste of the city if you're passing through, or a fresh perspective if you're a local.
What's more, it's an ideal stopping off point for those tackling the UK's Coast to Coast trail. And, if you want to forge your own path, its self-guided ride options are convenient and affordable, with drop-off and transfers easily arranged – ideal if you want to leave the city behind and go on an adventure to the Angel of the North, for example.
7. Popup Bikes – Manchester
Arch 5 Corporation St, Manchester M4 4DG |
MAP
Opening hours:
Mon-Fri (7:30am-7:30pm); Sat (9am-6pm); Sun (closed)
Established in 2012, Manchester's Popup Bikes is a permanent destination for the city's coolest cyclists. Located beneath Angel Meadow's iconic railway arches, its main draw is its 100-bike capacity parking space. But there's more here than handy storage space for the commuter crowd, with a state-of-the-art cycle repair shop and brilliant cafe.
It's not surprising, then, that Popup has become a local hub for amateur and more experienced cyclists alike. Best of all, the coffee is responsibly sourced and locally roasted for the best cup of Joe around.
40 The Grove, Bristol BS1 4RB |
MAP
Opening hours:
Mon-Fri (10am-10pm); Sat (9am-10pm); Sun (10am-10pm)
Located in a converted warehouse, Mud Dock is Bristol's best-loved cycle café, and one of the coolest spots for coffee in the city full-stop. Having been open for over 20 years, the cafe is a well-oiled machine, providing the best locally sourced food and coffee.
But it isn't just a café – there's secure bike parking outside, plus a workshop and shop to help you get the best service from bicycle experts and mechanics. Plus, its harbour-side location means you'll want to cycle right out of the doors after lunch, too.