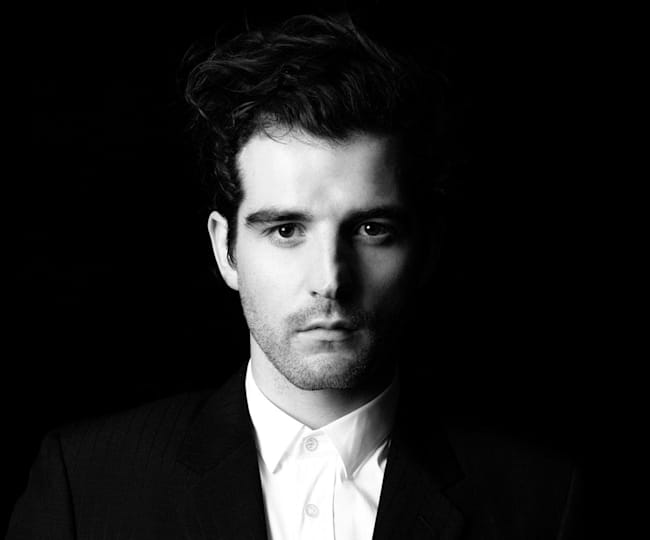 © Justin DeSouza / Fresh To Death
Dimension's immersive new show is a futuristic take on live drum'n'bass
A bespoke clear synth, towering LEDs, immersive scent technology – it's drum'n'bass like you've never seen or smelled before. His team reveal the challenges of creating such a complex, high-tech show.
It's a giant, see-through synth, it weights 100kg, contains nine custom handmade instruments and was created with specialists who've worked on the likes of Star Wars and Game Of Thrones. There's only one in existence and it looks out of this world. It's the remarkable centrepiece of drum'n'bass star
Dimension
's debut live show… And it's a class-A lesson in how to make the shift from DJ to performing artist.
Having risen the ranks at an accelerated rate since emerging in late 2012, the 27-year-old London-based artist has become one of the most prominent and influential producers in his field and has a reputation for not doing things by halves.
You can hear it in all shades of his music from the halcyon hook science of Desire (last year's crossover smash with
Sub Focus
) to the jungle bashment gully of UK (a track so universally supported
Skrillex
made his own VIP
). You also can see it in the gothic aesthetic that runs through his music and visuals, and the very fact he was signed and mentored by
Chase & Status
after the strength of his early breakthrough releases is testament to his skill, ambition and drive. But for his first ever live show – this Saturday October 5, Electric Brixton, London – Dimension is about to reveal just how detailed his vision is.
"Believe it or not, the first stage of creating our bespoke piece for Dimension involved physics," explains engineer
Steven O'Halloran
. You probably won't recognise his name, but you'll have experienced his work with film set manufacturers INPLAS, their creations have been used on the likes of Star Wars, Prometheus and Game Of Thrones to name but a few past high profile clients.
The level of detail Dimension demanded was frankly insane
"Dimension approached us with some hand-drawn sketches and ideas. On day one, we sat down to calculate and engineer what was physically possible – fabricating an entirely see-through 100kg piano/synthesiser is not something that simply rolls off the production line!"
That was five months ago in May 2019. The next step in the process that Steven estimates took over 80 man-hours utilising a combination of highly skilled fabricators and machinists was to 3D print a prototype and refine Dimension's sketches down to the very last spec. "The level of detail Dimension demanded was frankly insane," says Steven who, coincidentally, has been a card-carrying junglist since 1993. "I remember spending an entire day on deciding whether one panel should be 15 or 18mm thick!"
The devil is always in the detail: Dimension's idea behind the bespoke instrument is to open out the performance process. Rather than the typical black boxes and racks live electronic acts find themselves behind, this unique machine shows every key, every knob, fader, all inner circuitry, wires and faders. It's important to note it has no screens, either. This allows Dimension to play and perform to the crowd, rather than get bogged down in menus and dropdowns. Loaded with individual stems from each of his tracks – allowing for complete live remixing and improvisation – everything Dimension needs to play is at his fingertips, very much like a grand piano, but set somewhere in the 23rd century with its range of synths, patches, FX tools and controllers similar to those he uses in the studio.
"The challenge was to make sure each model showed off as much of the inner circuitry as possible while still remaining robust enough to survive being on tour," explains
Josh Wilde
, the engineer responsible for breaking down each machine and re-modelling it to fit into Dimension's unique structure, ensuring the wiring and circuitry is visible to the audience. Using laser-etching and 3D printed components, Wilde describes the process as completely unique compared to anything else he's done before: "Creating something on this kind of scale was definitely something new. As was engineering a design that would go on to become part of a bigger project in collaboration with other fabricators and artists."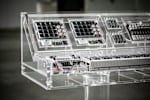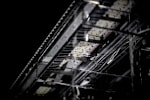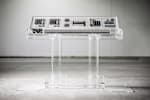 In fact, the bigger project isn't just entirely about this remarkable structure Dimension and the INPLAS engineers have created. The full show also comes complete with scent technology, releasing different fragrances to enhance or set moods, and it's backed by a 50-strong chorus of lights, lasers walls and, according to Dimension's team, the biggest LED screen to be installed in Electric Brixton. The lights and visuals come from similarly high-calibre sources; the head engineer
Alex Turner
has worked with
The Chemical Brothers
and
Disclosure
Live while the visuals come from
More Eyes
who've recently worked on
Stormzy
's last live tour. The end result is a show that aims to stimulate the senses and create more of an immersive experience than your standard headline drum'n'bass knees up. And yes, you did read that correctly… Dimension's show will also incorporate scents.
"Throughout the set, components of the live show will trigger the release of state-of-the-art scent technology," explains
Rob Hawkins
from production company MTFX. "These scents will complement the visual, lighting, and the overarching aesthetic of the show, creating a totally unique sensory experience which has never been seen before in dance music."
But while the aromatic element of this bold conceptual and artistic live debut adds a unique twist, and another layer of detail to the show, O'Halloran reminds us that the focus should be on the music and how Dimension plays.
"This piece had to be fully functional, allowing Dimension to play live in the exact way that he wanted whilst still fulfilling his unique amalgamation of romanticised industrialism," he explains. "After weeks of design adjustments and clever wiring solutions I remember sending him the final computer design for approval, we joked around wondering whether after all our hard work it would end up looking any good. I remember assuring him that 'Nothing will, ever prepare you for what the desk will actually look like in person once it's complete'."
Or what it will sound like, and indeed smell like, Dimension's live debut looks set to be a landmark moment in his impressive career. And unfortunately if you haven't got tickets, you're going to have to wait until their take the 100kg see-through synth on the road, as the event sold out months ago. Like we said, Dimension doesn't do things by halves.