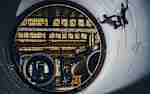 Skate inside a wind turbine with Sheckler and crew
Watch wind-turbine energy spark Ryan Sheckler, Zion Wright, Danny León and Alex Sorgente to rip in as unique a skateboarding clip as you'll see this year.
How many spots can a turbine production line hold? The answer is blowing in the wind. Acting on an invite from the good people at Dacero and Windar Renewables, part of the Daniel Alonso Group based in Asturias, Spain, a crew of our top boys leapt at the chance to skate through the process of constructing a wind turbine. A plan was hatched and the project to skate these behemoths was dubbed Eolo, after the ancient Greek wind god.
Be sure to download the free Red Bull TV app and catch the Skate action on all your devices!
Get the app here
Who among us hasn't looked at those huge silent blades and seen skatepark lines, or marvelled at the enormous transitions traced by the giant engineering constructions which are part of their lifecycle? Am I right?
And so, when the green light was given by the factory bosses, our crew didn't waste any time getting involved in some once-in-a-lifetime shredding.
Danny León
played host to
Ryan Sheckler
,
Zion Wright
and
Alex Sorgente
during these clean energy sessions, which produced some wild moments and sketchy near-misses in equal measure. Enjoy Eolo, and let your imagination flow like the wind!