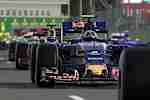 F1 2016: 7 things you need to know
© Codemasters
F1 2016 speeds onto PS4, Xbox One and PC this summer – discover why it's a massive step forward.
The new F1 2016 game has been unveiled. As well as showing off some great-looking new screenshots, including the latest Red Bull F1 car, Codemasters announced when the release date will fall and explained all the new features. Here's what to expect from F1 2016.
1. When will F1 2016 be released?
The new F1 2016 game is coming to PS4, Xbox One and PC on 19 August. Principal Game Designer Lee Mather has described it as "a massive step forward for the franchise."
2. It has an expanded career mode
F1 2016's new career mode spans 10 seasons, giving you the opportunity to create your own legend. Yes, you'll be able to select an avatar to represent you in the game, and select an
F1 driver number
that you'll keep throughout your career.
You'll also be able to choose a helmet, its colour and then select which of the real-life Formula One teams you want to join.
Each team has different goals and expectations. For example, it will be easier to exceed your team's expectations if you choose to challenge yourself by starting further down the grid.
If you perform well, you'll earn contracts and can either move from team to team, or turn your favourite team into a championship contender. You could help Red Bull win the constructor's championship!
3. There will be a safety car on track
The Safety Car and Virtual Safety Car have been added to the game, and Codemasters reckon this will improve your F1 experience.
"With the re-introduction of the Safety Car as well as the addition of the Virtual Safety Car for the very first time, we are creating the most complete F1 experience ever," said Lee Mather. "This, combined with several features that are yet to be announced, should excite fans of the game and Formula One."
4. There's a new circuit and team
As you'd expect from the official F1 game, it features all the latest tracks and
teams
. That means you'll be able to race on the challenging new street circuit in Baku, Azerbaijan where the 2016 Formula 1 Grand Prix of Europe takes place.
5. Practise and upgrade your car
It's not just about the racing. You can also upgrade your car thanks to a practice development programme which allows you to take advantage of the tests done by the teams on a grand prix weekend.
Try track acclimatisation tests, test your tyres and perfect your race strategy, and you'll gain Research and Development points, which you can use to upgrade your car.
6. The hospitality hub
Your game hub is actually the hospitality area, where you'll see key people from the paddock plus the new, fully captured and voice-acted Research and Development Engineer and Player Agent. Together, they will help to develop your progress on and off the track.
7. There's a new time of day editor
The new time of day editor enables you to customise the visuals when you're racing.