Zandvoort has been absent from the Formula One calendar for over three decades, with an entire generation of F1 fans growing up without ever witnessing its charms. After a 35-year hiatus, the much-loved Dutch circuit is back and it's been remodelled to push the fastest cars and drivers on the planet to the absolute limit.
We've seen the creation of some amazing new circuits over the past couple of decades (Azerbaijan and Bahrain, we're looking at you), but with daunting corners, jaw-dropping elevation changes and histories from which entire books have been written, it's the old circuits that are impossible to ignore. Zandvoort is very much of that ilk.
Like its British counterpart and F1 mainstay, Silverstone, Zandvoort was borne out of enthusiasm for all things motorsports following the Second World War, and both tracks were inaugurated in the same year: 1948. Both circuits also share incredibly passionate fans – you can expect a fun-loving army to descend on the coastal town in support of Dutch hero,
Max Verstappen
. Unlike Silverstone, Zandvoort isn't based on an airfield, instead created from a mixture of permanent track and public roads flowing around the sand dunes of Zandvoort itself. The result is truly spectacular, and although it's changed dramatically over the years, 'pretty insane', 'crazy' and 'old-school' remain among the descriptions from slightly incredulous drivers who've taken on the circuit.
See Max Verstappen get his first taste of the renovated circuit: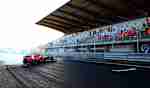 First laps on the remade 2020 Zandvoort circuit
The historic track has received an overhaul for its return to Formula One, but the best features definitely still remain. Here's our corner-by-corner guide to what you need to know.
Tarzan is the first corner at Zandvoort, and with the start/finish line now closer to the bend for the 2020 season, 20 drivers will be piling into the hairpin with a little less time for the pack to space out, and in full view of the main grandstand. As one of the more challenging circuits, Zandvoort is not the easiest place to overtake, so expect lots of 'do-or-die' moments at the end of the start/finish straight. If you're heading to Zandvoort this year, and you're fortunate enough to be in the main stand, you're in for a treat.
Pulling out of the hairpin, drivers face a left kink followed by a sharper right that is Gerlach. It's a corner boasting a sad history, named after racer Wim Gerlach, who died after a crash during a sportscar race in 1957. The bend was later named in Gerlach's honour, and although most of the circuit has since changed beyond recognition, Gerlach remains a formidable turn with a history capable of reminding drivers of the dangers of their sport.
I didn't expect the banking to be that big, but it's really cool to drive an F1 car on
While some fans criticise newer tracks for feeling a little too sterile, with huge run off areas and long straights, Zandvoort's Hugenholtz is like little else around. Named after John Hugenholz, the former circuit director best known for designing Japan's iconic Suzuka circuit, Hugenholz is heavily banked, and the designers have tweaked it for Formula One's return to enable overtaking on the actual bend itself. With the wider racing line allowing two cars to exit the corner at the same speed, this should hopefully result in some spectacular racing.
"The banking is amazing," adds Max Verstappen, after becoming the first person to test the new circuit in an F1 car. "I didn't expect the banking to be that big, but it's really cool to drive an F1 car on."
The change to enable cars to exit Hugenholtz alongside each other and at the same speed also makes a massive difference heading into Hunzerug, where drivers can continue wheel-to-wheel racing along the short straight that passes over a hillock and into a terrifyingly fast series of kinks.
Those kinks include Rob Slotemaker, and although the right-left-right combo looks slight on paper, in a featherweight car with near to 1,000bhp, battling for position, they're anything but straightforward. The fact this part of the track is named after another deceased racer is warning enough, but serious respect is required. Dutchman Rob Slotemaker died here on September 16, 1979, during a touring car race, but the celebrated driver also has further history at Zandvoort, having founded the
anti-skid driving school
at the circuit which still exists today.
After the flat-out kinks, drivers jump on the brakes for a hard right into Scheivlak, a corner that's terrifying in itself. There's a large drop in elevation, effectively making Scheivlak a blind turn, but it also remains open enough that Formula One cars will be carrying a huge amount of speed. With gravel traps to the outside, rather than the asphalt found on modern circuits, any mistake will be punished severely.
A short straight flows between Scheivlak and the following right-hander, Masters, which is demanding but fast enough to require huge amounts of nerve. After the apex, the track continues snaking to the right, before drivers face the next big challenge…
Renault and Vodafone corners
That challenge sees drivers once again jumping on the anchors, facing a sharp right-hander known as Renault Corner, before a near-hairpin in the form of Vodafone Corner. These two bends may lack historic names, but they're sure to test drivers who aren't on the ball, before the track once again opens up for a long, slightly curved straight.
It's Hans Ernst where things get particularly technical, with this the slowest and tightest part of the circuit. Drivers will need to hit the brakes hard for a tight 45° right-hander, which immediately opens out into a left-hander that stretches a full 180°. This is another area to receive an overhaul for the 2020 season, with the second part of the bend now wider than before and the hope that traffic will be able to flow more smoothly and drivers will be able to get hard on the gas a little sooner.
Following another short straight, Kumho is the penultimate corner, and although it looks relatively tight in profile, the still-accelerating F1 cars will be able to make it round with barely a lift.
It's the final corner that's the real star of the show, however, and as part of the revamp, Arie Luyendyk – named after the Dutch racer and two-time Indianapolis 500 winner – also gets a new look, with serious banking promising an experience like no other in modern F1. At 32 percent (or 18°), the banking is around twice as steep as the corners found at Indianapolis, and it's not far off the monstrous banked curves of the original Monza circuit, which maxed out at a scary 21°.
Verstappen concludes: "With the new cars and DRS open through there it will be a good challenge and a lot of fun. The whole track is very demanding. There are a lot of fast corners and still not that much run-off. That makes it really challenging to go on the limit, but that's good."